Bless the Bride: A Molly Murphy Mystery (Molly Murphy Mysteries #10) (Mass Market)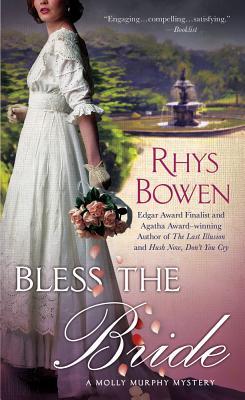 Other Books in Series
This is book number 10 in the Molly Murphy Mysteries series.
Description
---
Award-winning author of In Farleigh Field Rhys Bowen marries charming storytelling with an edge-of-your-seat mystery set in early twentieth-century New York City in Bless the Bride
With Molly Murphy's wedding to NYPD Captain Daniel Sullivan quickly approaching, the Irish P.I. heads to the Westchester County countryside, where Daniel's mother can counsel her on a bride's proper place. Surprisingly, Molly seems to be agreeing with her future mother-in-law's advice. Molly promises to leave her detective work behind and settle down after becoming Daniel's wife...but she isn't married yet. So when she gets word of a possible case, Molly sneaks back into the city to squeeze in a little more sleuthing before the wedding bells can ring.
A wealthy Chinese immigrant wants Molly to find his missing bride. Molly has a hunch that his intended has run off. But where could she have gone--and where would she be? The only Chinese women of the era are kept under house arrest, and Molly can't help but wonder whether she's saving the bride-to-be from the streets...or helping to lock her away for good.
About the Author
---
Rhys Bowen is the author of the award-winning Molly Murphy and Constable Evans mysteries. Her novels have garnered an impressive array of awards and nominations, including the Anthony Award for her novel For the Love of Mike and the Agatha Award for Murphy's Law. Her books have also won the Bruce Alexander Historical Award and the Herodotus Award, and have been shortlisted for the Edgar, the Agatha, the Macavity, the Barry, and the Mary Higgins Clark Award. She has also written Her Royal Spyness, a series about a minor royal in 1930s England, and she is the author of several short stories, including the Anthony Award–winning "Doppelganger." Her story "Voodoo" was chosen to be part of the anthology of the best of 50 years of Alfred Hitchcock Mystery Magazine. Ms. Bowen was born in Bath, England, and worked as an announcer and studio manager for the BBC in London, before moving to Australia and then California. It was here she started writing children's and young adult novels, and then moved on to mysteries with the Constable Evans novels. When not writing she loves to travel, sing, hike, play her Celtic harp, and entertain her grandchildren. She lives in San Rafael, California.
Praise For…
---
"Winning…The gutsy Molly, who's no prim Edwardian miss, will appeal to fans of contemporary female detectives." —Publishers Weekly on THE LAST ILLUSION
"This historical mystery delivers a top-notch, detail-rich story full of intriguing characters. Fans of the 1920s private detective Maisie Dobbs should give this series a try." —Booklist on THE LAST ILLUSION
"This installment outshines the others in character development and plot complexity. Details of Molly's new cases are knit together with the accoutrements of 1918 New York City life…Don't miss this great period puzzler reminiscent of Dame Agatha's mysteries and Gillian Linscott's Nell Bray series." —Booklist on IN A GILDED CAGE
"Delightful…Bowen does a splendid job of capturing the flavor of early 20th-century New York and bringing to life its warm and human inhabitants." —Publishers Weekly on IN A GILDED CAGE
"Feisty, independent Molly and the historical New York background give good value." —Kirkus Reviews on IN A GILDED CAGE
"Winning…It's all in a day's work for this delightfully spunky heroine." —Publishers Weekly on TELL ME, PRETTY MAIDEN
"Sharp historical backgrounds and wacky adventures." —Kirkus Reviews on TELL ME, PRETTY MAIDEN
"For readers who love mysteries more for character development than puzzle solving, the seventh Molly Murphy novel... does not disappoint." —Booklist on TELL ME, PRETTY MAIDEN
"Enjoyable charm and wit." —Baltimore Sun on IN DUBLIN'S FAIR CITY
"Readers will surely testify that Murphy has become one of their favorite characters...This book is a keeper." —Tampa Tribune on IN DUBLIN'S FAIR CITY
"Molly is an indomitable creature…The book bounces along in the hands of Ms. Bowen and her Molly, and there is no doubt that she will be back causing trouble." —Washington Times on IN DUBLIN'S FAIR CITY
"The feisty Molly rarely disappoints in this rousing yarn seasoned with a dash of Irish history." —Kirkus Reviews (starred review) on IN DUBLIN'S FAIR CITY
"Entertains readers and teaches them about the immigrant experience…charming." —Tampa Tribune on OH DANNY BOY
"Murder, mayhem, disease, and death…reliable period thrills for Molly's fans." —Kirkus Reviews on OH DANNY BOY
"Another outstanding mystery." —Library Journal on OH DANNY BOY
"Excellent." —Toronto Globe & Mail on OH DANNY BOY
"An evocatively recreated picture of New York City's Greenwich Village in 1902 and the city's rich upstate suburbs…[a] colorful series, a worthy extension of the Maan Meyers 'Dutchman' books about historical Gotham." —Chicago Tribune on IN LIKE FLYNN
"Bowen's best." —Toronto Globe & Mail on IN LIKE FLYNN
"Compelling…Rhys Bowen continues her evocative look at the immigrant experience in her third Murphy novel." —Hartford Courant on FOR THE LOVE OF MIKE
"Add brutal city gangs, seamy politics, bribed policemen, even a sweatshop fire, and you have the usual mix that makes Bowen's books so entertaining." —Tampa Tribune on FOR THE LOVE OF MIKE
"Entertaining." —Fort Lauderdale Sun-Sentinel on DEATH OF RILEY
"A fresh and irrepressible new heroine." —Romantic Times on DEATH OF RILEY
"History-mystery fans should add Molly to their list of characters to follow." —Booklist on MURPHY'S LAW
"[We] look forward to Molly's return." —Chicago Tribune on MURPHY'S LAW
"Bowen tells a phenomenal story, and it will be a real treat to see what fate has in store for Molly and Daniel!" —Romantic Times (Top Pick) on MURPHY'S LAW