The New Yorkers: A Novel (Paperback)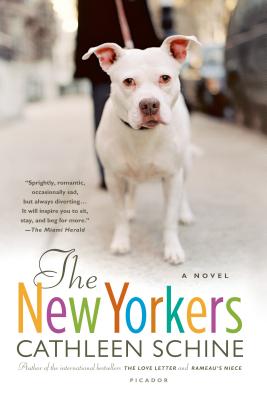 $19.00

Usually Ships in 1-5 Days
Description
---
A New York Times Book Review Editors' Choice

Inspired by her account in The New Yorker of adopting a profoundly troubled dog named Buster, acclaimed author Cathleen Schine's The New Yorkers is a brilliantly funny story of love, longing, and overcoming the shyness that leashes us. On a quiet little block near Central Park, five lonely New Yorkers find one another, compelled to meet by their canine companions. Over the course of four seasons, they emerge from their apartments, in snow, rain, or glorious sunshine to make friends and sometimes fall in love. A love letter to a city full of surprises, The New Yorkers is an enchanting comedy of manners (with dogs!) from one of our most treasured writers.
About the Author
---
Cathleen Schine is the author of They May Not Mean To, But They Do, The Three Weissmanns of Westport, and The Love Letter, among other novels. She has contributed to The New Yorker, The New York Review of Books, The New York Times Magazine, and The New York Times Book Review. She lives in Los Angeles.
Praise For…
---
"Sprightly, romantic, occasionally sad but always diverting . . . The New Yorkers will inspire you to sit, stay, and beg for more." —Connie Ogle, The Miami Herald

"Schine is a sly writer with considerable dog and people skills. . . . Fine and precise [in] execution . . . Filled with a sweetness of life." —The Boston Globe

"Poignant and frankly funny. Schine has a gift for illuminating wholly believable yet somehow unexpected characters with a single line." —Chicago Tribune

"Schine writes about her characters with affection and humor . . . and has created a love letter to the city that even a rural cat fancier could enjoy." —The Christian Science Monitor

"There's plenty of unexpected romance, but it would be a mistake to think that this is merely a love story about dogs or their people. It's really about Schine's love for the city that contains them--a Manhattan of the not-so-distant past. . . . [A] rich snapshot of urban life." —Time Out (New York)

"Schine's sleek little parable about love and loss in the big city is neatly layered with intersecting stories of each character. A sweetly savvy paean to dogs and the people who love them." —Baltimore Sun