Messenger of Truth: A Maisie Dobbs Novel (Maisie Dobbs Novels #4) (Paperback)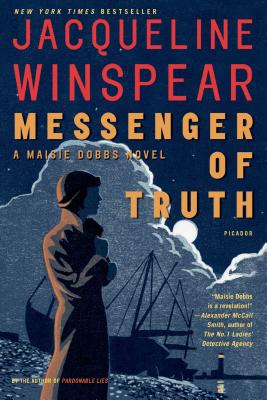 Other Books in Series
This is book number 4 in the Maisie Dobbs Novels series.
Description
---
Maisie Dobbs investigates the mysterious death of a controversial artist—and World War I veteran—in the fourth entry in the bestselling series from Jacqueline Winspear, Messenger of Truth.

London, 1931. The night before an exhibition of his artwork opens at a famed Mayfair gallery, the controversial artist Nick Bassington-Hope falls to his death. The police rule it an accident, but Nick's twin sister, Georgina, a wartime journalist and a infamous figure in her own right, isn't convinced.

When the authorities refuse to consider her theory that Nick was murdered, Georgina seeks out a fellow graduate from Girton College, Maisie Dobbs, psychologist and investigator, for help. Nick was a veteran of World War I, and before long the case leads Maisie to the desolate beaches of Dungeness in Kent, and into the sinister underbelly of the city's art world.

Maisie once again uncovers the perilous legacy of the Great War in a society struggling to recollect itself. But to solve the mystery of Nick's death, Maisie will have to keep her head as the forces behind the artist's fall come out of the shadows to silence her.

Following on the bestselling Pardonable Lies, Jacqueline Winspear delivers another vivid, thrilling, and utterly unique episode in the life of Maisie Dobbs.
About the Author
---
Jacqueline Winspear is the New York Times bestselling author of the Maisie Dobbs novels. The first in the series, Maisie Dobbs, won the prestigious Agatha Award for Best First novel, the Macavity Award for Best First Novel, and the Alex Award. She won an Agatha for Best Novel for Birds of a Feather and a Sue Feder/Macavity Award for Best Historical Mystery for Pardonable Lies. Winspear was born and raised in the county of Kent in England. Her grandfather had been severely wounded and shell-shocked in World War I, and learning his story sparked her deep interest in the "war to end all wars" and its aftereffects, which would later form the background of her novels. Winspear studied at the University of London's Institute of Education, then worked in academic publishing, in higher education and in marketing communications in the UK. She immigrated to the United States in 1990 and embarked on her life-long dream to be a writer. In addition to her novels, Winspear has written articles for women's magazines and journals on international education, and she has recorded her essays for public radio. She divides her time between Ojai and the San Francisco Bay Area and is a regular visitor to the United Kingdom and Europe.
Praise For…
---
"In Maisie Dobbs, Jacqueline Winspear has given us a real gift. Maisie Dobbs has not been created--she has been discovered. Such people are always there amongst us, waiting for somebody like Ms. Winspear to come along and reveal them. And what a revelation it is!" —Alexander McCall Smith, author of The No. 1 Ladies' Detective Agency

"Maisie is a sleuth to treasure." —The New York Times Book Review

"Worth cheering about . . . [Winspear] keep[s] her series about the astonishing Maisie Dobbs alive and as fresh as new paint." —Chicago Tribune

"When people ask me to recommend an author, one name consistently comes to mind: Jacqueline Winspear. . . . What makes Winspear so special is her ability to write convincing historical fiction. Going beyond the correct details about headgear and slang from the 1920s and 1930s, she convincingly captures the interior lives of her characters. . . . Wonderful." —USA Today

"Maisie Dobbs, Winspear's brilliant psychological investigator, returns for her fourth adventure. . . . Definitely more of a political and psychological read than a simple whodunit." —Daily News

"What makes this book delightful is how Winspear shows Maisie's emotional development amid the bitter legacy of the Great War. Her growing fan base should enjoy this latest entry. Strongly recommended." —Library Journal