Defining the World: The Extraordinary Story of Dr Johnson's Dictionary (Paperback)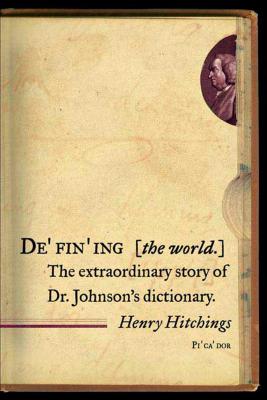 $23.00

Usually Ships in 1-5 Days
Description
---
A Los Angeles Times Favorite Book of the Year

In 1746, Samuel Johnson undertook the Herculean task of writing the first comprehensive English dictionary. Imagining he could complete the job in three years, Johnson in fact took more than eight, and the dictionary itself turned out to be as much a work of literature as it was an invaluable reference. In alphabetized chapters, from "Adventurous" to "Zootomy," Henry Hitchings tells of Johnson's toil and triumph and offers a closer look at the definitions themselves, which were alive with invention, poetry, erudition, and, at times, hilarious imprecision. The story of Johnson's adventure into the essence of words is an entertainment that "sparkles on every page" (The Philadelphia Inquirer).
About the Author
---
Henry Hitchings was born in 1974. He is the author of The Secret Life of Words, Who's Afraid of Jane Austen?, and Defining the World. He has contributed to many newspapers and magazines and is the theater critic for the London Evening Standard.
Praise For…
---
"Inventive and entertaining." —The New York Times Book Review

"Hitchings's evident enthrallment with all things Johnsonian is contagious." —The Roanoke Times

"[A] marvelous account of the making of the dictionary. . . . Defining the World is one of the most enjoyable books I've read this year. Hitchings is a buoyant, zestful writer. . . . Also delightful is how Hitchings evokes the presence and temperament, by turns neurotic and assured, crotchety and inquisitive, of the 'book-muncher, the pagemaker, and the cultural steeplejack' who pulled off a remarkable intellectual feat." —The Boston Globe

"Like a good dictionary, Hitchings's work itself is chockablock with enough tidbits and trivia to delight even the looniest of logophiles." —The Plain Dealer (Cleveland)

"Quite simply, one can never get too much Samuel Johnson." —The Washington Post

"A well-written, intelligently organized, and thoroughly readable book . . . It is obvious that Hitchings loves to read Johnson's dictionary. . . . The great thing about Defining the World is that it makes us want to read it too." —Los Angeles Times

"Hitchings manages to make the story of a dictionary not only interesting but positively compelling." —The Examiner (Washington, D.C.)

"Hitchings's affectionate tribute accomplishes a worthy task of allowing us to admire anew Johnson's life and great work." —The Commercial Dispatch (Mississippi)

"A spirited, learned account . . . Hitchings does a masterful job of describing Johnson's approach. . . . A first-rate synthesis of one of literary history's most astonishing endeavors." —Kirkus Reviews

"This book is the riveting account of how Dr Johnson, an eighteenth-century man, blind in one eye, terrified of death and convinced he was lazy, compiled what is considered to be the definitive dictionary of the English language. Hitchings brings Johnson's humanity and the massive task he undertook to touchable life." —Beryl Bainbridge, The Guardian

"Hitchings's sprightly book about the dictionary gives a full picture of Johnson during a difficult decade of melancholy toil." —The New Yorker

"Hitchings skillfully re-creates Johnson's beloved London, a gin-soaked city of commercial ambition, petty jealousies and danger lurking down dark alleyways." —San Francisco Chronicle