What Was She Thinking?: Notes on a Scandal: A Novel (Paperback)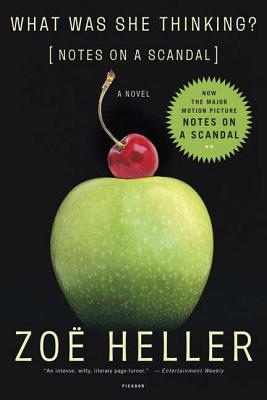 $20.00

Usually Ships in 1-5 Days
Description
---
A lonely schoolteacher reveals more than she intends when she records the story of her best friend's affair with a pupil in this sly, insightful novel

Schoolteacher Barbara Covett has led a solitary existence; aside from her cat, Portia, she has few friends and no intimates. When Sheba Hart joins St. George's as the new art teacher, Barbara senses the possibility of a new friendship. It begins with lunches and continues with regular invitations to meals with Sheba's seemingly close-knit family. But as Barbara and Sheba's relationship develops, another does as well: Sheba has begun a passionate affair with an underage male student. When it comes to light and Sheba falls prey to the inevitable media circus, Barbara decides to write an account in her friend's defense—an account that reveals not only Sheba's secrets but her own.

What Was She Thinking? is a story of repression and passion, envy and complacence, friendship and loneliness. A complex psychological portrait framed as a wicked satire, it is by turns funny, poignant, and sinister. With it, Zoë Heller surpasses the promise of her critically acclaimed first novel, Everything You Know.

Shortlisted for the Man Booker Prize

What Was She Thinking? is the basis of the 2006 film, Notes on a Scandal, starring Judi Dench and Kate Blanchett.
About the Author
---
Zoë Heller was born in London and lives in New York City. She was a columnist for London's Daily Telegraph, she has contributed to such publications as Vanity Fair, The New Yorker, The Independent, The Sunday Times (London), and The New Republic. She is the author of the novels What Was She Thinking? (Notes on a Scandal), The Believers, and Everything You Know. What Was She Thinking? was shortlisted for the Man Booker Prize.
Praise For…
---
"An inspired tale of two women, one seen through the other's eyes, with the viewer revealing more of herself than she ever suspects. From the first sentence to the last, the story and the writing of it have a thrilling intensity that holds the reader's rapt attention." —Paula Fox

"The most gripping novel of the year. You leave this extraordinary book utterly shaken, with new knowledge of the human heart. Heller writes with a precision that stirs the blood and an uncommon insight into the darker sides of love." —Nuala O'Faolain
"Heller elevates a tabloid-worthy tale of obsession into an intense, witty, literary page-turner." —Entertainment Weekly

"Deliciously perverse, laugh-out-loud funny [with] caustic wit and needle-sharp observations. The reader looks on, amused and aghast, as both unlikely seductress and her self-deluding protector become locked in a helpless embrace of need and betrayal." —Vogue

"Deft, multivalent characterizations." —Lisa Levy, Newsday

"Wicked and wonderful social satire." —Glamour

"Heller is a great ventriloquist of character, and as the unhinged curator of the Sheba affair, Barbara is painfully note-perfect. What Was She Thinking? Achieves some very worthy literary aims indeed." —The Washington Post Book World