Spies: A Novel (Paperback)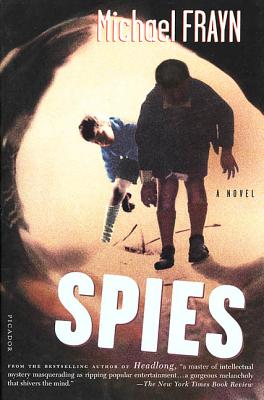 $18.00

Usually Ships in 1-5 Days
Description
---
The National Bestseller

The sudden trace of a disturbing, forgotten aroma compels Stephen Wheatley to return to the site of a dimly remembered but troubling childhood summer in wartime London. As he pieces together his scattered memories, we are brought back to a quiet, suburban street where two boys--Keith and his sidekick, Stephen--are engaged in their own version of the war effort: spying on the neighbors, recording their movements, and ferreting out their secrets. But when Keith utters six shocking words, the boy's game of espionage takes a sinister and unintended turn, transforming a wife's simple errands and the ordinary rituals of family life into the elements of adult catastrophe.

Childhood and innocence, secrecy, lies and repressed violence are all gently laid bare as once again Michael Frayn powerfully demonstrates that what appears to be happening in front of our eyes often turns out to be something we cannot see at all.
About the Author
---
Michael Frayn was born in London in 1933 and began his career as a journalist on the Guardian and the Observer. He has written seventeen plays, including Noises Off, Copenhagen, and Democracy, translated Chekhov's last four plays, and adapted his first as Wild Honey. His screenplays include Clockwise, starring John Cleese, and among his eleven novels are The Tin Men, Towards the End of the Morning, Headlong, Spies, and Skios. Collections of articles include Collected Columns, Stage Directions, and Travels with a Typewriter. He has also published two philosophical works, Constructions and The Human Touch, and a memoir, My Father's Fortune. His most recent publications are three collections of short entertainments, Matchbox Theatre, Pocket Playhouse, and Magic Mobile. He is married to the writer Claire Tomalin.
Praise For…
---
". . . a master of intellectual mystery masquerading as ripping popular entertainment. . .a gorgeous melancholy that shivers the mind." —The New York Times Book Review

"Marvelously effective. . .a novel of extraordinary power and wisdom, a tour de force of humane insight." —The Baltimore Sun

"Bernard Shaw couldn't do it, Henry James couldn't do it, but the ingenious English author Michael Frayn does do it: write novels and plays with equal success. [He] has extended his reach and seriousness while keeping a sprightly intellectuality." —John Updike, The New Yorker

"In Spies, recollections of actual things--the 'disconcerting perfume' of privet hedges in bloom and the flavor of lemon barley water--make Frayn's story so real you can taste it." —Boston Herald

"[Spies] convinces American readers that Frayn, author of some thirteen novels and sixteen plays, is a literary double threat." —The Boston Globe

"In this very English novel, secrets assume an unexpected power and excitement as Frayn reveals that a little of the fascist is buried in every clever child, and that spying can be a soul-destroying game." —Chicago Sun-Times