Save Me: A Novel (Paperback)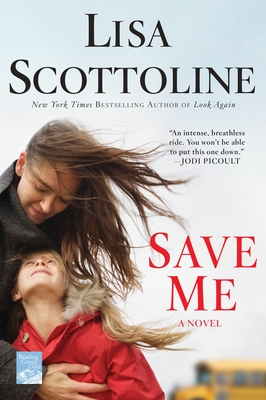 $21.99

Usually Ships in 1-5 Days
Description
---
New York Times bestselling author Lisa Scottoline's Save Me will touch the heart of every reader, as its heroine, the unforgettable Rose McKenna, makes a split-second decision that alters the course of her life—and makes you wonder what you would do in her shoes.

Nobody could have foreseen what would happen the day that Rose McKenna volunteers as a lunch mom in the cafeteria of her daughter's elementary school. Rose does it to keep a discreet eye on her third-grader, Melly, a sweet, if shy, child who was born with a facial birthmark that has become her own personal bull's-eye. Melly has been targeted by the mean girl at their new school and gets bullied every day, placing Rose in a no-win position familiar to parents everywhere. Do we step in to protect our children when they need us, or does that make things worse?

When the bully starts to tease Melly yet again. Rose is about to leap into action—but right then, the unthinkable happens. Rose finds herself in a nightmare, faced with an emergency decision that no mother should ever have to make. What she decides in that split second derails Rose's life and jeopardizes everyone she holds dear, until she takes matters into her own hands and lays her life on the line to save her child, her family, her marriage—and herself.

Lisa Scottoline has thrilled millions with her inspiring female characters and her exploration of emotional justice, writing about real issues that resonate with real women. In Save Me, she returns with her most stirring and thought-provoking novel yet.
About the Author
---
Lisa Scottoline is the New York Times bestselling author of over thirty novels including Look Again, Lady Killer, Think Twice, Save Me and Everywhere That Mary Went. She also writes a weekly column, "Chick Wit," with her daughter Francesca Serritella, for The Philadelphia Inquirer. The columns have been collected in seven volumes, including Why My Third Husband Will Be a Dog and My Nest Isn't Empty, It Just Has More Closet Space. Scottoline has won an Edgar® Award and Cosmopolitan magazine's "Fun Fearless Fiction" Award, and she served as the president of Mystery Writers of America. She teaches a course on justice and fiction at the University of Pennsylvania Law School, her alma mater. She lives in the Philadelphia area.
Praise For…
---
"Are you a good mother if you save your child from disaster? What if it means sacrificing another's child? In Save Me, Lisa Scottoline walks readers into this charged moral dilemma and then takes them on an intense, breathless ride where accidents might not be accidents at all. You won't be able to put this one down." —Jodi Picoult

"Each staccato chapter adds new and unexpected turns, so many you could get whiplash just turning a page. Scottoline knows how to keep readers in her grip." —The New York Times Book Review

"The Scottoline we love as a virtuoso of suspense, fast action, and intricate plot is back in top form in Save Me." —The Washington Post Book World

"A white-hot crossover novel about the perils of mother love." —Kirkus Reviews

"A satisfying, nail-biting thriller." —Publishers Weekly

"Scottoline masterfully fits every detail into a tight plot chock-full of real characters, real issues, and real thrills. A story anchored by the impenetrable power of a mother's love, it begs the question, just how far would you go to save your child?" —Booklist

"An emotionally riveting novel that explores the depths of one mother's love for her daughter. Powerful, provocative, and page-turning!" —Emily Giffin

"A novel packed with excitement and emotion, Save Me is a gut-clenching, heart-stirring read." —Sandra Brown

"Heart-pounding! Scottoline provides the perfect combination of explosive action, twisting turns, and genuine emotion in this exciting novel of an ordinary mom going to extraordinary lengths for her daughter. Open up Save Me, and save yourself with a great book." --Lisa Gardner "From one shock to the next, only a mom's courage and love bring justice. Nerves-on-edge, heart-pounding, and heart-wrenching, Save Me is thrilling and infused with love. Brilliant, I couldn't put it down." —Louise Penny