Forensics and Fiction: Clever, Intriguing, and Downright Odd Questions from Crime Writers (Hardcover)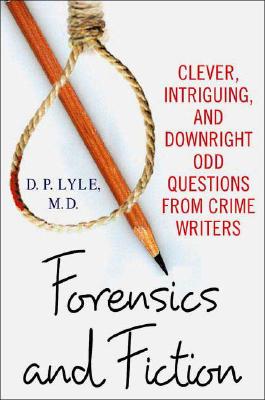 $23.95
Email or call for price
Description
---
How long can someone survive in a cold, damp cave without food or water? How was diphtheria treated in 1886? Can Botox kill? Can DNA be found on a knife years later? How are mummified corpses identified? How long does it take blood to clot when spilled on a tile floor? What happens in death from electrocution?

As a consultant to many novelists around the world and to the writers of such popular TV shows as Monk, Law & Order, House, and CSI: Miami, D. P. Lyle, M.D., has answered many cool, clever, and oddball questions over the years. Forensics and Fiction: Clever, Intriguing, and Downright Odd Questions from Crime Writers is a collection of the best of these questions. The answers are provided in a concise and entertaining fashion that will keep you wide awake so you can read "just one more."
About the Author
---
D. P. Lyle, M.D., is the Macavity Award-winning and Edgar Award-nominated author of the nonfiction books "Murder and Mayhem: A Doctor Answers Medical and Forensic Questions for Mystery Writers, " a compilation of the most interesting questions he has received over the years, and "Forensics for Dummies, " an in-depth look into the world of forensic science.

Dr. Lyle is a practicing cardiologist in Orange County, California, and has worked as a story and technical consultant with many published authors and with the writers and producers of several popular television shows, including "Law & Order, CSI: Miami, Diagnosis Murder, Monk, Judging Amy, Cold Case, Peacemakers, House, Medium, "and "1-800-Missing."

Through his Web site, the Writer's Medical and Forensics Lab (www.dplylemd.com), Dr. Lyle works with writers and readers to enrich the authenticity of stories they write and read.
Praise For…
---
"Indispensable . . . Don't even think of writing a medical mystery without the wise counsel of Dr. D. P. Lyle."
- Lee Goldberg, author of the Diagnosis Murder and Monk novels

"A terrific resource for crime writers and anyone interested in forensics . . . will jump-start your imagination about all kinds of ingenious crimes, crime-solving techniques, and plot twists."
- Matt Witten, supervising producer of the Fox TV show House

"Every crime-fiction author's best friend . . . as essential to my library as my Strunk and White."
- Hallie Ephron, author of Writing and Selling Your Mystery Novel

"There's damn good reason why Dr. Doug Lyle's e-mail is in every crime writer's address book and why his reference books belong on every aspiring writer's book shelf: His advice comes from the head of a medical expert but also from the heart and imagination of a writer. Whenever I paint myself into a forensic corner, Dr. Doug is always there to rescue me."
- P. J. Parrish, author of An Unquiet Grave