The Reeducation of Cherry Truong (Hardcover)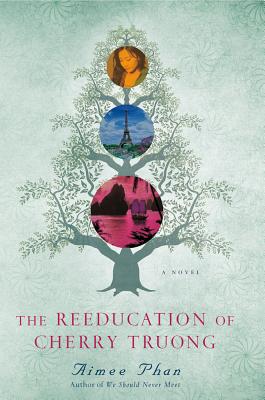 $25.99
Email or call for price
Description
---
Cherry Truong's parents have exiled her wayward older brother from their Southern California home, sending him to Vietnam to live with distant relatives. Determined to bring him back, twenty-one-year-old Cherry travels to their homeland and finds herself on a journey to uncover her family's decades-old secrets--hidden loves, desperate choices, and lives ripped apart by the march of war and currents of history.
"The Reeducation of Cherry Truong" tells the story of two fierce and unforgettable families, the Truongs and the Vos: their harrowing escape from Vietnam after the war, the betrayal that divided them, and the stubborn memories that continue to bind them years later, even as they come to terms with their hidden sacrifices and bitter mistakes. Kim-Ly, Cherry's grandmother, once wealthy and powerful in Vietnam, now struggles to survive in Little Saigon, California without English or a driver's license. Cherry's other grandmother Hoa, whose domineering husband has developed dementia, discovers a cache of letters from a woman she thought had been left behind. As Cherry pieces their stories together, she uncovers the burden of her family's love and the consequences of their choices.
Set in Vietnam, France, and the United States, Aimee Phan's sweeping debut novel reveals a family still yearning for reconciliation, redemption, and a place to call home.
About the Author
---
AIMEE PHAN grew up in Orange County, California, and now teaches in the MFA Writing Program and Writing and Literature Program at California College of the Arts. A 2010 National Endowment of the Arts Creative Writing Fellow, Aimee received her MFA from the Iowa Writer's Workshop, where she won a Maytag Fellowship. Her first book, WE SHOULD NEVER MEET, was named a Notable Book by the Kiryama Prize in fiction and a finalist for the 2005 Asian American Literary Awards. Her writing has appeared in "The New York Times," "USA Today, " and "The Oregonian" among others.
Praise For…
---
Praise for THE REEDUCATION OF CHERRY TRUONG: "The Reeducation of Cherry Truong explores the intersection of history and human hearts. With tenderness and wisdom, this intricately woven tale presents a world both mysterious and familiar to readers. Aimee Phan is a keen observer and a beautiful writer."  –Yiyun Li, author of The Vagrants  "The Reeducation of Cherry Truong is a powerful debut novel about reverse migration, the new American immigrant story. Cherry Truong's attempt to reconnect to her mother's family reaches around the world, from America to Vietnam to France, and reinvents what she knows of her family's history and her world. And with this novel, Aimee Phan reinvents what we know of ours at the same time." --Alexander Chee, author of Edinburgh: A Novel "A story of loyalties, histories, and identities, The Reeducation of Cherry Truong explores multiple generations of the Truong and Vos families. Touching on the events of the Vietnam War, cultural assimilation, reconciliation, forgiveness, and redemption, Phan crafts an epic tale. Through Cherry's eyes, the complex country of Vietnam is lovingly explored in immense, realistic detail. Readers of Maxine Hong Kingston and Gish Jen will enjoy Phan's sensitive, lush prose and recognize similar questions of identity." --Booklist "Powerful debut novel…Phan's lyrical narrative captures the yearning that one feels in seeking a place to call home and the dichotomy inherent in assimilation and preservation of cultural traditions.  Her novel marks a triumphant debut in contemporary Asian-American literature." --Shelf Awareness "Phan's gifts are considerable, and the novel is at its best in exposing the dark underside of family relationships while simultaneously creating many sympathetic, realistic characters." --Hyphen Magazine Praise for WE SHOULD NEVER MEET: "Luminously written." --The Oregonian "In gorgeously liquid prose, Phan gives us deep insight into contemporary Vietnamese-American life. Splendid and passionate." --Chris Offutt, author of No Heroes "Phan gives voice to the voiceless and makes them speak for us all."--Robert Olen Butler, author of A Good Scent from a Strange Mountain and Hell "Phan charts [these] journeys with acuity, sensitivity, [and] wisdom." --Los Angeles Times