Madam Secretary: A Biography of Madeleine Albright (Paperback)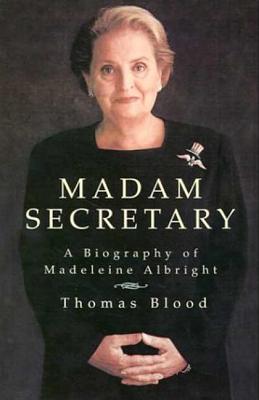 $23.99

Usually Ships in 1-5 Days
Description
---
Thomas Blood's Madame Secretary is a riveting biography of the first woman U. S. Secretary of State, Madeline Albright, "the ultimate independent woman" (The New York Times Magazine).

No American envoy has ever burst on the diplomatic scene and grabbed center stage in the theater of foreign relations like Madeleine Albright. Navigating difficult terrain as few can, Washington D. C. insider Thomas Blood provides exclusive interviews with, and revealing anecdotes from, politicians, friends, adversaries, and colleagues, including former Secretary of State Warren Christopher, Senators Leahy, Mikulski, Kerrey, Helms, Reid, and Rockefeller, and House Minority Leader Dick Gephardt.

This unique biography reveals the dramatic story of the first woman U.S. Secretary of State. Rather than providing a simple chronology, Blood focuses on the defining moments in Madeleine Albright's life, identifying the periods that best open a window on the Secretary of State's uncanny ability to triumph over adversity, her unparalleled success in politics and her meteoric rise to dominance in the world of foreign policy. From her family's thrilling escape from Czechoslovakia to her astounding rise to power to her victories and setbacks as the head of American foreign policy, Madeleine Albright's life unfolds like a major motion picture.

An immensely readable biography that illuminates key experiences in Albright's career and personal life, Madam Secretary introduces us to Madeleine Albright the person, the politician, the policymaker.
About the Author
---
Thomas Blood has spent the last seventeen years in the political arena. He is currently C.E.O. of a prominent Washington-based lobbying firm and a veteran of six presidential campaigns. Most recently, Blood was coauthor of a book on the Clinton presidency, State of the Union. He lives in Great Falls, Virginia.
Praise For…
---
"The ultimate independent woman." —The New York Times Magazine

"Albright is a survivor." —Newsweek