Reeling In Russia: An American Angler In Russia (Paperback)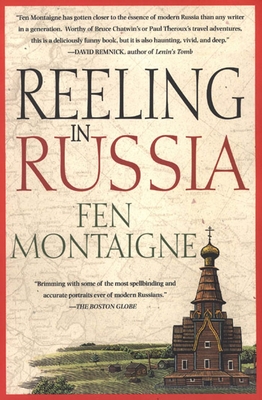 $22.99

Usually Ships in 1-5 Days
Description
---
In the summer of 1996, award-winning journalist Fen Montaigne embarked on a hundred-day, seven-thousand-mile journey across Russia. Traveling with his fly rod, he began his trek in northwestern Russia on the Solovetsky Islands, a remote archipelago that was the birthplace of Stalin's gulag. He ended half a world away as he fished for steelhead trout on the Kamchatka Peninsula, on the shores of the Pacific.

His tales of visiting these far-flung rivers are memorable, and at heart, Reeling in Russia is far more than a story of an angling journey. It is a humorous and moving account of his adventures in the madhouse that is Russia today, and a striking portrait that highlights the humanity and tribulations of its people.

In the end, the reader is left with the memory of haunted northern landscapes, of vivid sunsets over distant rivers, of the crumbling remains of pre-Revolutionary estates, and a cast of dogged Russians struggling to build a life amid the rubble of the Communist regime.
About the Author
---
Fen Montaigne is a journalist and author whose work has appeared in The New Yorker, National Geographic, Outside, Smithsonian, and The Wall Street Journal. A former Moscow bureau chief of The Philadelphia Inquirer, he is the author of Reeling in Russia and has co-authored two other books. For his work on Fraser's Penguins, Montaigne was awarded a Guggenheim Fellowship in 2006. He now works as senior editor of the online magazine Yale Environment 360.
Praise For…
---
"Wonderful...a vastly entertaining and edifying work." —The Washington Post

"A passionate and beautifully written memoir...a vivid, compelling...portrait of a country that remains an enigma to most Americans." —The Chicago Tribune

"Think of Montaigne as a Tocqueville with a fly rod who uncovers Russia in the raw." —Sports Illustrated

"A first-rate book...[with] memorable writing...Mr. Montaigne...has netted a darkly comic tale in which he is the picaresque antihero." —The Wall Street Journal