The Case for Christ Bible Study Guide Revised Edition: Investigating the Evidence for Jesus (Paperback)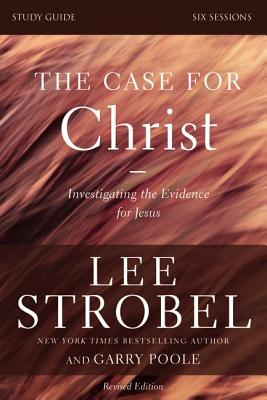 $12.99

Usually Ships in 1-5 Days
Description
---
Is there credible evidence that Jesus--the carpenter from the ancient town of Nazareth--really is the Son of God?
In this video Bible study (DVD/digital video sold separately), based on the New York Times bestselling book The Case for Christ, participants journey with Lee Strobel on a quest for the truth about Jesus.
Skeptics dismiss the Jesus of the Gospels by claiming there is no evidence that he was God's Son. But does their claim hold weight? And, if not, what evidence is there, especially outside the Bible? Lee Strobel--a former legal journalist and one-time atheist--presents the findings of his own search for truth.
This study guide is ideal for:
Believers who want to learn more about the hard evidence behind their faith.
Christians who find themselves becoming uncertain or doubtful.
Anyone investigating, curious, or even skeptical about Christianity.
Sift through historical evidence and passages from a range of theologians, thinkers, philosophers, and laypeople on the topic of Jesus as you weigh compelling expert testimony that rejects easy answers.
With discussion prompts, Bible passages, and personal reflection cues facilitated by contributor Garry Poole, Strobel invites you and your group to investigate the truth about Jesus Christ as he leads up to the facts that guided him from atheism to faith in Christ.
By the end of this six-session study, groups may very well see Jesus in a new way--and even, like Strobel, find their life transformed.
Sessions include:
The Investigation of a Lifetime
Eyewitness Evidence
Evidence Outside the Bible
Analyzing Jesus
Evidence for the Resurrection
Reaching Your Verdict
Designed for use with The Case for Christ Video Study 9780310698517 (sold separately).
About the Author
---
Lee Strobel was the award-winning legal editor of The Chicago Tribune and is the best-selling author of The Case for Faith, The Case for Christ, and The Case for a Creator, all of which have been made into documentaries by Lionsgate. With a journalism degree from the University of Missouri and a Master of Studies in Law degree from Yale, Lee wrote 3 Gold Medallion winners and the 2005 Book of the Year with Gary Poole. He and his wife live in Colorado. Visit Lee's website at: www.leestrobel.com.