Jesus Over Everything Bible Study Guide: Uncomplicating the Daily Struggle to Put Jesus First (Paperback)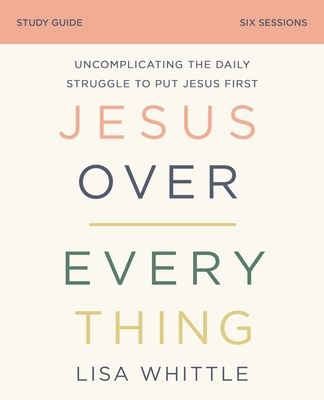 $14.99

Usually Ships in 1-5 Days
Description
---
Jesus Over Everything is a study guide experience with a simple truth that will change everything about your day-to-day: Your life will be less complicated if you put Jesus first. Period.
Every reference in the Bible to a healthy spiritual life is dependent on putting God first. But there are a lot of things that can get in the way of that ultimate priority--from over-working to over-thinking. Many times, our lives get complicated before we know it. Most of us don't willfully choose this; we silently slide into it.
In this six-week study (DVD/video downloads sold separately), Lisa Whittle helps you and your women's small group or Bible study build up defenses against damaging thought patterns and learn to reorder your priorities to consistently put Jesus back on top.
Jesus Over Everything is a close look at the Jesus-first life and the better things it offers. Filled with biblical examples and practical guidance, the journey ahead will unpack eight choice statements that will encourage new daily lifestyle decisions:
Real over pretty
Love over judgement
Holiness over freedom
Service over spotlight
Steady over hype
Wisdom over knowledge
Honesty over hiding
Commitment over mood
In the Gospels, when Jesus healed people, there was more going on than just the physical healing itself; there was a spiritual refocusing at work: with an acknowledgement of Christ and complete surrender to him comes a deep and lasting unburdening.
Packed with practical application and tools to equip and motivate you, the Jesus-over-everything journey will help you reprioritize your faith first in order to reprioritize your daily life.
Designed for use with the Jesus Over Everything Video Study available on DVD or streaming video, sold separately.