How to Lead When You're Not in Charge Study Guide: Leveraging Influence When You Lack Authority (Paperback)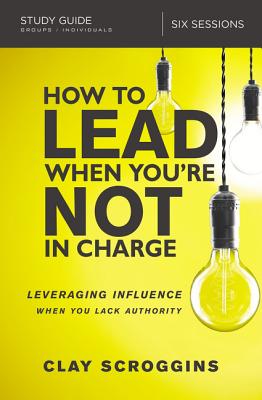 $12.99

Usually Ships in 1-5 Days
Description
---
The greatest myth of leadership is that you must be in charge in order to lead.
Great leaders aren't paralyzed by not being in a position of recognized authority. Great leaders lead with or without that authority and learn to unleash their positive influence wherever they are.
In this six-session, video-based study (DVD/streaming video sold separately), dynamic author and pastor Clay Scroggins shares his first-hand experience working under Andy Stanley at North Point Community Church. He explains the nature of leadership and what it takes to lead yourself and others well with or without that impressive title.
In this study you will:
Learn to leverage influence instead of authority
Create a game plan for leading yourself well
Change the energy of your team by choosing positivity
Cultivate influence by thinking critically, not being critical
Avoid the trap of passivity when you feel out of control
Learn an effective way to challenge people in authority over you
How to Lead When You're Not in Charge Study Guide will free you to become the great leader you want to be so you can make a difference right where you are--whether it's in your workplace, community, or church. Even when you're not in charge.
Sessions include:
The Oddity of Leadership
Lead Yourself
Choose Positivity
Think Critically
Reject Passivity
Challenging Up
Designed for use with the How to Lead When You're Not in Charge Video Study 9780310095934 (sold separately).