When God Doesn't Fix It Bible Study Guide: Learning to Walk in God's Plans Instead of Our Own (Paperback)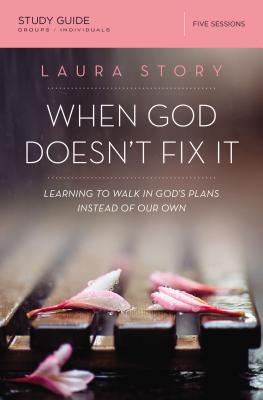 $12.99

Usually Ships in 1-5 Days
Description
---
Is it possible for our faith in God to deepen despite loss, heartache, struggle, and pain?
Worship leader and recording artist Laura Story's life testifies that God doesn't promise to save us from all hardship. No matter how hard we pray, sometimes our circumstances don't change.
Laura's own story took an unexpected turn when her husband, Martin, was diagnosed with a brain tumor. The devastating news forever changed their lives and challenged Laura's belief in the little control she thought she had. Her discovery: that her struggles to accept her new situation ended up convincing her even more strongly of God's faithfulness and love.
In this five-session video study (DVD/digital video sold separately), Laura shares her deeply personal testimony and renewed hope to help us:
Examine the promises of the gospel and what the Bible says about our experiences here on Earth.
See how the hardships endured by some of the men and women of the Bible teach us how God works in our lives to bring us closer to him.
Understand that the possibility exists for a deeper intimacy with God, whose everlasting promises remain no matter what happens in this life.
This study guide includes leader helps, video discussion questions, Bible exploration questions, and personal study and reflection materials for in-between sessions.
Sessions include:
Don't Be Surprised by Trouble - Healthy ways of recognizing the existence of loss and pain without being paranoid or cynical.
Best-Made Plans - A closer look at human plans and God's plans and how they might be different.
When God Doesn't Fix It - How stories of imperfect lives and struggles can showcase God's faithfulness and what that means for us.
Why? The Question on Replay - Finding freedom in not having all the answers.
A Better Broken - How to change despite our unchanging circumstances.
Designed for use with When God Doesn't Fix It Video Study (sold separately).
About the Author
---
Laura Story is a Bible teacher, worship leader, GRAMMY award-winning singer/songwriter, and bestselling author. "Blessings" was certified GOLD in 2011 and inspired her first book What If Your Blessings Come Through Raindrops. Laura's music and writing show God's love and grace intersecting with real life, and serve as a reminder that despite questions or circumstances, He is the ultimate author of our story. Laura recently released a new CD, God of Every Story, and will be releasing a Christmas album, God with Us, this fall. She and her husband welcomed twin boys Ben and Griffin last September, joining two-and-a-half-year-old big sister Josie. Laura lives with her family in Atlanta, Georgia, where she serves as a worship leader at Perimeter Church.