The Purple Book, Updated Edition: Biblical Foundations for Building Strong Disciples (Paperback)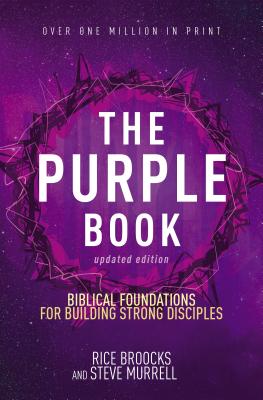 $12.99

Usually Ships in 1-5 Days
Description
---
Have you done The Purple Book?
More than 1 million Purple Books are being used around the world, in 22 languages
What exactly is The Purple Book
The Purple Book is a Bible study guide designed to help believers know and apply the essential beliefs of Christianity. From students and scholars to parents, kids, rock stars, and professional athletes, people all over the world are doing The Purple Book. And, it's the book the Newsboys give away at every concert Why? Because it gives new believers and longtime followers of Jesus the foundation they need to grow strong in the Christian life.
As you work through these 54 short lessons of about 15 minutes each, you will:
Understand foundational truths that God wants you to hear on topics such as sin, salvation, spiritual gifts, prayer, worship, generosity, and evangelism.
Learn how the Bible is "God-breathed and is useful for teaching, rebuking, correcting and training in righteousness" (2 Timothy 3:16).
Discover that the faith you hold has true power to change lives and transform nations.
Gain a solid foundation the enemy cannot dismantle--and a heart shaped by knowledge of God's Word.
The Purple Book is perfect for:
Personal Bible Study
Small Group Studies
Church "Foundations Classes"
Year-long sermon series, where the entire church goes through The Purple Book together.
Do The Purple Book, and take someone else along the journey with you to help establish Biblical foundations in their life too
"I love The Purple Book. It continually helps reinforce the only foundation worth building upon-- a biblical one."
--Peter Furler, Newsboys
"The Purple Book has been instrumental in my growth as a believer...an effective tool in helping me build the life that God has intended for me."
--Mark Brunell, Washington Redskins