The Power of Habit: Why We Do What We Do in Life and Business (Compact Disc)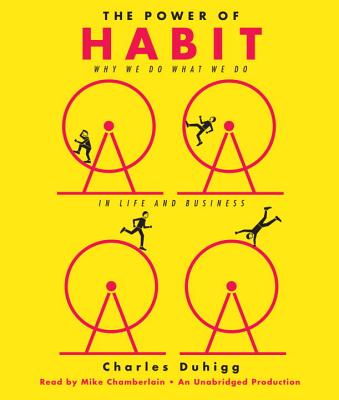 $40.00
Email or call for price
Description
---
NAMED ONE OF THE BEST BOOKS OF THE YEAR BY
The Wall Street Journal - Financial Times
NEW YORK TIMES BESTSELLER
A young woman walks into a laboratory. Over the past two years, she has transformed almost every aspect of her life. She has quit smoking, run a marathon, and been promoted at work. The patterns inside her brain, neurologists discover, have fundamentally changed. Marketers at Procter & Gamble study videos of people making their beds. They are desperately trying to figure out how to sell a new product called Febreze, on track to be one of the biggest flops in company history. Suddenly, one of them detects a nearly imperceptible pattern--and with a slight shift in advertising, Febreze goes on to earn a billion dollars a year. An untested CEO takes over one of the largest companies in America. His first order of business is attacking a single pattern among his employees--how they approach worker safety--and soon the firm, Alcoa, becomes the top performer in the Dow Jones. What do all these people have in common? They achieved success by focusing on the patterns that shape every aspect of our lives. They succeeded by transforming habits. In
The Power of Habit,
award-winning
New York Times
business reporter Charles Duhigg takes us to the thrilling edge of scientific discoveries that explain why habits exist and how they can be changed. With penetrating intelligence and an ability to distill vast amounts of information into engrossing narratives, Duhigg brings to life a whole new understanding of human nature and its potential for transformation. Along the way we learn why some people and companies struggle to change, despite years of trying, while others seem to remake themselves overnight. We visit laboratories where neuroscientists explore how habits work and where, exactly, they reside in our brains. We discover how the right habits were crucial to the success of Olympic swimmer Michael Phelps, Starbucks CEO Howard Schultz, and civil-rights hero Martin Luther King, Jr. We go inside Procter & Gamble, Target superstores, Rick Warren's Saddleback Church, NFL locker rooms, and the nation's largest hospitals and see how implementing so-called keystone habits can earn billions and mean the difference between failure and success, life and death. At its core,
The Power of Habit
contains an exhilarating argument: The key to exercising regularly, losing weight, raising exceptional children, becoming more productive, building revolutionary companies and social movements, and achieving success is understanding how habits work. Habits aren't destiny. As Charles Duhigg shows, by harnessing this new science, we can transform our businesses, our communities, and our lives.
Praise for The Power of Habit
"Sharp, provocative, and useful."
--Jim Collins
"Few books] become essential manuals for business and living.
The Power of Habit
is an exception. Charles Duhigg not only explains how habits are formed but how to kick bad ones and hang on to the good."
--Financial Times
"A flat-out great read."
--David Allen, bestselling author of Getting Things Done: The Art of Stress-Free Productivity
"You'll never look at yourself, your organization, or your world quite the same way."
--Daniel H. Pink, bestselling author of Drive and A Whole New Mind
"Entertaining . . . enjoyable . . . fascinating . . . a serious look at the science of habit formation and change."
--The New York Times Book Review

About the Author
---
Charles Duhigg is an investigative reporter for The New York Times. He is a winner of the National Academies of Sciences, National Journalism, and George Polk awards, and was part of a team of finalists for the 2009 Pulitzer Prize. He is a frequent contributor to This American Life, NPR, PBS NewsHour, and Frontline. A graduate of Harvard Business School and Yale College, he lives in Brooklyn with his wife and two kids.
Praise For…
---
NEW YORK TIMES BESTSELLER • NPR BESTSELLER • WASHINGTON POST BESTSELLER • LOS ANGELES TIMES BESTSELLER • USA TODAY BESTSELLER • PUBLISHERS WEEKLY BESTSELLER

"Sharp, provocative, and useful."—Jim Collins
 
"Few [books] become essential manuals for business and living. The Power of Habit is an exception. Charles Duhigg not only explains how habits are formed but how to kick bad ones and hang on to the good."—Financial Times
 
"A flat-out great read."—David Allen, bestselling author of Getting Things Done: The Art of Stress-Free Productivity
 
"You'll never look at yourself, your organization, or your world quite the same way."—Daniel H. Pink, bestselling author of Drive and A Whole New Mind
 
"Entertaining . . . enjoyable . . . fascinating . . . a serious look at the science of habit formation and change."—The New York Times Book Review
 
"Cue: see cover. Routine: read book. Reward: fully comprehend the art of manipulation."—Bloomberg Businessweek

"A fresh examination of how routine behaviors take hold and whether they are susceptible to change . . . The stories that Duhigg has knitted together are all fascinating in their own right, but take on an added dimension when wedded to his examination of habits."— Associated Press
 
"There's been a lot of research over the past several years about how our habits shape us, and this work is beautifully described in the new book The Power of Habit."—David Brooks, The New York Times
 
"A first-rate book—based on an impressive mass of research, written in a lively style and providing just the right balance of intellectual seriousness with practical advice on how to break our bad habits."—The Economist
 
"I have been spinning like a top since reading The Power of Habit, New York Times journalist Charles Duhigg's fascinating best-seller about how people, businesses and organizations develop the positive routines that make them productive—and happy."—The Washington Post
 
"An absolutely fascinating . . . book [that explores] a startling and sometimes dismaying collision between the increasingly sophisticated scientific understanding of habits—how they're formed, how they can be disrupted and changed—and, among other things, companies' efforts to use that knowledge to steer your habits and money their way."—Wired
 
"If Duhigg is right about the nature of habits, which I think he is, then trying to get rid of these bad habits won't work. Instead, what is needed is to teach the managers to identify the cues that lead to these bad habits and rewards, and then learn alternative routines that lead to similar rewards, i.e. business and personal success."—Forbes
 
"The Power of Habit is chock-full of fascinating anecdotes . . . how an early twentieth century adman turned Pepsodent into the first bestselling toothpaste by creating the habit of brushing daily, how a team of marketing mavens at Procter & Gamble rescued Febreze from the scrapheap of failed products by recognizing that a fresh smell was a fine reward for a cleaning task, how Michael Phelps' coach instilled habits that made him an Olympic champion many times over, and how Tony Dungy turned the Indianapolis Colts into a Super Bowl–winning team."—Los Angeles Times
 
"Duhigg clearly knows that people do not like, or even buy, the idea that we're not creatures of choice. He carefully explains each step of habit building, using science and—the best part—a slew of interesting anecdotes."—The Seattle Times
 
"Duhigg argues that much of our lives is ruled by unconscious habits, good and bad, but that by becoming consciously aware of the cues that trigger our habits and the rewards they provide, we can change bad practices into good ones."—Pittsburgh Post-Gazette
 
"Duhigg's revelation that Target had developed a model to predict whether female customers were pregnant ignited a firestorm after an excerpt from his book, The Power of Habit: Why We Do What We Do in Life and Business, was published."—USA Today