Full Body Burden: Growing Up in the Nuclear Shadow of Rocky Flats (Paperback)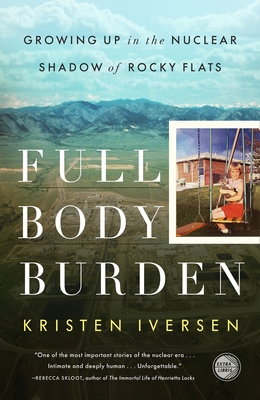 $18.00

Usually Ships in 1-5 Days
Description
---
"An intimate and deeply human memoir that shows why we should all be concerned about nuclear safety, and the dangers of ignoring science in the name of national security."—Rebecca Skloot, #1 New York Times bestselling author of The Immortal Life of Henrietta Lacks
 
A shocking account of the government's attempt to conceal the effects of the toxic waste released by a secret nuclear weapons plant in Colorado and a community's vain search for justice—soon to be a feature documentary

Kristen Iversen grew up in a small Colorado town close to Rocky Flats, a secret nuclear weapons plant once designated "the most contaminated site in America." Full Body Burden is the story of a childhood and adolescence in the shadow of the Cold War, in a landscape at once startlingly beautiful and--unknown to those who lived there--tainted with invisible yet deadly particles of plutonium. It's also a book about the destructive power of secrets--both family and government. Her father's hidden liquor bottles, the strange cancers in children in the neighborhood, the truth about what was made at Rocky Flats--best not to inquire too deeply into any of it. But as Iversen grew older, she began to ask questions and discovered some disturbing realities.

Based on extensive interviews, FBI and EPA documents, and class-action testimony, this taut, beautifully written book is both captivating and unnerving.
About the Author
---
Kristen Iversen grew up in Arvada, Colorado, near the Rocky Flats nuclear weaponry facility and received a Ph.D. in English from the University of Denver. She is head of the PhD program in Literary Nonfiction at the University of Cincinnati. During the summers, she serves on the faculty of the MFA Low-Residency Program at the University of New Orleans, held in San Miguel de Allende, Mexico, and in Edinburgh, Scotland. She is also the author of Molly Brown: Unraveling the Myth, winner of the Colorado Book Award for Biography and the Barbara Sudler Award for Nonfiction. Iversen has two sons and lives in Cincinnati. 
Praise For…
---
Winner of the 2013 Colorado Book Award
Winner of the Reading the West Book Award in Nonfiction
A Mother Jones Best Book of 2012
A Kirkus Reviews Best Book of 2012
An Atlantic Monthly Best Book about Justice

"Full Body Burden is one of the most important stories of the nuclear era--as personal and powerful as "Silkwood," told with the suspense and narrative drive of The Hot Zone. With unflinching honesty, Kristen Iverson has written an intimate and deeply human memoir that shows why we should all be concerned about nuclear safety, and the dangers of ignoring science in the name of national security. Rocky Flats needs to be part of the same nuclear discussion as Three Mile Island, Chernobyl, and Fukushima. So does Full Body Burden. It's an essential and unforgettable book that should be talked about in schools and book clubs, online and in the White House."
—Rebecca Skloot, author of The Immortal Life of Henrietta Lacks
 
"What a surprise! You don't expect such (unobtrusively) beautiful writing in a book about nuclear weapons, nor such captivating storytelling. Plus the facts are solid and the science told in colloquial but never dumbed-down terms. If I could afford them, I'd want the movie rights. Having read scores of nuclear books, I venture a large claim: Kristin Iversen's Full Body Burden may be a classic of nuclear literature, filling a gap we didn't know existed among Hersey's Hiroshima, Burdick and Wheeler's Fail-Safe and Kohn's Who Killed Karen Silkwood?"
—Mark Hertsgaard, author of Nuclear Inc. and HOT

"This terrifyingly brilliant book--as perfectly crafted and meticulously assembled as the nuclear bomb triggers that lie at its core--is a savage indictment of the American strategic weapons industry, both haunting in its power, and yet wonderfully, charmingly human as a memoir of growing up in the Atomic Age."
—Simon Winchester, author of The Professor and the Madman and Atlantic

"Why didn't Poe or Hitchcock think of this? Full Body Burden has all the elements of a classic horror tale: the charming nuclear family cruising innocently above the undercurrents of nuclear nightmare. But it's true and all the more chilling. Kristen Iversen has lived this life and is an authority on the culture of secrecy that has prevented the nation from knowing the truth about radioactive contamination. This is a gripping and scary story."
—Bobbie Ann Mason, author of Shiloh and Other Stories and In Country 

"Kristen Iversen has written a hauntingly beautiful memoir that is also a devastating investigation into the human costs of building and living with the atomic bomb. Poignant and gracefully written, Iversen shows us what it meant to come of age next door to Rocky Flats--America's plutonium bomb factory. The story is at once terrifying and outrageous."
—Kai Bird, co-author of American Prometheus: The Triumph and Tragedy of J. Robert Oppenheimer

"The fight over Rocky Flats was and is a paradigmatic American battle, of corporate and government power set against the bravery and anger of normal people. This is a powerful and beautiful account, of great use to all of us who will fight the battles that lie ahead."
—Bill McKibben, author of The End of Nature and Eaarth

"Part memoir, part investigative journalism, Full Body Burden is a tale that will haunt your dreams. It's a story of secrecy, deceit, and betrayal set in the majestic high plains of Colorado. Kristen Iversen takes us behind her family's closed doors and beyond the security fences and the armed guards at Rocky Flats. She's as honest and restrained in her portrait of a family in crisis as she is in documenting the incomprehensible betrayal of citizens by their government, in exposing the harrowing disregard for public safety exhibited by the technocrats in charge of a top-secret nuclear weapons facility. For decades the question asked by residents living downwind of the plant was 'Would my government deliberately put my life and the lives of my children in danger?' The simple and irrefutable answer was 'Yes, it would . . . in a Colorado minute.'"
—John Dufresne, author of Louisiana Power & Light and Love Warps the Mind a Little
 
"This is a subject as grippingly immediate as today's headlines: While there is alarm about the small rise in radioactivity in the food chain, one reads in these pages about how a whole region lived in the steady contaminating effects of nuclear radiation. Kristen Iversen's prose is clean and clear and lovely, and her story is deeply involving and full of insight and knowledge; it begins in innocence, and moves through catastrophes; it is unflinching and brave, an expose about ignorance and denial and the cost of government excess, and an intensely personal portrait of a family. It ought to be required reading for every single legislator in this country."
—Richard Bausch, author of Peace and Something Is Out There