My Happy Days in Hollywood: A Memoir (Hardcover)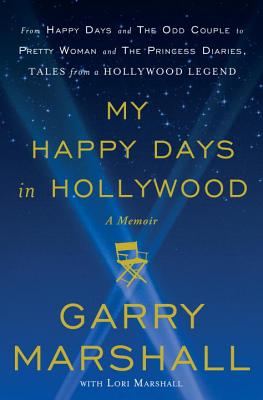 $25.00
Email or call for price
Description
---
With the television hits The Odd Couple, Happy Days, Laverne & Shirley, and Mork & Mindy, and movies like The Flamingo Kid, Beaches, Pretty Woman, and The Princess Diaries under his belt, Garry Marshall has been among the most successful writers, directors, and producers in America for more than five decades. His work on the small and big screen has delighted audiences for the last three decades and has withstood the test of time. 

In My Happy Days in Hollywood, Marshall takes us on a journey from his stickball-playing days in the Bronx to his time at the helm of some of the most popular television series and movies of all time, sharing the joys and challenges of working with the Fonz and the young Julia Roberts, the "street performer" Robin Williams, and the young Anne Hathaway, among many others. This honest, vibrant, and often hilarious memoir reveals a man whose career has been defined by his drive to make people laugh and whose personal philosophy—despite his tremendous achievements—has always been that life is more important than show business.
About the Author
---
GARRY MARSHALL is a veteran producer, director, and writer of film, television, and theater. He learned his craft writing jokes for Lucille Ball, Dick Van Dyke, and Danny Thomas. He has created and produced some of television's most beloved situation comedies and directed some of America's favorite romantic comedies. Marshall has been married to his wife, Barbara, for close to fifty years, and he has three children and six grandchildren. He writes with his daughter Lori; acts in movies directed by his son, Scott; and produces plays at the Falcon Theatre in Burbank, California, with his daughter Kathleen.

LORI MARSHALL has written eleven produced children's plays for the stage, co-written two books, and contributed to the" New York Times," the" Los Angeles Times, "and the" Chicago Tribune. "Like her father, she is a graduate of Northwestern University's Medill School of Journalism. She has been writing with her father since the eighth grade, when he helped her punch up an English paper on Franz Kafka. She lives in San Francisco and is the mother of twin girls, Lily Camille and Charlotte Grace.
Praise For…
---
 "Garry Marshall is walking entertainment. He is smart, insightful, funny…and so is his book." ―Henry Winkler

"Even though he speaks slowly with a distinctive New Yorkese Bronx accent, he has managed to quickly create, write, and produce a raft of beloved television series that speak 'American'. I am happy that he gifted us with a witty memoir (about his Happy Days in Hollywood)." ―Carl Reiner

"Thanks to my brother I have a life.  I'm sorry I almost ruined his during Laverne & Shirley." ―Penny Marshall

"I never thought my fairy godmother would look―or sound―like Garry. He is a gift of a human being, and this book is wicked sweet." ―Anne Hathaway
 
"Garry Marshall is one of the most beloved and talented people I know…and maybe the most normal guy in the business. This wonderful biography will allow readers to discover for themselves the decent and kind man who writes and directs with such a huge heart—all grounded from humble beginnings in The Bronx. This is a must-read book." —Julie Andrews
 
"Garry Marshall is quite simply one of my favorite people. He is loving, loyal, and hilarious! Having made movies with Garry when I was 20, 30, and 40…I guess you could say Garry and Barbara have raised me! In a time where people have lost touch with things to laugh about, this book is sure to be a cure." —Julia Roberts