Golden Age (The Last Hundred Years Trilogy: A Family Saga #3) (Paperback)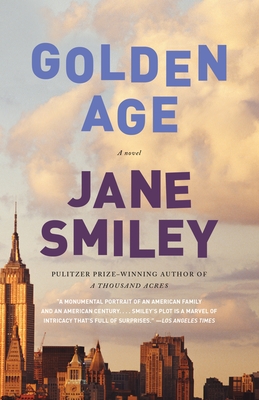 for information about purchasing this book, please contact orders@bookpassage.com
Other Books in Series
This is book number 3 in the The Last Hundred Years Trilogy: A Family Saga series.
Description
---
From the Pulitzer Prize-winning author of A Thousand Acres comes the much-anticipated final volume in the acclaimed The Last Hundred Years Trilogy, following Some Luck and Early Warning. A richly absorbing new novel that is "a monumental portrait of an American family and an American century…. Smiley's plot is a marvel of intricacy that's full of surprises." —Los Angeles Times

It's 1987, and the next generation of Langdons is facing economic, social, and political challenges unlike anything their ancestors have encountered. Michael and Richie, twin sons of World War II hero Frank, work in the high-stakes worlds of government and finance—but their fiercest enemies may be closer to home. Charlie, the charmer, struggles to find his way; Guthrie is deployed to Iraq, leaving the Iowa family farm in the hands of his younger sister, Felicity—who, as always, has her own ideas. Determined to help preserve the planet, she worries that her family farm's land is imperiled, and not only by the extremes of climate change.

Moving seamlessly from the power-brokered 1980s and the scandal-ridden '90s to our own present moment and beyond, Golden Age combines intimate drama, emotional suspense, and an intricate view of history, bringing to a magnificent conclusion the epic trilogy of one unforgettable family.
About the Author
---
JANE SMILEY is the author of numerous novels, including A Thousand Acres, which was awarded the Pulitzer Prize, and most recently, Some Luck and Early Warning, the first volumes of The Last Hundred Years trilogy. She is also the author of five works of nonfiction and a series of books for young adults. A member of the American Academy of Arts and Letters, she has also received the PEN Center USA Lifetime Achievement Award for Literature. She lives in Northern California.
Praise For…
---
Winner of the Heartland Prize for Fiction

A Washington Post Notable Book
One of the Best Books of the Year: NPR, St. Louis Post-Dispatch, Milwaukee Journal-Sentinel, BookPage

"A monumental portrait of an American family and an American century. . . . Smiley's plot is a marvel of intricacy that's full of surprises." —Los Angeles Times

"Captivating. . . . Smiley's trilogy is a significant achievement, animating American history through the Langdon family story." —The Dallas Morning News

"Outlines, with warmth and wisdom, a tumultuous time for the extended Langdon family and the United States." —The Boston Globe

"A saga not to be missed." —Huffington Post

"Ambitious, absorbing. . . . Golden Age flows with the nuances and rhythms of everyday life, with time passing steadily, through births and deaths, triumph and tragedy." —Miami Herald

"Strike[s] a fine balance between the history of an era's 'great ideas' and the history of its everyday life. . . . It's a small miracle how much ground Smiley covers and how much she knows: about biochemistry, horses and genetics, but also medieval literature, financial instruments and especially politics." —The Washington Post

"[Smiley] keeps the interwoven plotlines moving forward with her beautiful clean sentences and fully realized characters." —San Francisco Chronicle

"Breathtaking. . . . Epic. . . . With The Last Hundred Years trilogy, [Smiley] surely confirms her place alongside Roth, Updike and Bellow as one of the truly great chroniclers of 20th-century American life. . . . A powerful, moving and rewarding experience. " —The Guardian (London)
"That all of these characters seem so true—from what they eat and wear and drive to how they act and think and feel—is a testament to Smiley's extraordinary talent (and extraordinary application)." —Minneapolis Star Tribune

"Smiley tells not only the story of an American family, but also the story of America itself. . . . The way the characters interact with history is indivisible from the way they interact with each other, which is inextricably bound up with family dynamics and the mystery of human personality." —Chicago Tribune

"A literary historical panorama. . . . The power of Smiley's project ultimately lies in her ability to situate her readers here, on the edge of a new world." —Milwaukee Journal Sentinel

"Radiant. . . . Beautifully crafted." —Pittsburgh Post-Gazette

"There's much to admire: Smiley's attention to detail in each and every year; her knowledge of politics, environmentalism, and genetics; her humor; her stripped back prose. . . . Smiley chronicles 20th-century life like few have, with the same scope and fastidiousness of Phillip Roth, Saul Bellow, and John Updike." —Miami New Times

"Bold, satisfying . . . insightful. Smiley is superb when it comes to summing up a character's hopes and insecurities. . . She is an endlessly sensitive explorer of liberty and the abandonments it entails. . . . Golden Age is a welcome reminder of her enormous talents as a storyteller." —Financial Times

"Compelling. . . . Familial relationships are explored with biting intelligence, great narrative skill, good humor and generosity of spirit. . . . Her humanely realized characters are what make these novels so addictive. . . . Golden Age reverberates with shocks and surprises." —BookPage

"Timeless in the rapture of its storytelling and the humanness of its insights. . . . Readers will be reading, and rereading, Smiley's Last Hundred Years far into the next." —Booklist (starred review)

"Warmly affecting . . . Smiley is a skilled storyteller. . . . The narrative energy of masterfully interwoven plotlines always conveys a sense of life as an adventure worth pursuing." —Kirkus Reviews
"A fitting conclusion to the trilogy . . . The boon of Smiley's writing is her unforgettable characters and unexpected relationships." —Library Journal