Early Warning (The Last Hundred Years Trilogy: A Family Saga #2) (Paperback)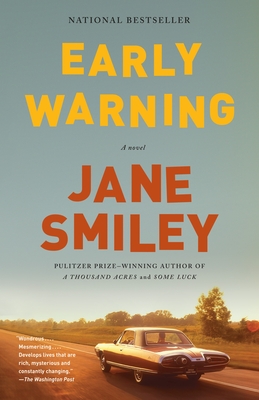 for information about purchasing this book, please contact orders@bookpassage.com
Other Books in Series
This is book number 2 in the The Last Hundred Years Trilogy: A Family Saga series.
Description
---
NATIONAL BESTSELLER • From the Pulitzer Prize-winning author of A Thousand Acres comes the "wondrous…mesmerizing" second installment (The Washington Post), following Some Luck, of her widely acclaimed, bestselling American trilogy, which brings the journey of a remarkable family with roots in the Iowa heartland into mid-century America. 

It's 1953, and the Langdons are at a crossroads. Walter, their stalwart patriarch, has died unexpectedly, and his wife must try to keep their farm going. But of their five children, only one will remain to work the land. The others scatter to Washington, DC, California, and everywhere in between.

As the country moves into the Cold War, through the social revolutions of the '60s and '70s, and into the unprecedented wealth—for some—of the early '80s, the Langdon children have children of their own: twin boys who are best friends and vicious rivals; a girl whose rebellious spirit takes her to the notorious Peoples Temple in San Francisco; and a golden boy who drops out of college to fight in Vietnam—leaving behind a secret legacy. Capturing a transformative period through characters we come to know and love, this second volume in Jane Smiley's epic trilogy brings to life the challenges—and rewards—of family and home, even in the most turbulent of times.
About the Author
---
JANE SMILEY is the author of numerous novels, including A Thousand Acres, which was awarded the Pulitzer Prize, and most recently, Some Luck, the first volume of The Last Hundred Years trilogy, long-listed for the National Book Award. She is also the author of five works of nonfiction and a series of books for young adults. A member of the American Academy of Arts and Letters, she has also received the PEN Center USA Lifetime Achievement Award for Literature. She lives in Northern California.
Praise For…
---
One of the Best Books of the Year: San Francisco Chronicle

"Wondrous. . . . Mesmerizing. . . . Develops lives that are rich, mysterious and constantly changing." —The Washington Post

"Dickensian in its breadth and detail. . . . Smiley is simply brilliant." —Minneapolis Star Tribune

"Heartbreaking. . . . Expansive yet intimate." —The New York Times Book Review

"Superb. . . . [A] king-size American quilt of a novel." —The New Yorker

"Wonderful. . . . Smiley poses large questions and offers powerful insights." —San Francisco Chronicle

"Recalls Balzac's Human Comedy, John Dos Passos' U.S.A. trilogy and John Updike's Rabbit quartet. . . . Leave[s] us looking forward to the finale of this epic endeavor." —NPR

"Smiley's brilliance is twofold. In telling the story of an American family, she unfurls the troubled trajectory of twentieth-century America." —USA Today

 "Eloquent and poignant. . . . Smiley's deft narrative hopping is as impressive as ever." —Entertainment Weekly

"The second installment of Smiley's Last Hundred Years trilogy follows the next generation of Langdons across a mid-twentieth century American panorama, evoking—with perceptiveness and sweep—the social revolutions that realign their fates." —Vogue

"Engrossing. . . . Smiley captures the great heartland diaspora of the twentieth century. . . . Demonstrates what a novel, unique among all art forms, can do." —The Dallas Morning News

"Phenomenally powerful. . . . What Smiley feels most like here, for her faultless skill in bringing a wide cast so vividly into being that we would know them anywhere, for the remarkable intensity of her feeling for territory and landscape and her combination of impatient intellect, emotional perspicacity and unfailing humanity, is America's Tolstoy." —The Guardian (London)

"The real magic of this novel is that which makes every Jane Smiley book a work of art, recognizably hers: the writing, the writing, the writing." —Los Angeles Review of Books

"[An] intimate and exceptional exploration of American history through the eyes of an Iowa family. . . . Elegantly tuck[s] a busy century into three volumes full of life, humor and sharp observation." —The Miami Herald

"Masterful." —Pittsburgh Post-Gazette

"Nuanced and intimate. . . . Capture[s] the feel and aesthetic of an American family. You meet the Langdons in Some Luck, but by the time you finish Early Warning, you'll feel like you are one of them." —Milwaukee Journal Sentinel

"Smiley is a master of characterization as well as language. . . . Images are so clear it's hard to believe you're not in the story yourself, and people are so well drawn you'd swear you know them personally." —The New York Journal of Books

"Utterly engaging. . . . Early Warning is a masterpiece of quick and perfectly executed brushstrokes." —The Independent (London)