Love and Treasure (Paperback)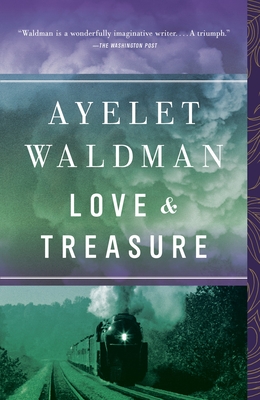 for information about purchasing this book, please contact orders@bookpassage.com
Description
---
A Washington Post Best Book of the Year
An Oprah.com Best Book of the Year

In 1945, on the outskirts of Salzburg, American soldiers discover a train filled with unspeakable riches: gold watches and wedding rings, picture frames and Shabbat candlesticks.  Jack Wiseman is the lieutenant tasked with guarding this treasure in the chaotic aftermath of war—a responsibility that grows more complicated when he meets Ilona, a fierce, beautiful Hungarian woman who has lost everything in the ravages of the Holocaust.
 
Seventy years later, amid the shadowy world of art dealers who profit off the sins of previous generations, Jack gives a necklace to his granddaughter, Natalie, and charges her with returning it to its owner. And as Natalie searches for the woman whose portrait and unknown fate have come to haunt her, she will come to understand the secret her grandfather took to his grave.
About the Author
---
Ayelet Waldman is the author of the novels Red Hook Road, Love and Other Impossible Pursuits, and Daughter's Keeper, as well as of the essay collection Bad Mother: A Chronicle of Maternal Crimes, Minor Calamities, and Occasional Moments of Grace and the Mommy-Track Mystery series. She lives in Berkeley, California, with her husband and four children.
Praise For…
---
"Grounded in history, this exciting novel is full of twists and compelling characters."
—Isabel Allende

"Waldman's historically resonant novel offers stories within stories, spanning a century. . . . A page-turner." —Chicago Tribune 
 
"Powerful. . . . Waldman sustains her multiple plot lines with breathless confidence and descriptive panache." —The New York Times Book Review
 
"Waldman is a wonderfully imaginative writer, but she's drawn the central event of her absorbing new novel directly from history …. [A] triumph." —The Washington Post
 
"One is quickly caught up in Love and Treasure . . . at times a document, a thriller, a love story, a search." —Michael Ondaatje  
  
"A novel to love and treasure." —Philippa Gregory
 
"Thoughtful, expansive. . . . The pendant's crooked passage across the century . . . hold[s] the book's elegantly balanced parts together like the wire of a Calder mobile." —The Wall Street Journal
 
"Ambitious, absorbing, and poignantly moving." —Joyce Carol Oates
 
"Engaging. . . . Lively. . . . The female characters  … are headstrong women brimming with passion, regrets and ideals." —San Francisco Chronicle
 
"Evocative and enthralling." —Minneapolis Star Tribune
 
"A tragic love story rooted in one of our darkest moments. . . . Readers will sink into Waldman's rich descriptions." —MORE

"Love and Treasure is like the treasure train it chases: fast-paced, bound by a fierce mission, full of bright secrets and racingly, relentlessly moving." —Daniel Handler

"A compelling meditation on love, missed connections and the pull of history on the present…. Well-written and entertaining." —USA Today

"Love and Treasure is less concerned with belongings than with belonging—with the Jewish people's ongoing hunt for community and homeland, and what one character calls 'a sense of loyalty and identity'. Those things, once stolen, are much harder to get back." —The Wall Street Journal

"What ethics govern the custodians of property that can never be returned? How do the personal and the political intertwine in the wake of historical tragedy? These questions permeate the novel. . . . The human stories behind the looted objects flicker into life." —The Boston Globe
 
"One of the most notorious cases of property theft in WWII. . .  is a story ripe for retelling . . .  Waldman brings to life the world of the Central European Jewish haute bourgeoisie." —Tablet Magazine

"Classic perfection . . . . One never knows what turning the page will bring. Highly recommended." —New York Journal of Books

"Conveys the scope of the tragedy as well as the richness of Hungarian Jewish history . . . Her best work." —J Weekly

"Love and Treasure is romantic, provocative and ripe for discussion—a historical novel that is as timely and relevant as ever." –Bookreporter.com

"Exquisitely crafted."  —San Jose Mercury News

"A work that measures memory against oblivion, value against wealth, and legacy against possession." —O, The Oprah Magazine

"Love and Treasure embodies the staples of a timeless adventure narrative. . . . An exhilarating read that is as thoughtful as it is provocative." —Vox Magazine

"Waldman's novel skips continents and generations, telling a multi-layered and well-constructed story." —Christian Science Monitor
 
"Full of intriguing complexity. . . . Calls us to reevaluate what it is that we treasure most." —Bustle