The Ghostwriter Secret: Brixton Brothers, Book 2 (Compact Disc)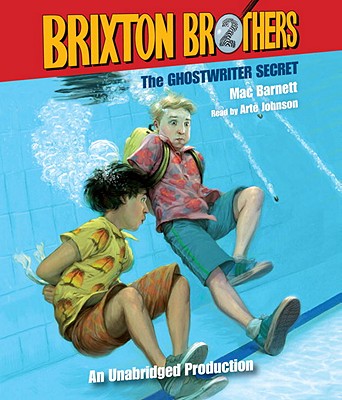 $25.00
Email or call for price
Description
---
Steve Brixton is America's next great kid detective (and now he has his own agency to prove it) .
When twelve-year-old detective Steve Brixton gets a call that the Fairview diamond has gone missing, there are only two things to do: grab his new business cards and take the case
But Steve quickly learns there's an even bigger mystery afoot.
MacArthur Bart, a.k.a. Steve's hero, a.k.a. the author of the Bailey Brothers Mysteries series, has been kidnapped With the man who taught him everything he knows about sleuthing in trouble, Steve and his best chum, Dana, know they must stage a daring rescue. . . .
Once they find out where Bart is . . .and who took him . . .and why.
About the Author
---
MAC BARNETT is the author of two picture books, "Guess Again!" and "Billy Twitters and His Blue Whale Problem," as well as "Brixton Brothers, Books 1: The Case of the Case of Mistaken Identity," which is also available on audio from Listening Library. He is on the board of directors of 826LA, a nonprofit writing center, and he founded the Echo Park Time Travel Mart, a convenience store for time travelers (seriously). You can visit Mac s website at macbarnett.com."