Having a Real Relationship with God (40-Minute Bible Studies) (Paperback)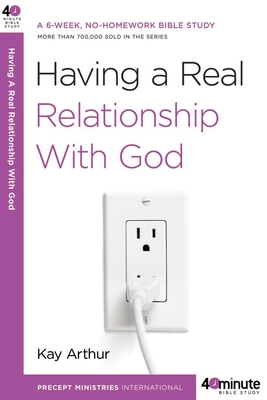 $7.99

Usually Ships in 1-5 Days
Description
---
This Bible study series from beloved Bible teacher Kay Arthur and the teaching staff of Precept Ministries tackles important issues in brief, easy-to-grasp lessons you can benefit from personally or as part of a small group. Each book in the series includes six 40-minute studies designed to draw you into God's Word through basic inductive Bible study.

As Kay explains, "Rather than simply reading or listening to what others say about a subject, you are going to see for yourself what God says about it."Join one of the world's most respected Bible teachers in a study that will revolutionize your thinking--and your life.

Have you ever wondered if it's possible to have a meaningful and authentic relationship with God--one that really works in the day-in-day-out circumstances of your life?
This powerful inductive study will help you discover for yourself how such a rewarding relationship with God is possible. Kay Arthur opens the Bible to show you the way to salvation, with a special focus on where you stand with God, how your sin keeps us from knowing him, and how Christ bridged the chasm between humanity and God.

Begin your journey to genuine faith. Let Kay Arthur show you the way!
About the Author
---
KAY ARTHUR is one of America's best-known and most-beloved Bible teachers and authors. With her husband, Jack, she is the cofounder of Precept Ministries International, the leaders in inductive Bible-study resources. Kay also reaches hundreds of thousands of people internationally through her "Precept upon Precept" inductive Bible studies. In addition, her daily and weekly television programs air on over 900 stations in 30 countries.