Being a Disciple (40-Minute Bible Studies) (Paperback)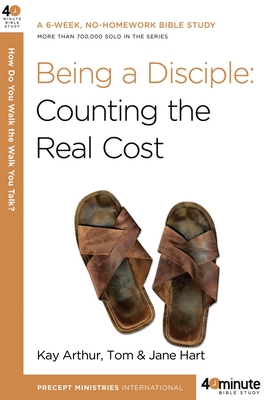 $7.99

Usually Ships in 1-5 Days
Description
---
This brand new Bible study series from beloved Bible teacher Kay Arthur and the teaching staff of Precept Ministries tackles important issues in brief, easy-to-grasp lessons you can benefit from personally or as part of a small group. Each book in the series includes six 40-minute studies designed to draw you into God's Word through basic inductive Bible study. As Kay explains, "Rather than simply reading or listening to what others say about a subject, you are going to see for yourself what God says about it." Join one of the world's most respected Bible teachers in a study that will revolutionize your thinking--and your life.

What is the difference between a true follower of Jesus Christ and others who merely call themselves "Christian"? Kay Arthur and Tom and Jane Hart point the way to clear answers in this instructive study of what Jesus had to say about the subject.
Through these eye-opening inductive studies of passages from the Gospels, you can better understand the distinctive marks of a disciple of Christ and how to make sure they are true of your own life.
Join Kay Arthur in exploring what it means to count the cost, deny yourself, and follow Christ.
About the Author
---
Kay Arthur is one of America's best-known and most beloved Bible teachers and authors. With her husband, Jack, she is the cofounder of Precept Ministries International, the leaders in inductive Bible study resources. Kay also reaches hundreds of thousands of people internationally through her "Precept upon Precept" inductive Bible studies. In addition, her daily and weekly television programs air on over 900 stations in 30 countries.

Tom and Jane Hart direct the Canadian ministry of Precept Ministries International. They are authors and speakers at churches, Bible colleges, conferences, and retreats across Canada and overseas. Tom, a lawyer, is completing a doctoral degree in ministry. Jane, a nurse, has been a Bible teacher for more than twenty years. Jane and Tom have been married for 31 years and have three children and two grandchildren. They reside in Brantford, Ontario.