The Dead Hand: The Untold Story of the Cold War Arms Race and Its Dangerous Legacy (Paperback)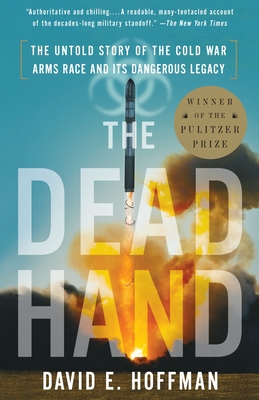 Description
---
WINNER OF THE PULITZER PRIZE

The first full account of how the Cold War arms race finally came to a close, this riveting narrative history sheds new light on the people who struggled to end this era of massive overkill, and examines the legacy of the nuclear, chemical, and biological weapons that remain a threat today.
 
Drawing on memoirs, interviews in both Russia and the US, and classified documents from deep inside the Kremlin, David E. Hoffman examines the inner motives and secret decisions of each side and details the deadly stockpiles that remained unsecured as the Soviet Union collapsed. This is the fascinating story of how Reagan, Gorbachev, and a previously unheralded collection of scientists, soldiers, diplomats, and spies changed the course of history.
About the Author
---
David E. Hoffman is Contributing Editor at the Washington Post and author of The Oligarchs: Wealth and Power in the New Russia. He lives in Maryland.
Praise For…
---
"Authoritative and chilling. . . . A readable, many-tentacled account of the decades-long military standoff between the United States and the Soviet Union. . . . The Dead Hand is deadly serious, but this story can verge on pitch-black comedy—Dr. Strangelove as updated by the Coen Brothers."
—The New York Times

"Revealing, alarming and compelling throughout. . . . This richly reported account vividly chronicles the insanity of the arms race. . . . Taut, crisply written. . . . The Dead Hand puts human faces on the bureaucracy of mutual assured destruction, even as it underscores the institutional inertia that drove this monster forward. . . . A fine book indeed."
—T. J. Stiles, Minneapolis Star Tribune

"Gripping. . . . Hoffman reinforces his scary thesis with breathtakingly detailed research."
—St. Louis Post-Dispatch

"Unsettling. . . . The Dead Hand argues convincingly that America's victory in the Cold War wasn't nearly as triumphant as the most self-congratulatory among us have tended to believe."
—The Washington Post

"A stunning feat of research and narrative. Terrifying."
—John le Carré
 
"The Dead Hand is a brilliant work of history, a richly detailed, gripping tale that take us inside the Cold War arms race as no other book has. Drawing upon extensive interviews and secret documents, David Hoffman reveals never-before-reported aspects of the Soviet biological and nuclear programs. It's a story so riveting and scary that you feel like you are reading a fictional thriller."
—Rajiv Chandrasekaran, author of Imperial Life in the Emerald City: Inside Iraq's Green Zone

"In The Dead Hand, David Hoffman has uncovered some of the Cold War's most persistent and consequential secrets—plans and systems designed to wage war with weapons of mass destruction, and even to place the prospective end of civilization on a kind of automatic pilot. The book's revelations are shocking; its narrative is intelligent and gripping. This is a tour de force of investigative history."
—Steve Coll, author of Ghost Wars and The Bin Ladens

"An extraordinary and compelling story, beautifully researched, elegantly told, and full of revelations about the superpower arms race in the dying days of the Cold War. The Dead Hand is riveting."
—Rick Atkinson, Pulitzer Prize–winning author of An Army At Dawn

"No one is better qualified than David Hoffman to tell the definitive story of the ruinous Cold War arms race. He has interviewed the principal protagonists, unearthed previously undiscovered archives, and tramped across the military-industrial wasteland of the former Soviet Union. He brings his characters to life in a thrilling narrative that contains many lessons for modern-day policymakers struggling to stop the proliferation of weapons of mass destruction. An extraordinary achievement."
—Michael Dobbs, author of One Minute to Midnight: Kennedy, Khrushchev, and Castro on the Brink of Nuclear War