Gryphon: New and Selected Stories (Hardcover)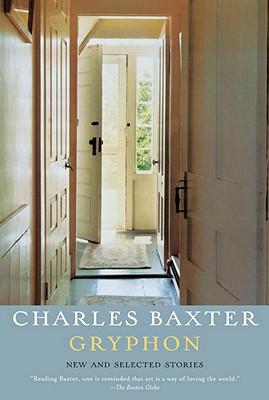 $27.95
Email or call for price
Description
---
Ever since the publication of The Harmony of the World in 1984, Charles Baxter has slowly gained a reputation as one of America's finest short-story writers. Each subsequent collection Through the Safety Net, A Relative Stranger, and Believers was further confirmation of his mastery: his gift for capturing the immediate moment, for revealing the unexpected in the ordinary, for showing how the smallest shock can pierce the heart of an intimacy. Gryphon brings together the best of Baxter's previous collections with seven new stories, giving us the most complete portrait of his achievement.
Baxter once described himself as a Midwestern writer in a postmodern age: at home in a terrain best known for its blandness, one that does not give up its secrets easily, whose residents don t always talk about what's on their mind, and where something out of the quotidian some stress, the appearance of a stranger, or a knock on the window may be all that's needed to force what lies underneath to the surface and to disclose a surprising impulse, frustration, or desire. Whether friends or strangers, the characters in Baxter's stories share a desire sometimes muted and sometimes fierce to break through the fragile glass of convention. In the title story, a substitute teacher walks into a new classroom, draws an outsized tree on the blackboard on a whim, and rewards her students by reading their fortunes using a Tarot deck. In each of the stories we see the delicate tension between what we want to believe and what we need to believe.
By turns compassionate, gently humorous, and haunting, Gryphon proves William Maxwell's assertion that nobody can touch Charles Baxter in the field that he has carved out for himself.
About the Author
---
Charles Baxter is the author of the novels The Feast of Love (nominated for the National Book Award), The Soul Thief, Saul and Patsy, Shadow Play, and First Light, and the story collections Believers, A Relative Stranger, Through the Safety Net, and Harmony of the World. He lives in Minneapolis and teaches at the University of Minnesota and in the M.F.A. Program for Writers at Warren Wilson College.
Praise For…
---
"Baxter's skill with short fiction is confirmed in this stellar collection."
—Publishers Weekly, starred review

"Baxter evokes something like the chilling starkness and human isolation of the work of Edward Hopper…Baxter is a warmly disposed yet unsentimental chronicler of American lives…highly readable." –New York Times Book Review

"Mesmerizing…The uncanny power of Baxter's work derives from his knowledge of our secret selves as well as our surface ones."
—Kirkus

"Baxter lovingly teases anguish, humor and heart-rending beauty out of clear, unaffected sentences describing the gray-clouded interior worlds inhabited by his cast of (largely) Midwestern melancholics…Sentences like these can stop a reader mid-page, demanding to be savored again before going any further." –The Washington Post

"Once, in a tribute to the writer William Maxwell, Charles Baxter speculated that, among the instruments of the orchestra, Maxwell would be an oboe, 'incapable of loudness ... noted for perfect pitch and delicacy of tone.' How neatly the description dovetails with Baxter's own gifts! Modestly and delicately, his stories touch on core emotions and relationships. Like other masters of the form, Baxter's short stories don't seem abbreviated at all; he manages to suggest the complexity of an entire life within a few pages." –The Post and Courier

"Precise and insightful… Baxter's stories summon up a haunting beauty… this is a marvelous book." –Kansas City Star

"Elegant…Baxter is a melancholy expert craftsman." –New Yorker

"Baxter knows how to play with a reader's emotions; he knows when to flatten the curve, when to turn up the volume. He knows exactly what you will feel if the thing you fear is about to happen doesn't happen. Because he is so good, his writing so seemingly effortless, his landscapes and portraits so precisely detailed, the effect is harder to shake. And this is the effect: We stumble. A certain disintegration is inevitable; with so much that is known, mapped-out, understood about the human condition, foolish joy is a supreme triumph…Tell me a story with me in it, we say to the writer, and he does, 23 times in this collection." –Los Angeles Times

"Beneath the shadowless Norman Rockwell contours of Baxter's Midwest lurks a chilling starkness and sense of isolation reminiscent of the bleakly beautiful work of Edward Hopper." –New York Times 100 Notable Books of 2011    

"What a treasure this volume is!  As it arcs from 'Harmony of the World' (my favorite early Baxter) through such glories as 'Fensted's Mother' and 'The Disappeared' and on to the marvelous new work, it dazzles us with the full brilliance of this writer's vision. 'The problem with joy,' says one of his characters, 'is that it binds you to life; it makes you greedy for more happiness.' As does Baxter's beautiful work." 
—Andrea Barrett

"Baxter weaves together seemingly mundane activities into complex examples of love, fear, and anxiety…each action serves as a lens to focus Baxter's illumination of the mysteries of life."
—Library Journal 

"The superior stories…showcase Baxter's first-rate talents in the form: sophisticated humor, exact writing style, plots at once ordinary and extraordinary, and in, common with all masters of the form, wizardry at the fetching opening line."
—Booklist

"There is a fierceness in Baxter's realistic scenes of calamity that weds feeling with technique…Baxter exemplifies how entertainment and enlightenment come together in good fiction…fun-loving and deep." –Asheville Citizen-Times

"A feast of affecting encounters." –Parade Magazine

"[Baxter] truly excels at the short form…his delicately carved slices of life contain a surprising amount of detail and depth." –Miami Herald

"Baxter's imagination is spacious, his prose style straightforward, and his characters truly eccentric… As usual, Baxter keeps us mesmerized to the end… His stories are closely observed and, in this generous selection, almost universally intriguing." –NPR.org

"Baxter is a subtle and sophisticated writer, and each of these stories merits multiple readers…For those unfamiliar with this great writer, I can't think of better introduction than this book." –MostlyFiction Book Reviews
 
"A triumph in the exploration of a quiet Midwestern psyche…Gryphon will haunt you long after you put it down, a true testament to the importance of the small details in everyday life and Baxter's talents in weaving these tales." –The Daily Northwestern

"Baxter is our modern short story master because he knows how to dig at a particularly Midwestern brand of human frailty…his stories quietly enter the reader's subconscious and reverberate." –Austin American-Statesman

"Noteworthy for its keen, often startling, insights into human character, and its consistent craftsmanship…In one penetrating scene after another, Charles Baxter demonstrates his mastery of the nuances of character, plot and language." –Shelf Awareness

"There is a fierceness in Baxter's realistic scenes of calamity that weds feeling with technique…Baxter exemplifies how entertainment and enlightenment come together in good fiction…fun-loving and deep." –Asheville Citizen-Times

"Typically, the picture of normalcy we get in a Baxter story soon gives way to something dreamlike and often nightmarish…Baxter is also the author of a book on the craft of fiction, and the stories in Gryphon repeatedly demonstrate that art to stunning effect." –Duluth News Tribune

"By treating his reader with the same level of respect and care that he has for the lives of his characters, Baxter actually allows us to participate in the process…If I were teaching this to my own students, I would say to them, 'Listen to how this sings! Listen to the music of the line!' I would read it aloud so that the language would lift them out of their seats." –Ellen Bryant Voigt, Fiction Writers Review

"Immensely satisfying." –Librariansbetweenthesheets.com  

"Readers will find much to admire in this collection by one of our best storytellers…elegant triumphs of craft." –San Francisco Chronicle

"Baxter is one of the best." –Debbie's Book Bag

"I must tip my hat to Charles Baxter and give five stars to his latest short-story collection Gryphon, a true work of art… I find myself enraptured by how Baxter so poetically captures (mostly) Midwestern tedium." –About.com

"There is no greater explorer of tepidity than Charles Baxter…There is both humor and truth in both the miniscule and the grand in Baxter's writing, which makes this book as memorable as his work always is." –Time Out Chicago

"Baxter's constructs are of the muscular, straight-no-chaser variety that you might expect from Hemingway…It's clear that beyond the finely tuned, expertly crafted plots and characters in stories such as these, Baxter has himself learned many of the lessons he is trying to teach his readers." –Time Out New York

"Remarkable. The early stories are terrific, and the new stories are terrific. Often, in this type of retrospective, it is obvious how much a writer has matured and developed. Rarely, but as demonstrated in this collection, we're struck by the realization that the writer has always been this good." –St. Louis Post-Dispatch

"Gryphon possesses all the ingredients that have made Baxter's earlier books so remarkable—spare prose, finely etched characters with rich inner voices teetering on the cusp of change and an eye for the unusual lurking in the most commonplace of events and objects…Baxter is a master of the literary freeze frame, ending each story in a moment of equipoise, ripe with possibility, like the open doors in the cover image." –Bookpleasures.com

"Baxter possesses a particular talent for crafting memorably complex characters…Gryphon stands as a substantial work from a master of fiction. Although Baxter may wear the mantle of the Midwest, a place often associated with the middle, the mundane—his writing is anything but ordinary." –Hot Metal Bridge   



Previous praise for the work of Charles Baxter
 
"Charles Baxter's stories have reminded me of how broad and deep and shining a story can be."
—Alice Munro
 
"Like Raymond Carver, Baxter has become a master of articulating the quiet confusion of despair and of subtly suggesting that despair may, at times, be redemptive."
—Ann Beattie
 
"Without question, Charles Baxter is among our best contemporary writers, always graceful, always dramatic. Superlatives are insufficient. Here is literature. Here is art."
—Tim O'Brien
 
"Charles Baxter asks the most wonderful questions and addresses the most essential subjects—the thing we have been thinking about but haven't, until we read these stories, known how to begin to say." –Francine Prose
"Baxter's passionate writing raises the level of regard for life itself, let alone the art of writing."
—Howard Norman

"Charles Baxter asks the most wonderful questions and addresses the most essential subjects—the things we have been thinking about but haven't, until we read these stories, known how to begin to say."
 —Francine Prose