Commanding Hope: The Power We Have to Renew a World in Peril (Hardcover)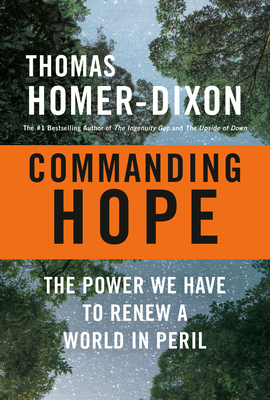 $27.00
Email or call for price
Description
---
From the #1 BESTSELLING thought leader: Calling on history, cutting-edge research, complexity science and even Lord of the Rings, Thomas Homer-Dixon lays out the tools we can command to rescue a world on the brink.

For three decades, the renowned author of The Upside of Down: Catastrophe, Creativity, and the Renewal of Civilization, and The Ingenuity Gap: Can We Solve the Problems of the Future?, has examined the threats to our future security--predicting a deteriorating global environment, extreme economic stresses, mass migrations, social instability and wide political violence if humankind continued on its current course. He was called The Doom Meister, but we now see how prescient he was.

Today just about everything we've known and relied on (our natural environment, economy, societies, cultures and institutions) is changing dramatically--too often for the worse. Without radical new approaches, our planet will become unrecognizable as well as poorer, more violent, more authoritarian.

In his fascinating long-awaited new book (dedicated to his young children), he calls on his extraordinary knowledge of complexity science, of how societies work and can evolve, and of our capacity to handle threats, to show that we can shift human civilization onto a decisively new path if we mobilize our minds, spirits, imaginations and collective values.

Commanding Hope marshals a fascinating, accessible argument for reinvigorating our cognitive strengths and belief systems to affect urgent systemic change, strengthen our economies and cultures, and renew our hope in a positive future for everyone on Earth.
About the Author
---
THOMAS HOMER-DIXON holds a University Research Chair in the Faculty of Environment at the University of Waterloo, in Ontario, Canada, and is director of the Cascade Institute at Royal Roads University in Victoria, British Columbia. Between 2009 and 2014, he was founding director of the Waterloo Institute for Complexity and Innovation. Born in Victoria, British Columbia, he received his BA in political science from Carleton University and his PhD from the Massachusetts Institute of Technology in international relations, defense and arms control policy, and conflict theory. His books include The Upside of Down: Catastrophe, Creativity and the Renewal of Civilization; The Ingenuity Gap: Can We Solve the Problems of the Future?; and Environment, Scarcity, and Violence. His writing has appeared in Foreign Affairs, Foreign Policy, Scientific American, the New York Times, the Financial Times, the Washington Post, and the Globe and Mail.
Praise For…
---
PRAISE FOR COMMANDING HOPE:

"Brilliantly structured and utterly absorbing from beginning to end, Commanding Hope addresses with honesty and courage the dangers we face and offers us practical ways to prepare for the hard work ahead." —Quill & Quire

"Homer-Dixon's hope is not optimism, but rather the kind of hope brought to mind by his book's arresting title, one that must be ordered up from within us—with no regard to how despairing we are, and long before we have tangible reasons for optimism—and then set to rule our actions." —MacLean's

"Hope without action will just contribute to a hopeless ending, but commanding hope can turn any one of us into the next hero." —Douglas T. Kenrick, Psychology Today

"The hope Homer-Dixon is promoting has a dual nature. It arises from an internal summons and emerges as a call to action. This kind of hope isn't naïve; it's transformational." —Literary Review of Canada

"It is a rare thing to hold a book in your hands and think, 'This could be a game changer.' I had that experience at several 'Aha!' moments while reading Commanding Hope." —Elizabeth May, MP for Gulf Saanich-Islands, Former leader of the Green Party of Canada

PRAISE FOR THOMAS HOMER-DIXON:

"One of the best-informed and most brilliant writers on global affairs today." —The Guardian

"Thomas Homer-Dixon is a public intellectual who is ready to get his hands dirty." —The Walrus

"Homer-Dixon repeatedly reminds the reader that the future is never truly written. There are more creative and human-scale paths open to us, if we can work against our society's deeply entrenched denial mechanisms and start to work together for positive change." —The Toronto Star

"Homer-Dixon is one of Canada's most talked about and controversial scholars." —Maclean's

"For over a decade, Thomas Homer-Dixon has provided that rare thing: a bridge between leading-edge research and the lay reader. . . . [A]ddressing the greatest problems of our time, he points us towards a path forward." —Robert D. Kaplan, author of Imperial Grunts and Balkan Ghosts