Nothing Was the Same: A Memoir (Paperback)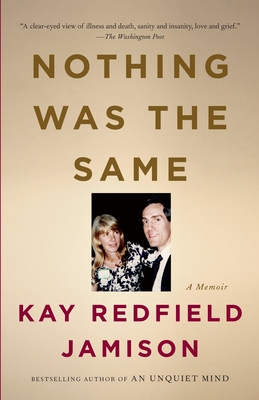 Description
---
A penetrating psychological study of grief viewed from deep inside the experience itself—from the national bestselling author of Unquiet Mind.

Kay Redfield Jamison, award-winning professor and writer, changed the way we think about moods and madness. Now Jamison uses her characteristic honesty, wit and eloquence to look back at her relationship with her husband, Richard Wyatt, a renowned scientist who died of cancer.
About the Author
---
KAY REDFIELD JAMISON is a professor of psychiatry at the Johns Hopkins University School of Medicine as well as an honorary professor of English at the University of St. Andrews in Scotland. She is the author of the national best sellers An Unquiet Mind, Night Falls Fast, and Touched with Fire. She is coauthor of the standard medical text on manic-depressive illness and author or coauthor of more than one hundred scientific papers about mood disorders, creativity, and psychopharmacology. Dr. Jamison, the recipient of numerous national and international scientific awards, is a John D. and Catherine T. MacArthur Fellow.
Praise For…
---
A Washington Post Best Book of the Year

"A cleared-eyed view of illness and death, sanity and insanity, love and grief. . . . Spare. . . . Poetic. . . . Piercing. . . . The great gift Jamison offers here, beyond her honesty and the beauty of her writing, is perspective. . . . To write the truth with such passion and grace is remarkable enough. To do this in loving memory of a partner is tribute indeed."
—The Washington Post

"In An Unquiet Mind, Kay Jamison wrote with exceptional bravery and grace about living through mania, paralyzing depressions, and a suicide attempt. Here, with the same strength of mind and sweetness of spirit, she writes about her husband's [death] as well as her own struggles with loss and grief. . . . Because Jamison understands depression so well, she is able to make the distinctions between depression and grief with great precision and sensitivity."
—The Boston Globe

"Fascinating. . . . Captivating. . . . As one who has experienced clinical depression, [Jamison] is in a singular position to compare it with grief . . . . In this slim, intense memoir Jamison shows us that mourning leads us back to life."
—Michael Greenberg, The New York Times Book Review

"A meditation on grief as necessary and inevitable, and not to be confused with mental illness. . . . Insightful. . . . Elegantly written. . . . It's a credit to the warmth and intimacy of Jamison's voice that we connect with her underlying message: Tragedy doesn't discriminate."
—Los Angeles Times

"Elegiac and emotionally precise."
—O, The Oprah Magazine
 
"A wonderful book. Jamison has the ability to make love seem so real and reachable; her writing always makes me happy to speak and write the English language. It contains great beauty."
—Pat Conroy, author of The Prince of Tides and South of Broad
 
"This is a finely told midlife love story, a romance as elegant as it is doomed. . . . What a couple she and her husband made! . . . Jamison writes simply and believably."
—AARP Magazine
 
"A soul-baring love letter."
—Kirkus Reviews
 
"Sober yet heartening. . . . Jamison is at her most insightful drawing distinctions between [mental illness] and mourning."
—The Washingtonian
 
"A unique account, filled with exquisitely wrought nuances of emotion, of her husband's death. . . . In her brilliant explication distinguishing between madness and grief, her battle to remain sane is as stirring as his to beat cancer."
—Booklist (starred review)