Gambling with Armageddon: Nuclear Roulette from Hiroshima to the Cuban Missile Crisis (Hardcover)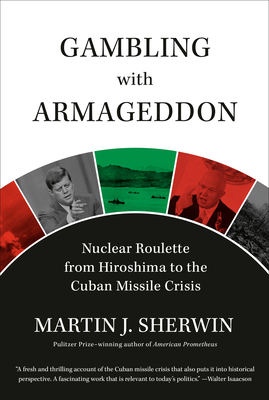 $35.00
Email or call for price
Description
---
From the Pulitzer Prize-winning author of American Prometheus comes the first effort to set the Cuban Missile Crisis, with its potential for nuclear holocaust, in a wider historical narrative of the Cold War—how such a crisis arose, and why at the very last possible moment it didn't happen.

In this groundbreaking look at the Cuban Missile Crisis, Martin Sherwin not only gives us a riveting sometimes hour-by-hour explanation of the crisis itself, but also explores the origins, scope, and consequences of the evolving place of nuclear weapons in the post-World War II world. Mining new sources and materials, and going far beyond the scope of earlier works on this critical face-off between the United States and the Soviet Union—triggered when Khrushchev began installing missiles in Cuba at Castro's behest—Sherwin shows how this volatile event was an integral part of the wider Cold War and was a consequence of nuclear arms.

Gambling with Armageddon looks in particular at the original debate in the Truman Administration about using the Atomic Bomb; the way in which President Eisenhower relied on the threat of massive retaliation to project U.S. power in the early Cold War era; and how President Kennedy, though unprepared to deal with the Bay of Pigs debacle, came of age during the Cuban Missile Crisis. Here too is a clarifying picture of what was going on in Khrushchev's Soviet Union.

Martin Sherwin has spent his career in the study of nuclear weapons and how they have shaped our world. Gambling with Armegeddon is an outstanding capstone to his work thus far.
About the Author
---
MARTIN J. SHERWIN, was University Professor of History at George Mason University and the author of A World Destroyed: Hiroshima and Its Legacies, winner of the Stuart L. Bernath and the American History Book prizes, and the coauthor, with Kai Bird, of American Prometheus: The Triumph and Tragedy of J. Robert Oppenheimer, which won the Pulitzer Prize for biography in 2006 as well as the National Book Critics Circle Award and the Duff Cooper Prize. He died in 2021.
Praise For…
---
**Kirkus Reviews "The Best Books of 2020"**

"In this riveting book, Sherwin provides a fresh and thrilling account of the Cuban Missile Crisis and also puts it into historical perspective. With great new material, he shows the effect of nuclear arms on global affairs, starting with the decision to bomb Hiroshima. It is a fascinating work of history that is very relevant to today's politics." —Walter Isaacson, author of Leonardo da Vinci

"Engrossing . . . Forget everything you think you know about how close the world came to nuclear war, then read this superb new book that completely upends the mythology of those critical weeks in October 1962 . . . From the opening pages [Sherwin] draws the reader into the immediacy of the Crisis . . . Should make everyone who reads it and was born after October 1962 extremely thankful to be alive." —Jerry D. Lenaburg, New York Journal of Books

"Intricately detailed, vividly written, and nearly Tolstoyan in scope, Sherwin's account reveals just how close the Cold War came to boiling over. History buffs will be enthralled." —Publishers Weekly (starred review)

"A fresh examination of the Cuban missile crisis and its wider historical context, showing how the U.S. avoided nuclear war . . . Makes it clear how national leaders bumbled through the crisis, avoiding nuclear Armageddon through modest amounts of wisdom mixed with plenty of machismo, delusions, and serendipity . . . A fearfully convincing case that avoiding nuclear war 'is contingent on the world's dwindling reservoir of good luck.'" —Kirkus Reviews (starred review)

"Examines nuclear policy as it evolved in the Cold War, culminating with the chillingly suspenseful week-long drama of the Cuban Missile Crisis . . . Grounded in an exceptional and up-to-date knowledge of the military, diplomatic, and individual components of American and Soviet politics." —Mark Levine, Booklist (starred review)

"In Gambling with Armageddon Martin J. Sherwin summarizes the 'official' narrative of the 'thirteen days' as follows. Members of ExComm, through 'their careful consideration of the challenge, their firmness in the face of terrifying danger, and their wise counsel,' steered the world to a peaceful resolution of a potentially civilization-ending conflict. Nothing, he writes, 'could be further from the truth.'" —Elizabeth Kolbert, The New Yorker

"One of our ablest chroniclers of the larger-than-life personalities and lasting environmental effects of the nuclear age." —Marc Ambinder, The American Scholar

"A thrilling account of the tension-filled days when the world teetered on the edge of nuclear apocalypse. Drawing on new sources, Martin Sherwin shows how the Cuban missile crisis grew out of the nuclear sabre-rattling of the Cold War, going all the way back to the early confrontations between Truman and Stalin. No one is better equipped to tell this story than Sherwin, who has devoted his life to thinking about Armageddon, as witnessed by his ground-breaking biography of Robert Oppenheimer. A splendid accomplishment and a great read!" —Michael Dobbs, author of One Minute to Midnight: Kennedy, Khrushchev, and Castro on the Brink of Nuclear War
 
"Gambling with Armageddon will have a powerful and lasting impact because it does things that no other study does in an area that could not be more significant. Sherwin makes clear that the Cuban missile crisis was not really an aberration but an unsurprising outcome of the history and psychology world leaders brought to the weapons. We also learn how much mere chance—good luck—saved us from world-ending catastrophe. Sherwin has written a book that matters deeply, and has made an elegantly convincing argument for the abolition of nuclear weapons." —Robert Jay Lifton, author of Losing Reality

"This is what happens when one of the pioneers of nuclear history—one who researches broadly, thinks deeply, and writes beautifully—comes to grips with the most dangerous moment in human history. The result gives us a new understanding of the Cuban Missile Crisis in the broader context of the nuclear age and reminds us, even decades later, how dangerous our nuclear arsenals remain. Gambling with Armageddon is essential reading." —Philip Nash, author of The Other Missiles of October: Eisenhower, Kennedy, and the Jupiters, 1957-1963

"Martin Sherwin's beautiful account shows how the crisis grew out of the brinkmanship of the Cold War. He brings to life the main characters and examines with a marvelous combination of empathy and a critical intelligence, the decisions that Kennedy and Khrushchev faced and the choices they made. This is by far the best book on the crisis and a book of great relevance for today." —David Holloway, author of Stalin and the Bomb

"It is difficult to believe that there is something fresh to say about the Cuban Missile Crisis. But Martin Sherwin has accomplished this feat. By meticulously reconstructing the decision-making process of October 1962 and placing the crisis fully in the context of Cold War atomic diplomacy he enables us to understand how the world came to the brink of destruction, how unprepared political and military leaders were for the crisis, and how level-headed officials rejected the fantasies of would-be warriors and drew back from disaster. And all this is presented with drama, eloquence, and even humor." —Eric Foner, author of The Second Founding

"People describe 'news you can use.' Well, here's 'history you can use.' Who knew that events 58 years ago could so resonate with events today? And, no doubt, tomorrow. I've read countless tomes on the Cuban Missile Crisis, and wrangled about it personally with Fidel Castro in 1994. But no one has, or could, recite and re-interpret those terrifying days as well as Martin Sherwin. In a nutshell, this is a marvelous book—riveting, revealing, quite remarkable. I stand awed by the scholarship, and the beautiful writing. Though Dr. Sherwin and I differ ideologically (by alot!), I find this book totally fair, and beautifully balanced. So read the book, and you, too, will be educated, entertained, and inspired." —Kenneth Adelman, Reagan Arms Control Director and author of Reagan at Reykjavik

"Martin Sherwin has set the standard for writing the history of the ultimate weapons, the atomic and nuclear bombs. This book, his magnum opus, exploits U.S., Russian, and other recently opened documents to give the 1945 to early 1962 background, and the potentially cataclysmic debates and diplomatic exchanges of the Cuban missile crisis itself. That crisis continues to be the historical reference point for our current debates about the possibility of nuclear war. The 1962 events produced sleepless nights for Americans, and so can reading this book about how close the Americans and Russians came to creating nuclear winter on earth." —Walter LaFeber, Andrew H. and James S. Tisch Distinguished University Professor, Emeritus, Cornell University

"A page-turning account . . . Offers a masterful reinterpretation of the first decades of the Cold War. Switching perspectives gracefully between American and Soviet officials, going up and down the ranks from statesmen to second lieutenants, Sherwin distills decades of reading, writing, and thinking into a chilling, persuasive—and suspenseful—book." —David C. Engerman, Leitner Profressor, Department of History, Yale University

"Gambling with Armageddon puts the Cuban Missile Crisis in the proper historical context of the Cold War. Thoroughly researched, and relying on Russian, Cuban, and American sources, it makes a convincing case that only plain dumb luck saved the world back in 1962. A historical tour de force with important lessons for the next, impending nuclear arms race." —Gregg Herken, author of Brotherhood of the Bomb: The Tangled Lives and Loyalties of Robert Oppenheimer, Ernest Lawrence, and Edward Teller

"Martin Sherwin is one of the great historians of the nuclear age . . . Through a vivid and definitive retelling of the Cuban Missile Crisis, based on the latest declassified sources, Sherwin explores how hundreds of millions of lives could easily have been lost. The implications of the story are inescapable." —Eric Schlosser, author of Command and Control: Nuclear Weapons, the Damascus Accident, and the Illusion of Safety
  
"Brilliant, powerful and terrifying, Sherwin's book on the Cuban Missile crisis highlights how close we came to blowing up our planet, how fortunate we were that Kennedy and Khrushchev managed to save us, and how critical it is to have prescient leaders." —William H. Chafe, Alice Mary Baldwin Professor of History, Emeritus, Duke University

"Gambling with armageddon offers a precious, powerful and detailed historical examination of the limits of leaders' control over nuclear crises and the role of luck in their outcomes. Examining the first seventeen years of the nuclear age and shedding new light on the Cuban Missile Crisis, it teaches scholars and citizens alike that our tendency to fall for retrospective illusions of control and understanding is inadequate, dangerous and that the leaders of the time were not exempt from them. It also masterfully demonstrates that factors beyond control can and should be studied. This has profound implications for scholarship and policy." —Benoît Pelopidas, founding director of the Nuclear Knowledges program, SciencesPo, Centre de Recherches Internationales

"Masterly, marvellously sculpted narrative, by a leading nuclear historian, this book is more about moral responsibility and decency than about power. The author reminds us how Americans and Russians made each other, and the mankind, hostages to basic human instincts and dumb luck. A must read for today's world leaders." —Vladislav M. Zubok, author of A Failed Empire: The Soviet Union in the Cold War from Stalin to Gorbachev

"Not only does this book offer a new and thrilling day-by-day account of the Cuban missile crisis, but it also places it in the wider perspective of the preceding nuclear arms race. Written with verve and style, Gambling with Armageddon switches the dramatic action from the Oval Office of Kennedy's White House, to the heart of Khrushchev's Politburo in Moscow, then to the cockpit of US U-2 flights over Cuba, and to the stifling confines of the nuclear-armed Soviet submarines patrolling the Caribbean Sea. Provocative in tone and sweeping in scope, this is a book worthy of the seminal crisis of the nuclear age." —Matthew Jones, Professor of History, London School of Economics 

"A blow-by-blow account of the most dangerous crisis of the nuclear age, which incorporates all the latest archival findings and weaves them together into a masterful, gripping narrative. Above all, Marty Sherwin offers a deeply original, and profoundly disquieting, interpretation of the Cuban missile crisis." —Leopoldo Nuti, Professor of History of International Relations, Roma Tre University

"A thrilling read . . . This book takes us as close as we will ever get to the people whose judgments or insights determined the fate of 200 million people in a nuclear war." —Thomas Leonard, Professor of History of Journalism, Emeritus, and Librarian, University of California, Berkeley
 
"A great achievement that should generate intense discussion not only about what now appears to be the dim past, but also about the kinds of people we now entrust our survival to . . . I found myself (almost) wondering if the world would in fact be destroyed, and was quite relieved when the answer was no . . . A remarkably good book in every way." —Sanford Levinson, W. St. John Garwood and W. St. John Garwood, Jr. Centennial Chair in Law, University of Texas at Austin
 
"Evocative, compelling, interpretive . . . a tour de force. Sherwin makes the crisis so vivid. He clarifies beautifully what was happening meeting by meeting, what were the options, what were the ambiguities . . .  Far and away the best book on the crisis." —Melvyn Leffler, Edward Stettinius Professor of History, Emeritus, University of Virginia

"A landmark work of history, transforming an all-too-familiar saga  into a gripping full account never seen before — one never more needed than today. Sherwin's meticulous reading of the nuclear past can help rescue the human future. This is history that can save lives." —James Carroll, author of House of War

"Who needs a VR (virtual reality) program to experience the heart-throbbing tension of the Cuban Missile Crisis when you can just read this amazing account by the preeminent nuclear historian of our era.  This is the most riveting book about our nuclear history that I have ever had the good fortune to read.  It transports the reader deep into the bowels of the US and Russian war-making machinery and captures the human emotions that animate one unexpected turn after another, and provides the larger context needed to put the drama in historical perspective.   It will change the way you think about how blundering into nuclear Armageddon was and is beyond human control.  As long as these weapons exist on earth, human destiny will depend on history's roll of the dice." —Bruce Blair, author of The Logic of Accidental Nuclear War

"Brilliant . . . Shows that leaders such as Kennedy, Khrushchev and Castro were stymied and constrained—often without even realizing it—by events beyond their control and by the faulty logic of nuclear strategy. In gripping chapter after gripping chapter, Sherwin makes abundantly clear the countless ways that things could have gone terribly wrong, but somehow did not. We are left wondering whether we can count on being so lucky the next time the world stands on the brink of Armageddon." —Ethan M. Pollock, Professor of History and Slavic Studies, Brown University

"A magisterial historical reckoning, Martin Sherwin's Gambling with Armageddon details the 'long Cuban Missile Crisis' from 1945 to 1962. Applying the extensive knowledge and scholarship acquired in almost six decades of exploring the perils of nuclear weapons, Sherwin casts an astute eye on the fallible leaders who avoided mass destruction through luck and belated recognition of the need to avoid the world-destroying consequences of nuclear war." —Dolores Janiewski, Profressor of American History, Victoria University, New Zealand

"Seventy-five years after the end of WW II with the atomic bombings of Hiroshima and Nagasaki and thirty years after the end of the Cold War, fears of a nuclear apocalypse have largely faded away. Martin Sherwin' s compelling book reminds us that the world remains in peril from a nuclear holocaust. His book is a wake up call to people everywhere that no one can be trusted with these weapons of mass destruction. It is a reminder of novelist Jules Romaine's observation that WWI made clear that men can be made to do anything!" —Robert Dallek, Professor of History, Emeritus, UCLA

"Uncovers the shocking, nail-biting history of how close we came to nuclear war in the years between 1945 and 1962, and how a combination of chance, luck, accident and decision-making averted a catastrophe. In vivid and dramatic prose, Martin Sherwin tells what happened behind the scenes in the halls of power in the Soviet Union and the United States, under water in Soviet and US submarines, and in the thoughts and conversations of those who held the fate of the world in their grasp." —Elaine Tyler May, Regents Professor of American Studies, University of Minnesota

"Written in a style that reminds one of 'Seven Days in May,' Martin Sherwin shows how atomic weapons shaped American foreign policy before and during the Cuban missile crisis.  He gives us the story of Kennedy's hour-by-hour changing attitude during critical Ex-Comm debates, and documents for the first time the key role Adlai Stevenson played in influencing the president's decisions toward a diplomatic solution." —Lloyd Gardner, Charles and Mary Beard Professor of History, Emeritus, Rutgers University

"Prodigious research, terrific writing, wonderful vignettes. and clever images . . . The story is compelling from the very beginning, with Truman at Potsdam . . . Sherwin's personal involvement is there in just the right dose and right tone." —Janet Lowenthal, Tzedek DC