Crosby, Stills, Nash and Young: The Wild, Definitive Saga of Rock's Greatest Supergroup (Hardcover)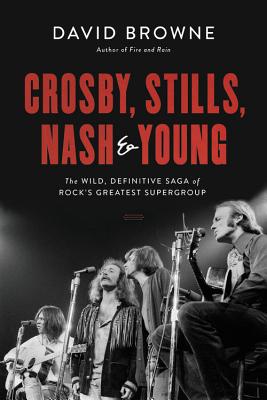 $44.00

Usually Ships in 1-5 Days
Description
---
"In what is the most comprehensive biography of the group to date, Browne compiles a fun and fast-paced music history.... an authoritative chronicle." --Publishers Weekly

The first and most complete narrative biography of Crosby, Stills, Nash and Young, by acclaimed music journalist and Rolling Stone senior writer David Browne

Even in the larger-than-life world of rock and roll, it was hard to imagine four more different men. David Crosby, the opinionated hippie guru. Stephen Stills, the perpetually driven musician. Graham Nash, the tactful pop craftsman. Neil Young, the creatively restless loner. But together, few groups were as in sync with their times as Crosby, Stills, Nash and Young. Starting with the original trio's landmark 1969 debut album, the group embodied much about its era: communal musicmaking, protest songs that took on the establishment and Richard Nixon, and liberal attitudes toward partners and lifestyles. Their group or individual songs--"Wooden Ships," "Suite: Judy Blue Eyes," "After the Gold Rush," "For What It's Worth" (with Stills and Young's Buffalo Springfield), "Love the One You're With," "Long Time Gone," "Just a Song Before I Go," "Southern Cross"--became the soundtrack of a generation.

But their story would rarely be as harmonious as their legendary and influential vocal blend. In the years that followed, these four volatile men would continually break up, reunite, and disband again--all against a backdrop of social and musical change, recurring disagreements and jealousies, and self-destructive tendencies that threatened to cripple them both as a group and as individuals.

In Crosby, Stills, Nash and Young: The Wild, Definitive Saga of Rock's Greatest Supergroup, longtime music journalist and Rolling Stone writer David Browne presents the ultimate deep dive into rock and roll's most musical and turbulent brotherhood on the occasion of its 50th anniversary. Featuring exclusive interviews with David Crosby and Graham Nash along with band members, colleagues, fellow superstars, former managers, employees, and lovers-and with access to unreleased music and documents--Browne takes readers backstage and onstage, into the musicians' homes, recording studios, and psyches, to chronicle the creative and psychological ties that have bound these men together--and sometimes torn them apart. This is the sweeping story of rock's longest-running, most dysfunctional, yet pre-eminent musical family, delivered with the epic feel their story rightly deserves.
About the Author
---
David Browne is a senior writer at Rolling Stone and is the author of So Many Roads: The Life and Times of the Grateful Dead and Fire and Rain: The Beatles, Simon & Garfunkel, James Taylor, CSNY, and the Lost Story of 1970 as well as biographies of Sonic Youth and Jeff and Tim Buckley. His work has appeared in the New York Times, Spin, The New Republic, and other outlets. He lives in Manhattan.
Praise For…
---
"The interwoven tale of four of the rock and roll era's most beloved, influential, and controversial stars, David Browne's Crosby, Stills, Nash and Younghas it all: the great songs, the terrible feuds, the drugs, the love, the money, the damage done, and the spark that never quite dies. A clear-eyed portrait not just of four singer-songwriters but of the rise, triumph, and collapse of their generation's idealistic youth. Smart, poetic, and probing, the book is a revelation."—Peter Ames Carlin, author of Bruce and Homeward Bound: The Life of Paul Simon

NEW YORK TIMES BOOK REVIEW, "BEST MUSIC BOOKS OF THE SUMMER"
THE CHRISTIAN SCIENCE MONITOR, "TOP PICK"
FORBES, "COOLEST CALIFORNIA GIFTS FOR DAD!"

"Few rock and roll sagas are as genuinely epic as this one, in which, over nearly five decades, four enormous talents/egos come together, find musical perfection, and fall apart in seemingly unlimited ways. With unparalleled skill and wry insight, David Browne chases down the details of CSNY's unique collaboration, uncovering larger truths about creativity and collaboration, debauchery and recovery, and a generation's harmonizing heart."—Ann Powers, author of Good Booty: Love and Sex, Black and White, Body and Soul in American Music

"The long, tangled, thorny story of CSNY requires a writer of David Browne's immense skill to unravel, and he delivers beautifully. Sympathetic without being fawning, as astute a critic as he is a conscientious reporter, Browne chronicles the lives and music of these four iconic artists with unfailing intelligence, humor, and grace. This is a riveting read from beginning to what may or may not be the end of this fascinating band."—Anthony DeCurtis, author of Lou Reed: A Life

"A vivacious journey into a collision of four oversized egos-three of them producing a harmony as strange and inspired as any in rock and roll, a fourth achieving work of such strange and stunning genius that the world has yet to catch up. Beneath those harmonies was much clangor and static, even more than we knew, and Browne captures it all in this magnificent and definitive book."—David Yaffe, author of Reckless Daughter: A Portrait of Joni Mitchell

"[Browne] appears to have talked to nearly every living soul with a part
to play in the band's long career. . . . An excellent portrait of a
troubled partnership ... celebrates those fine moments when the band
merged to make such epochal songs as 'Suite: Judy Blue Eyes' and
'Ohio.'"—Kirkus Reviews (starred review)

"[An] ultimate deep dive into rock and roll's most musical and turbulent supergroup."—Werd.com

"Riveting."—People Magazine

"[Written with a] sharp eye and even hand... [this] isn't the first book on Crosby, Stills, Nash & Young, and it won't be the last, but it's certainly the best."—No Recess

"Crosby, Stills, Nash & Young is for music lovers, but it should also be required reading for students of group dynamics."—Washington Post

"An exhaustive biography of the frictional quartet ... As a document of how art, commerce, decadence and monstrous egos intertwine, Browne's book could be a set text."—Mojo

"Browne has written the book that CSNY fans have been waiting for a long time (with a long time gone) ... A worthy, substantive, and comprehensive look at the saga of the rock group with a name like a law firm."—Houston Press

"Browne's book gives a definitive look at the 20th century American rock supergroup."—Ears to the Ground Music

"The meticulous detail in Browne's book provides the most wide-ranging and in-depth treatment we have of CSNY, and Crosby, Stills, Nash & Young: The Wild, Definitive Saga of Rock's Greatest Supergroup ably lives up to the promise of its subtitle."—No Depression

"Painstakingly detailed ... truly absorbing."—Forbes

"David
Browne's biography chronicles the story of arguably the most talented, yet
most dysfunctional, band in rock history. That such beautiful,
groundbreaking music could emerge from such chaos is a testament to the alchemy
of talent and creativity."—ChristianScience Monitor, "Top Pick"

"This is one of the great rock and roll
stories. It's like a Greek myth. ....
Browne is very good on the tribulations of David Crosby - his addiction,
imprisonment, re-entry and subsequent elevation as a battered talisman."—NewYork Times Book Review, "Summer Reading 2019"issue

"The most comprehensive biography of the group
to date ... Browne compiles a fun and fast-paced music history.... an
authoritative chronicle."—PublishersWeekly

"Incisive and astute."—Times Literary Supplement