Vegan Richa's Instant Pot™ Cookbook: 150 Plant-based Recipes from Indian Cuisine and Beyond (Paperback)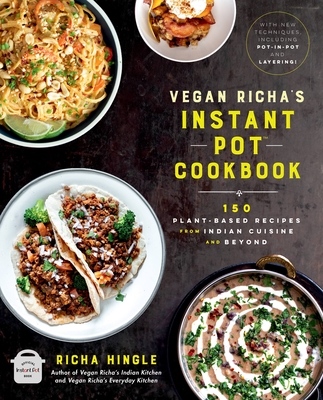 Description
---
Join Vegan Richa's Instant Pot revolution with brand new techniques to level up your favorite plant-based meals 
Welcome to Vegan Richa's kitchen, where hearty flavors and easy recipes are your passport to delicious, satisfying meals every day of the week. Whether you are an Instant Pot™ pro or newbie, you'll learn how to save time and maximize the potential of your Instant Pot™ with Richa's inventive new techniques for
layered pot-in-pot cooking (Crunchwraps!) 
one-pot meals (Spicy Peanut Noodles in minutes) 
dump-and-done meals (comforting Wild Rice Soup and Chana Masala—no sautéing) 
roasting and caramelizing (Mushroom Gyros) 
and much more! 
With 150 recipes from a range of global cuisines highlighting an abundance of whole foods, vegetables, and legumes, minimal oil, and no processed ingredients, you'll use your Instant Pot for everything from breakfasts (Egg Sandwiches) to desserts (yes, cake!) to Richa's fan favorite regional Indian specialties. Complete with myriad adaptations, swaps for allergies and special diets, and full nutritional information, 
Vegan Richa's Instant Pot™ Cookbook
 is your go-to guide for healthful, flavor-forward meals that are a breeze to get to the table. 
About the Author
---
Richa Hingle is the creator of VeganRicha.com and the author of two cookbooks, Vegan Richa's Indian Kitchen and Vegan Richa's Everyday Kitchen. She has been featured on Good Housekeeping, Vegetarian Times, The FeedFeed, Buzzfeed, Huffington Post, Glamour, Babble, Parade, Cosmopolitan, Well+Good, Vegnews.com, Rediff.com, Femina India, and TheKitchn. She has worked with brands like Instant Pot, So Delicious, Tasty Bites and contributed to and have been featured in VegNews Magazine and Thrive Magazine. Hingle lives with her husband in Seattle.
Praise For…
---
"Vegan Richa's recipes are always dependable and down-right delicious! This cookbook doesn't disappoint. It is a must for anyone who owns an Instant Pot. From Dal Makhani (Buttery Black Lentils) to Spicy Peanut Noodles––even Mason Jar Pancakes and Carrot Halwa––this book satisfies any craving, and has something for everyone."—Jenne´ Claiborne, vegan chef, author of Sweet Potato Soul

"Richa's mix of lively flavors, comforting favorites, and faster-fix 'dump-and-go' recipes give you something mouthwatering to cook any night of the week. I could almost smell the spices come alive! The recipes are accessible and prove that nutritious food can be delicious too."—Erin Clarke, author of The Well Plated Cookbook

"An amazing, versatile book that will bring all kinds of deliciousness into your kitchen. I love the combination of Indian and non-Indian dishes, and Richa is very clever in her use of pot-in-pot cooking. This is a great book to add to your collection!"—Urvashi Pitre, bestselling cookbook author

"I adore my Instant Pot, but like any appliance, it's so easy to get into a rut by making a few favorites on repeat. Vegan Richa's Instant Pot Cookbook comes at the perfect time, demonstrating the wide array of vegan recipes and cuisines that home cooks can make with ease. I'm always looking for ways to save time (and dishes!) and I love Richa's user-friendly pressure cooking tips, not to mention her dreamy vegan global cuisine like Lentil Keema with Peas and Dum Aloo and Vegan Mushroom Bourguignon!"—Angela Liddon, New York Times bestselling cookbook author

"For delicious meals that can be made in a pinch, Hingle is a wise and unwavering guide."—Publishers Weekly

" This is next-level Instant Pot cookery — literally."—Washington Post