The Algorithm: How AI Decides Who Gets Hired, Monitored, Promoted, and Fired and Why We Need to Fight Back Now (Hardcover)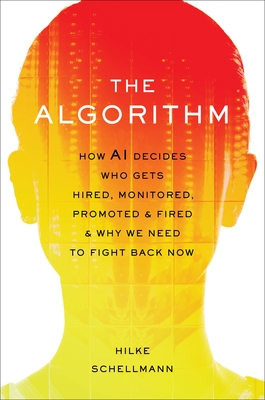 $30.00

Coming Soon - Available for Pre-Order Now
Description
---
Based on exclusive information from whistleblowers, internal documents, and real world test results, Emmy‑award winning Wall Street Journal contributor Hilke Schellmann delivers a shocking and illuminating expose on the next civil rights issue of our time: how AI has already taken over the workplace and shapes our future.
 
Hilke Schellmann, is an Emmy‑award winning investigative reporter, Wall Street Journal and Guardian contributor and Journalism Professor at NYU. In The Algorithm, she investigates the rise of artificial intelligence (AI) in the world of work. AI is now being used to decide who has access to an education, who gets hired, who gets fired, and who receives a promotion. Drawing on exclusive information from whistleblowers, internal documents and real‑world tests, Schellmann discovers that many of the algorithms making high‑stakes decisions are biased, racist, and do more harm than good. Algorithms are on the brink of dominating our lives and threaten our human future—if we don't fight back. 
 
Schellmann takes readers on a journalistic detective story testing algorithms that have secretly analyzed job candidates' facial expressions and tone of voice. She investigates algorithms that scan our online activity including Twitter and LinkedIn to construct personality profiles à la Cambridge Analytica. Her reporting reveals how employers track the location of their employees, the keystrokes they make, access everything on their screens and, during meetings, analyze group discussions to diagnose problems in a team. Even universities are now using predictive analytics for admission offers and financial aid.  
 
About the Author
---
Hilke Schellmann is an Emmy‑award winning investigative reporter and journalism professor at NYU. Her work has been published in The New York Times, The Guardian, and The Wall Street Journal, where she recently led a team of seven investigating how artificial intelligence is changing our lives. She has also reported for NPR's Planet Money podcast on fake online reviews and her PBS Frontline documentary Outlawed in Pakistan premiered at the Sundance Film Festival. The film was dubbed "among the standouts" at the Festival by The Los Angeles Times, called "extraordinary" by Variety. It was recognized with an Emmy, and won an Overseas Press Club and Cinema for Peace Award. Her student loan investigation for VICE on HBO was a finalist for a Peabody Award.
Praise For…
---
"In
The Algorithm
, Hilke Schellmann has done the impossible: she has rendered the baffling 'Wild West' of AI immensely readable and approachable.  Schellmann gives us the dark and hidden history of tech innovation and the marketplace through the stories of those whose lives have been smashed by its glitches."—
Eliza Griswold
,
Pulitzer Prize-winning author of Amity and Prosperity
"Hilke Schellmann is writing on one of the most important topics of our time—one that impacts all of us more than we realize.  The book takes a balanced approach to illuminating the current state of AI in the workplace.  It's not just about incredible benefits or doomsday scenarios, but a real look into the current state of these tools, the incentive systems driving their proliferation, the mixed results they provide, and how we might ensure better outcomes.  Highly recommended."—
Ryan Fuller
,
former vice president for workplace intelligence at Microsoft
"
The Algorithm
provides a fresh, important perspective on how AI is changing many critical workplace decisions in organizations.  Her research is thorough and clever, and exposes the many of problems that AI and its proponents have already created for companies and employees."—
David Futrell
,
Former Senior Director of Organization Performance at Walmart
"A disturbing investigation into use of AI systems in hiring, firing, and employee surveillance.  As Schellmann demonstrates, AI has moved into crucial areas of our lives, but the process has been so fast and silent that its influence is almost invisible.  She argues that HR managers should be required to understand how their algorithms work, and there must be greater human input to personnel decisions.  This eye-opening book makes it hard to disagree."
—
Kirkus Reviews
"Hilke Schellmann was one of the first journalists to understand the dangers of AI passing judgement on workers, and
The Algorithm
is an absolutely vital book about the risks and harms of the systems already operating—on us—today."—
Clay Shirky
,
author of Cognitive Surplus and Here Comes Everybody