27: A History of the 27 Club through the Lives of Brian Jones, Jimi Hendrix, Janis Joplin, Jim Morrison, Kurt Cobain, and Amy Winehouse (Paperback)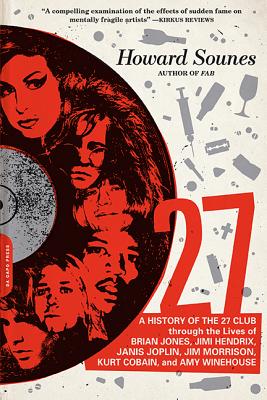 $18.99

Usually Ships in 1-5 Days
Description
---
When singer Amy Winehouse was found dead at her London home in 2011, the press inducted her into what Kurt Cobain's mother named the 27 Club. "Now he's gone and joined that stupid club," she said in 1994, after being told that her son, the front man of Nirvana, had committed suicide. "I told him not to..." Kurt's mom was referring to the extraordinary roll call of stars who died at the same young age, including Brian Jones of the Rolling Stones, Jimi Hendrix, Janis Joplin, and Jim Morrison of the Doors. All were talented. All were dissipated. All were 27.

In this haunting book, author Howard Sounes conducts the definitive forensic investigation into the lives and deaths of the six most iconic members of the Club, as well as some lesser known members, to discover what, apart from coincidence, this phenomenon signifies.

In a grimly fascinating journey through the dark side of the music business, Sounes uncovers a common story of excess, madness, and self-destruction. The fantasies, half-truths, and mythologies that have become associated with the Club are debunked. Instead, a clear and compelling narrative emerges, one based on hard facts, that unites these lost souls in both life and death.
About the Author
---
Howard Sounes is known for writing detailed and revelatory biographies of a wide range of extraordinary personalities, including author Charles Bukowski (Locked in the Arms of a Crazy Life) and musicians Bob Dylan (Down the Highway) and Paul McCartney (Fab). He lives in London.
Praise For…
---
"The 27 Club is the exclusive members-only society that music stars don't want to join. Amy Winehouse, Kurt Cobain, Jimi Hendrix, Janis Joplin, Jim Morrison, and Brian Jones all died aged 27 and the biographer Howard Sounes uses this unhappy coincidence [to look] at the rock-star trajectory that brought them all to a premature end…. Recommend[ed]."—New Statesman (UK)

"Sounes mixes biography with investigative journalism, social science, and rock history into a work that is as engrossing as it is depressing…Though he doesn't pull any punches when it comes to sensitive information about his subjects, he does write with a care that is refreshing for a topic that could easily devolve into ambulance chasing. Sounes, a true crime writer, is especially incisive when it comes to dispatching conspiracy theories built around many of these deaths. He captures the sad truth behind a club for which a youthful death is the only entrée."—Publishers Weekly, 9/23/13

"If you like reading about brilliant young people destroying themselves, this is your book…Hard living started early will take its toll, and it's not a complete coincidence they all died when they did, but it's not a mystic number either, and Sounes disposes easily with the conspiracy theories that have collected around the dead stars."—The Age (Australia), 9/21/13

"[Sounes] is a tenacious researcher…[He] painstakingly demolishes conspiracy theories and other forms of magical thinking."—The Observer (UK), 8/17/13

"Sounes offers a stern corrective to the adage that it's better to burn out than to fade away. The author takes a refreshingly skeptical view of the belief that a conspiracy accounts for the deaths of Brian Jones, Jimi Hendrix, Janis Joplin, Jim Morrison, Kurt Cobain and Amy Winehouse, dismissing urban legends and murder theories to reveal the similarities among them…A compelling examination of the effects of sudden fame on mentally fragile artists."—Kirkus Reviews, 11/1/13

"As much as one may have hoped, Sounes dissects the conspiracy theories and puts to bed the lunacy that surrounds these idols deaths. He also succeeds in producing a highly detailed, expertly researched book, with both personal family and close friend interviews, making it a tour de force private biography that belongs on both the shelves of bio fans and anyone that may have been touched by any of the included artists music."—Huffington Post UK, 10/13/13

"Sounes delves into the lives of the 'Big Six'…sewing the common threads they share in life and death."—USA Today, 11/13/13

BookNews.com, December 2013
"While the book begins and ends with the story of Amy Winehouse to appeal to the younger demographic, older readers will also enjoy the depth of research and insights from the author's original interviews with friends and family of those profiled."

Word Bookstores (Tumblr), 1/2/2014
"[A] comprehensive (but not overwhelming) history of the members of The 27 Club. Sounes writes of their lives realistically, pointing out numerous similarities in their upbringings, relationships, and behaviors that link them in their tragically early deaths. Also, there's no glorifying of the rock star life or the ones who lived it, which makes this an especially intriguing study…A great read for any music fan or curious mind."

WomanAroundTown.com, 12/16/2013
"While some have credited a supernatural reason for the performers' untimely demise, Sounes presents a clear-headed evaluation, and neither judges nor idolizes the lives and deaths of the performers about whom he has written."

Houston Press Rocks Off blog, 1/7/14
"Sounes completed an impressive list of original interviews for this book, which shed further light on area like Jim Morrison's last days in Paris, Cobain's fragile mental state, and Winehouse's seemingly insane drinking bouts."

Praise for 27

"This fine study looks at the tragic history of the 27 Club…. Much of the book's power lies in its refusal to pander to the romantic-melancholy notion of the tortured young artist who lives fast and dies young. Instead the squalor and chaos of their everyday existence is exposed in uncompromising detail…. This book is not about more rock star mythologizing. It's about skewering the mystery of the 27-connection, by exposing its all-too-tragic reality."—Sunday Times (UK)

"In a multi-stranded biography, Howard Sounes has set himself the task of finding a link between the lives and deaths of these six rock stars…. Sounes's masterstroke is to unearth forensic levels of detail on his subjects…. He has pulled off what could have been a tasteless project with sensitivity."—The Times (UK)

"This book is the first time that these committee members, as it were, of the 27 Club have been buried together under the same cover…a gruesomely enjoyable read."—The Spectator (UK)