Naked Wine: Letting Grapes Do What Comes Naturally (Hardcover)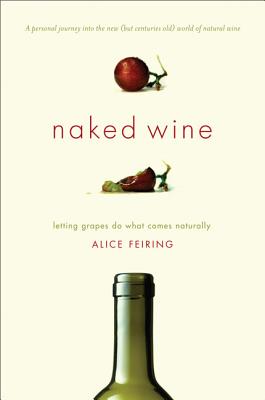 $24.99

Usually Ships in 1-5 Days
Description
---
Naked wine is wine stripped down to its basics -- wine as it was meant to be: wholesome, exciting, provocative, living, sensual, and pure. Naked, or natural, wine is the opposite of most New World wines today; Alice Feiring calls them -- overripe, over-manipulated, and overblown -- and makes her case that good (and possibly great) wine can still be made, if only winemakers would listen more to nature and less to marketers, and stop using additives and chemicals. But letting wine make itself is harder than it seems.

Three years ago, Feiring answered a dare to try her hand at natural winemaking. In Naked Wine, she details her adventure -- sometimes calm, sometimes wild, always revealing -- and peers into the nooks and crannies of today's exciting, new (but centuries-old) world of natural wine.
About the Author
---
Alice Feiring is an award-winning food and wine journalist, frequent magazine contributor, and author of a previous book on wine. She lives in New York.
Praise For…
---
"[A] fascinating and at times humorous book. If you drink wine and care about what goes into your body, then this book is a must read."
San Francisco Bay Guardian, 9/13/11
"[Feiring is] the high priestess of natural wines."
ZesterDaily.com, 9/13/11
"Of all the recent books on the subject, [Feiring's] is the most personal, the most agitated, the most illuminating voice in the din." 
Dayton Daily News, 9/15/11

"[Feiring] is a rebel in the world of wine."
Organic Spa, September/October 2011
"Entertaining."

Henry's World of Booze (blog), 9/17/11
"It's both a voyage of discovery and a snapshot of an exciting time to drink wine."
Metro Pulse, 9/28/11
"At heart, a book about the pure joy of drinking wine. Just try to get through it without sticking your nose deep into a glass of a good French red. I dare you."

SeriousEats.com, 9/30/11
"Feiring is a dynamite writer, one who easily draws us into her tale. On each page she manages to be both authoritative and vulnerable and always exceedingly honest…Naked Wine is a fantastic read, one that will convert wine drinkers one bottle (or page) at a time."
"[Feiring is] one of our favorite American wine writers." 
On the Wine Trail in Italy (blog), 8/7/11
"Alice is a good story-teller. She's a siren, seducing you away from your masts of convention."
Wineanorak.com, 8/16/11
"One of the most important wine books in recent years… A very personal book, written in Alice's disclosing and witty style, telling the story of her search for the roots of the modern natural wine movement. She captures some of the life, edginess and imprecision of natural wine through her encounters with many of the key figures in the scene."
Bloomberg News, 8/22/11
"The best guide to the [natural wine] movement is Naked Wine by Alice Feiring…Feiring is funny, feisty, self-absorbed and a passionate advocate." 
LocalWineEvents.com
"[A] colorful narrative…Definitely recommended for readers who enjoy learning more about winemakers, the art of making wine, and the intricacies of the natural wine movement." 
DirtySouthWine.com, 8/17/11
"If Alice's first book is a battle, this one is more of a multi-threaded journey.  A journey in winemaking, a search for the origins of natural wine, and also an optimistic search for hope in CA wine…Well worth the read." 
1WineDude.com, 8/22/11
"It will almost certainly make you think differently about how wine is made, and that alone makes it worth the price of admission." 
AllVoices.com, 8/24/11

"Readers will enjoy [Feiring's] casual prose highlighted with humor, as they learn about the wonders of wine, and why it should be natural (chemical/additive-free). Once immersed in
Naked Wine,
they may question their own wine choices."
WinesWorld's, 8/25/11
"An invaluable book for anyone who enjoys wine and wants to know how it is created…What makes this book unique is the style, the enthusiasm and love of the 'nectar of the gods.' Highly recommended!"
Palate Press, 8/30/11
"Alice Feiring set out on an adventure, a journey of discovery to find out what natural wine is—or maybe, more accurately, what it can be. She should be commended for doing so with an open mind, and sharing the results of her quest in such an open, personal manner." 
John Koenig's "Stuff I Like" blog, 8/28/11

"I love [Feiring's] fearless attitude."
Publishers Weekly, 9/5/11
"A treatise on the joys of wine made with nothing but grapes."
Portland Book Review, September-November 2011Beverage Media, October 2011

"This book solidifies Feiring's reputation as one of the wine world's most important writers, and natural wine as a hot topic for coming years."
50 States of Wine (blog), 10/19/11
"A book that everyone should read."
Curled Up With a Good Book
"Feiring describes her adventures with an easy-going inflection. Several of her accounts are quite humorous as well as fascinating…Whether it's read with a glass of wine or a glass of water, Naked Wine is a compelling read for anyone, and that speaks to Feiring's talents as a writer."
Midwest Book Review, October 2011
"Offers a fine survey of the natural wine movement and the author's own experiences at making wine without additives…A top pick for any wine and food collection!" 
Burlington Free Press, 11/10/11
"There are a handful of wine books that are so well written—so entertaining and informative—that they speak to a wider audience. Alice has written two of them." 
Portland Press Herald, 12/14/11
"[Feiring's] personal tales of trying to merge theory and practice are what make the book so gripping." 
Santa Barbara News Press, 12/1/11
"What [Feiring] learns, who she talks to for advice, and how she goes about researching the history of the natural wine movement makes for an interesting if quirky and idiosyncratic narrative. It's as if she's sitting across the table from you, glass of (naked) wine in hand, regaling you with her adventures." 
Dave McIntyre's WineLine, 12/14/11
"Feiring writes engagingly about her own attempt to make a natural wine." 
The Australian, 12/17/11

"Feiring's writing is like her definition of natural wine: 'honest, transparent and sensitive. Whether in a person or a wine, these are qualities to cherish.' For me, while
Authentic Wine
successfully engages the head,
Naked Wine
speaks to the heart."  
JancisRobinson.com, 1/2/12BMorrison.com, 11/7/11

"Feiring's engaging prose makes for a fun read even as she slips in technical explanations in easily digestible sips."  
Washington Post, 11/30/11
"Feiring writes engagingly…Her talent for setting a scene and ripping off a yarn is as evident as ever." 
Boston Globe "By the Glass" blog, 12/1/11
"A meditation on the so-called natural wine movement, its history, personalities, and technical (or non-technical, if you prefer) repertoire. [Feiring's] task is daunting, but it's one she manages with skill and flair." 
San Francisco Chronicle, 11/27/11
"The book will spur ever more argument about wine's less-is-more movement." 
Booknews.com, December 2011
"[A] delightful story." 
TheKitchn.com, 12/1/11
"A provocative narrative, from one of our most prolific natural wine advocates and writers. This book strongly reflects Alice's philosophy about wine, and her quest for the natural, pure, unmanipulated wines…Whether you agree or not with everything Alice says, this book is beautifully written, funny, inspiring, passionate and above all personal and tenacious in its viewpoint. I loved it." 
Chicago Tribune, 12/7/11
"Open this up
:
For its shocking list of more than 200 U.S. government-approved additives for winemaking, none of which needs to be listed on the wine's label; provocative, feisty digs at much of modern winemaking and winemakers; wit, infectious enthusiasm for wine and honesty; another long list of solid 'natural' winemakers around the world." 
Midwest Book Review, November 2011
"The author's own winemaking experiments and experiences are detailed in a fine survey of the natural wine movement and changes in the modern wine market."
The World of Fine Wine, issue 34, 2011
"Part travelogue, part defiant credo, part engaging confessional…This is a refreshingly frank and witty book, unashamedly emotive and outspoken—an almost seamless blend of the professional recounted with great charm, candor, and skill. It's a compelling read that at once informs, entertains, and challenges its reader—no mean feat for a wine book…Highly recommended." 
Portland Oregonian, 12/12/11
"This combination of personal confessional and well-informed opinion is a rollicking-fun read with a serious wine-loving message." 
Gourmand Wine Books 2011 USA Winner (Drinks Education category)
Named one of the "Top Drink books of 2011" by StarChefs.com
Art of Eating (Twitter post), 6/30/11
"[Feiring] digs into the natural wine movement in a very smart way."
Oregon Wine Press, August 2011
"Feiring's book is both educational and entertaining. It also includes a staggering list of approved additives and processes for wine, a step-by-step guide to making it and a list of wines to look for that fall into the natural category." 
Decatur Wine & Food Dude (blog), 8/2/11

"[Feiring] has a deft hand as a storyteller and the book is an engaging read for anyone interested in wine, organic farming, agribusiness, labor standards, and even philosophy." 
New York Times, 8/8/11
"[Feiring is] passionate, determined, brave and thorny. It's all out there in
Naked Wine: Letting Grapes Do What Comes Naturally
, her ardent cry from the heart for natural wines and the committed vignerons who produce them…If you are at all curious about natural wines, drink this book in. It will make you thirsty and point you in the right direction." 
Houston Press, 8/10/11