Drinking Arak Off an Ayatollah's Beard: A Journey Through the Inside-Out Worlds of Iran and Afghanistan (Paperback)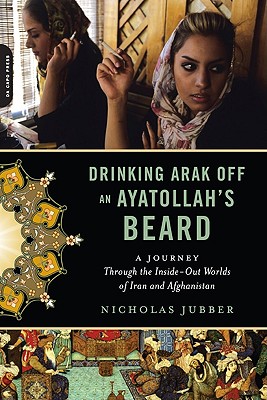 $21.99

Usually Ships in 1-5 Days
Description
---
An engrossing blend of travel writing and history, Drinking Arak off an Ayatollah's Beard traces one man's adventure-filled journey through today's Iran, Afghanistan, and Central Asia, and describes his remarkable attempt to make sense of the present by delving into the past.

Setting out to gain insight into the lives of Iranians and Afghans today, Nicholas Jubber is surprised to uncover the legacy of a vibrant pre-Islamic Persian culture that has endured even in times of the most fanatic religious fundamentalism. Everywhere—from underground dance parties to religious shrines to opium dens—he finds powerful and unbreakable connections to a time when both Iran and Afghanistan were part of the same mighty empire, when the flame of Persian culture lit up the world.

Whether through his encounters with poets and cab drivers or run-ins with "pleasure daughters" and mujahideen, again and again Jubber is drawn back to the eleventh-century Persian epic, the Shahnameh ("Book of Kings"). The poem becomes not only his window into the region's past, but also his link to its tumultuous present, and through it Jubber gains access to an Iran and Afghanistan seldom revealed or depicted: inside-out worlds in which he has tea with a warlord, is taught how to walk like an Afghan, and even discovers, on a night full of bootleg alcohol and dancing, what it means to drink arak off an Ayatollah's beard.
About the Author
---
Nicholas Jubber is the author of The Prester Quest, winner of the prestigious Authors Club/Dolman Best Travel Book Award. His writing has appeared in periodicals worldwide. He lives in London.
Praise For…
---
Jason Elliot, author of An Unexpected Light: Travels in Afghanistan and Mirrors of the Unseen: Journeys in Iran
"It is impossible not to admire an author who travels to the world's most notorious destinations, taking a thousand-year-old poet for his guide. From the twinkling navels of Tehran's illicit raves to the war-weary towns of southern Afghanistan, the adventure is brilliantly told: a compendium of humor, insight, and scholarly detail, and an authentic love affair with Persian culture that outstrips time itself."

Publishers Weekly, 3/29/10
"[A] travelogue-cum-history…Jubber's account offers a full and satisfying panorama of the region with its rich paradoxes and complexities intact."

Booklist, 5/15/10
"Recounting Ferdowsi's tribulations amid amusing self-deprecation about his own bungling, Jubber renders a lively portrait of the Iranians and Afghanis whom he meets and befriends. Those interested in founts of Iranian cultural pride will be entertainingly informed by the eminently readable and adventuresome Jubber."