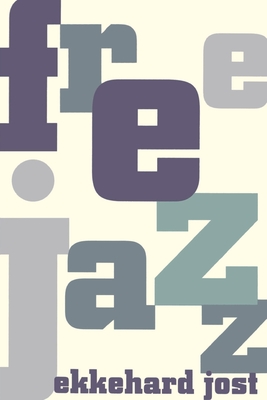 $16.99

Usually Ships in 1-5 Days
Description
---
"Neither in Europe, nor in the States, has anyone published a volume dealing with contemporary jazz problems in such a concise and detailed manner."--Jazz Forum

When originally published in 1974, Ekkehard Jost's Free Jazz was the first examination of the new music of such innovators as Sun Ra, Ornette Coleman, and the Art Ensemble of Chicago. Jost studied the music (not the lives) of a selection of musicians-black jazz artists who pioneered a new form of African American music-to arrive at the most in-depth look so far at the phenomenon of free jazz.

Free jazz is not absolutely free, as Jost is at pains to point out. As each convention of the old music was abrogated, new conventions arose, whether they were rhythmic, melodic, tonal, or compositional, Coltrane's move into modal music was governed by different principles than Coleman's melodic excursions; Sun Ra's attention to texture and rhythm created an entirely different big bang sound then had Mingus's attention to form.
In Free Jazz, Jost paints a group of ten "style portraits"-musical images of the styles and techniques of John Coltrane, Charles Mingus, Ornette Coleman, Cecil Taylor, Archie Shepp, Albert Ayler, Don Cherry, the Chicago-based AACM (which included Richard Abrams, Joseph Jarman, Roscoe Mitchell, Lester Bowie, Anthony Braxton, and the Art Ensemble of Chicago), and Sun Ra and his Arkestra. As a composite picture of some of the most compelling music of the 1960s and '70s, Free Jazz is unequalled for the depth and clarity of its analysis and its even handed approach.
About the Author
---
Ekkehard Jost is professor of musicology at the University of Giessen in Germany, and has written seven books. He plays baritone and bass saxophone, and bass and contrabass clarinet, and has recorded seven records as leader or co-leader. He is vice president of the Association of Jazz Musicians in Germany, and president of jazz and new music institutes in Hessen and Darmstadt.