Venice: The Lion, the City and the Water (The Margellos World Republic of Letters) (Paperback)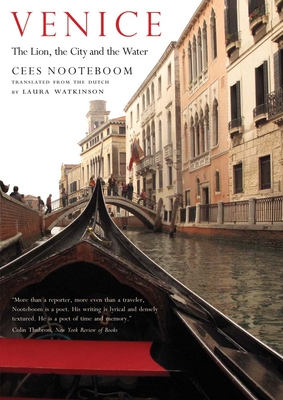 $20.00

Usually Ships in 1-5 Days
Description
---
The critically acclaimed Dutch novelist, poet, and travel writer Cees Nooteboom pays tribute to Venice—the city, its history, and its treasures
 
"Mr. Nooteboom . . . [has] a highly distinctive voice—and often a new angle of vision. . . . The whole book is the illuminating testimony of a man who cannot look away and so sees things that others, even those with more specialist knowledge, have missed."—Gregory Dowling, Wall Street Journal

For over fifty years, celebrated author Cees Nooteboom has been captivated by the city of Venice, that "absurd combination of power, money, genius and great art." Beginning with his first visit in 1964, Nooteboom deftly weaves together his many travels to the floating city, vividly bringing to life the destination he discovered and admired from the alleys, locked gates, and countless canals. Surrounded by the dead, he pays homage to the painters and writers who lived and worked there, to the palaces, bridges, painting, and sculpture that give the city a kind of immortality.
 
With his ability to penetrate to the core of his destinations, Nooteboom produces a radiant tribute to Venice, in the vein of Steinbeck, Forster, or Theroux.
About the Author
---
Cees Nooteboom is a Dutch novelist, poet, and travel writer who has been the recipient of the Pegasus Prize and the Aristeion Prize. His previous books of travel writing include Roads to Santiago and Roads to Berlin. Laura Watkinson is an award-winning translator of Dutch, Italian, and German.
Praise For…
---
"Mr. Nooteboom, fortunately, does have a highly distinctive voice—and often a new angle of vision (as does his wife, Simone Sassen, who took the striking photographs for this book). . . . He is forever excited by the abundance of wonders that the city continues to reveal. . . . The whole book is the illuminating testimony of a man who cannot look away and so sees things that others, even those with more specialist knowledge, have missed."—Gregory Dowling, Wall Street Journal

"[Nooteboom] prowls the streets, conjuring up emblems of the past in statues, paintings, and gardens, seeking answers to questions that are more like riddles: Are we still who we once were? and Were we ever who we once were? . . . His deep knowledge and love of Venice's past provide the suitably pleasurable Venetian contradiction."—J. R. Patterson, World Literature Today

"For Nooteboom, Venice is above all a city of spirits, memories and stories, and his beguiling book—well served by Laura Watkinson's free-flowing translation—is a leisurely examination of an entrancement that has deepened with each visit, over the course of half a century."—Jonathan Buckley, Times Literary Supplement

"With his customary intelligence, erudition and sheer passion for the world we live in, Cees Nooteboom has achieved the impossible: to say something new about the ageless city about which everything has been said."—Alberto Manguel