Seven Crashes: The Economic Crises That Shaped Globalization (Hardcover)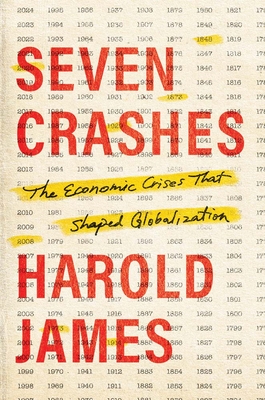 Description
---
A leading economic historian presents a new history of financial crises, showing how some led to greater globalization while others kept nations apart
 
The eminent economic historian Harold James presents a new perspective on financial crises, dividing them into "good" crises, which ultimately expand markets and globalization, and "bad" crises, which result in a smaller, less prosperous world. Examining seven turning points in financial history—from the depression of the 1840s through the Great Depression of the 1930s to the Covid-19 crisis—James shows how crashes prompted by a lack of supply, like the oil shortages of the 1970s, lead to greater globalization as markets expand and producers innovate to increase supply. By contrast, crises triggered by a lack of demand—such as the Global Financial Crisis of 2007–2008—result in less globalization as markets contract, austerity measures are imposed, and skepticism of government grows.
 
By considering not only the times but also the observers who shaped our understanding of each crisis—from Karl Marx to John Maynard Keynes to Larry Summers—James shows how the uneven course of globalization has led to new economic thinking, and how understanding this history can help us better prepare for the future.
About the Author
---
Harold James is the Claude and Lore Kelly Professor in European Studies and professor of history and international affairs at Princeton University. He is the author of numerous books, including The War of Words: A Glossary of Globalization. He lives in Princeton, NJ.
Praise For…
---
"A very enjoyable new book . . . applies the lens of whether each the seven advanced or set back the process of globalization to crises ranging from famines and blights in the 1840s via wars and depressions, commodity price hikes in the 1970s, the GFC and the Covid lockdowns and Russian invasion of Ukraine. . . . Masterly concise essays."—Diane Coyle, Enlightened Economist (blog)

"For anyone wanting to truly understand the historical basis for economic globalization and how it has evolved past some of the major economic crises of the last two centuries, [Seven Crashes] offers valuable insight and lessons for the future."—Jerry Lenaburg, New York Journal of Books

"An audacious historical interpretation of how global mega-shocks have driven globalization cycles over the last two centuries. Anyone hoping to forecast the future of the world economy should read it."—Maurice Obstfeld, Class of 1958 Professor of Economics, University of California, Berkeley

"Those who cherish economics will be fascinated by Harold James's exploration of financial crises, and the ways in which they have validated the views of those economists who saw them coming."—Edmund Phelps, winner of the Nobel Prize in Economic Sciences and director of the Center on Capitalism and Society, Columbia University

"A brilliant book—James shows how economists often draw the wrong lessons from the past and why globalization is unlikely to vanish in the wake of the Covid-19 crisis."—Odd Arne Westad, author of The Cold War: A World History

"James's masterful account sheds new light on how globalization has been shaped by economic crises since the nineteenth century and deepens our understanding of globalization's opportunities and its challenges."—Linda Yueh, author of The Great Crashes: Lessons from Global Meltdowns and How to Prevent Them

"If you are looking for a book that puts the economic fallout from the Covid-19 pandemic into historical context and considers what it means for the economy's future, this is it."—Mark Zandi, author of Paying the Price: Ending the Great Recession and Ensuring a New American Century