The Strategy of Denial: American Defense in an Age of Great Power Conflict (Hardcover)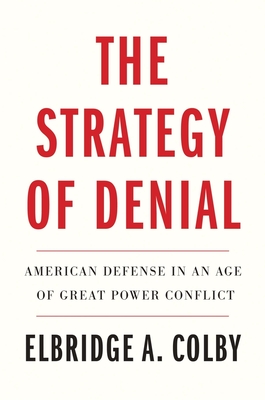 Description
---
Why and how America's defense strategy must change in light of China's power and ambition—A Wall Street Journal best book of 2021
 
"This is a realist's book, laser-focused on China's bid for mastery in Asia as the 21st century's most important threat."—Ross Douthat, New York Times
 
"Colby's well-crafted and insightful Strategy of Denial provides a superb and, one suspects, essential departure point for an urgent and much-needed debate over U.S. defense strategy."—Andrew F. Krepinevich, Jr., Foreign Affairs
 
Elbridge A. Colby was the lead architect of the 2018 National Defense Strategy, the most significant revision of U.S. defense strategy in a generation. Here he lays out how America's defense must change to address China's growing power and ambition. Based firmly on the realist tradition but deeply engaged in current policy, this book offers a clear framework for what America's goals in confronting China must be, how its military strategy must change, and how it must prioritize these goals over its lesser interests.
 
The most informed and in-depth reappraisal of America's defense strategy in decades, this book outlines a rigorous but practical approach, showing how the United States can prepare to win a war with China that we cannot afford to lose—precisely in order to deter that war from happening.
About the Author
---
Elbridge A. Colby is cofounder and principal of The Marathon Initiative. He served as deputy assistant secretary of defense for strategy and force development from 2017 through 2018, during which he led the development of the 2018 National Defense Strategy.
Praise For…
---
"Colby, the lead architect of the 2018 National Defense Strategy, here lays out—realistically, concretely and in plain-spoken American English—how Washington must act decisively to check Beijing's growing power and ambition."—Wall Street Journal, "Ten Best Books of 2021"

"Rigorously argued and compelling. . . . This book will define the basis for future debate about U.S. defense strategy in Asia. . . . Mr. Colby earns a place as an intellectual heir to the Cold War strategists who thought seriously about how to thwart Soviet designs. . . . [He] is courageous in forcing readers to think concretely about the unthinkable. . . . The task of deterring Chinese aggression is urgent, and Mr. Colby's book presents a needed path forward."—Dan Blumenthal, Wall Street Journal
 
"What to do about China's rising might and territorial ambition? Brilliant strategist Elbridge Colby takes on this vexing and increasingly urgent challenge with a clear-eyed, forceful but carefully thought-out approach. Cogently, lucidly, he uses the lessons of history to show that the best way to avoid war is to prepare for war."—Evan Thomas, coauthor of The Wise Men: Six Friends and the World They Made
 
"Colby's well-crafted and insightful Strategy of Denial provides a superb and, one suspects, essential departure point for an urgent and much-needed debate over U.S. defense strategy."—Andrew F. Krepinevich, Jr., Foreign Affairs
 
"An exceptional book. Elbridge Colby has written a book on defense strategy that reaches a level of theoretical mastery akin to Hans Morgenthau's Politics Among Nations. There is no better guidebook to how we should think about war and peace in this new age of great power competition."—Robert D. Kaplan, author of Asia's Cauldron
 
"This is a realist's book, laser-focused on China's bid for mastery in Asia as the 21st century's most important threat."—Ross Douthat, New York Times
 
"Anyone interested in US strategy should read this tour de force from the primary author of the celebrated 2018 U.S. National Defense Strategy. This well-written, masterfully constructed, logically compelling book conveys the essence of strategy from one of the best current practitioners of the trade. Highly recommended!"—Robert O. Work, former Deputy Secretary of Defense
 
"Elbridge Colby has written an outstanding book. For anyone interested in understanding what a possible war between China and the United States might look like, The Strategy of Denial is the place to start. It is analytically rigorous, well-informed, and filled with interesting and smart insights."—John Mearsheimer, author of The Great Delusion: Liberal Dreams and International Realities

"Succeeds brilliantly in the task of building a broad strategic framework—one that is actually new—for how to think about America's defense in the face of a rising China. . . . The Chinese military are going to translate and classify this book—if they haven't already."—Michael Pillsbury, senior fellow and director for Chinese Strategy, Hudson Institute
 
"This is an incredibly important book. . . . The definitive work on U.S. defense strategy that should guide our strategic competition with China for the years to come."—Christian Brose, author of The Kill Chain: Defending America in the Future of High-Tech Warfare
 
"There are many ways to lose wars or win them, but only one way to avoid them: to envision closely enough the dangers to be averted by deterrence or defense. This book brings together pure intellect, wide knowledge, and practical experience to show how U.S. defense strategy must change—and fast."—Edward Luttwak, author of The Rise of China vs. the Logic of Strategy
 
"As experts continue to warn of a potential Chinese invasion of Taiwan within the decade, denying such an invasion must be our top defense-planning priority. Mr. Colby spells out what we need to do in order to deter—and if necessary, win—a war over Taiwan. . . . An essential read."—Mike Gallagher, U.S. House of Representatives, Wisconsin, "Who Read What: Political Figures Share Their Favorite Books of 2021"
 
"[A] brilliant . . . book on how to deal with the geopolitical and military threat from China. Will be much discussed and constantly referred to as we grapple with this challenge."—Rich Lowry, editor of National Review (via Twitter)
 
"The Strategy of Denial is an excellent book and a very important one. Fundamentally, it's not an argument about 'global stability' . . . but rather that we need to think about defense strategy in terms of regions in order to achieve political objectives."—Nadia Schadlow, senior fellow, Hudson Institute
 
"Colby gives us an original and provocative approach to containing adversaries, especially China. . . . [D]istinguished by its moving seamlessly from international relations theory to detailed questions of diplomacy and force deployment."—Robert Jervis, author of How Statesmen Think

"The book is just a marvel of analytic clarity and of ruthless logic . . . a true pleasure to read . . . [and] a marvel of clear argumentation and deductive reasoning. . . . [It] cuts through a lot of politics and uncertainty in a really helpful way."—Jennifer Lind, Dartmouth College
 
"I suppose there are others who could have written such a book, but they didn't, at least not with such mastery of analysis. I think I've read most [of the] worthwhile books on U.S. defense strategy that have appeared in the last two decades, but I've rarely come across one that has the intellectual rigor, the systematicity of analysis, and the sheer ruthlessness of logical reasoning—not to mention the erudition—found in The Strategy of Denial."—Ashley J. Tellis, senior fellow, Carnegie Endowment for International Peace
 
"An engaging, vigorously argued and refreshingly readable case for a U.S. strategy focused on deterring China to reduce the danger of war."—Doyle McManus, Washington columnist, Los Angeles Times
 
"Thoughtful and rigorous. . . . Makes an extended case for curtailing other commitments to focus on China. . . . The book's fundamental strength . . . is Colby's willingness to test all sides of complicated debates. . . . Required reading for lawmakers, national security hands, and 2024 presidential hopefuls."—Adam O'Neal, Washington Examiner
 
"Exceptionally well-thought out. . . . A well-argued . . . case for why the United States should care about Beijing's aggression in the Indo-Pacific region. . . . Its arguments are both self-evident and well explained [and] it is thoroughly enjoyable to read."—Joshua Huminski, Diplomatic Courier
 
"This is a book well worth reading, packed with fresh paradigm-cracking ideas, breaking all the china in thinking how to handle China."—James Jay Carafano, National Interest

"Colby's lucid, painstakingly argued book . . . is essential reading."—Peter Berkowitz, RealClearPolitics
 
"The Strategy of Denial is seriously informed by technical military analysis as well as sound geostrategic thinking. . . . [T]here are still too many people in the field that focus on one or the other—Bridge is good at balancing both."—Michael O'Hanlon, senior fellow and director of research, Brookings Institution 
 
"A tour de force of erudition, mathematical logic, and crisp writing."—Paul Heer, National Interest
 
"Bracing and clear-eyed. . . . Follows a careful, logical argument, beginning with the entirely reasonable claim that China aims to become a dominant or 'hegemonic' power, at first in its own back yard in East Asia, and then perhaps elsewhere too."—James Crabtree, Financial Times
 
"Colby breaks down the raw facts of power to their essentials."—Unherd.com

"A comprehensive realist approach to modern US strategy. . . . The Strategy of Denial does exactly what a good book should by presenting an argument that sparks further discussion."—Nick Blas, H-Net