The War for the Seas: A Maritime History of World War II (Paperback)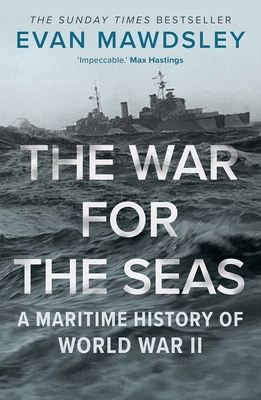 $20.00

Usually Ships in 1-5 Days
Description
---
A bold and authoritative maritime history of World War II which takes a fully international perspective and challenges our existing understanding

Command of the oceans was crucial to winning World War II. By the start of 1942 Nazi Germany had conquered mainland Europe, and Imperial Japan had overrun Southeast Asia and much of the Pacific. How could Britain and distant America prevail in what had become a "war of continents"?

In this definitive account, Evan Mawdsley traces events at sea from the first U-boat operations in 1939 to the surrender of Japan. He argues that the Allied counterattack involved not just decisive sea battles, but a long struggle to control shipping arteries and move armies across the sea. Covering all the major actions in the Atlantic and Pacific oceans, as well as those in the narrow seas, this book interweaves for the first time the endeavors of the maritime forces of the British Empire, the United States, Germany, and Japan, as well as those of France, Italy, and Russia.
About the Author
---
Historian Evan Mawdsley was Professor of International History at Glasgow University. He is the author of December 1941, a Sunday Telegraph Book of the Year.
Praise For…
---
"The great strength of The War for the Seas is the way in which Mawdsley, a former professor of international history at Glasgow University, treats his subject as an interconnected global story. . . . This innovative, well-written single-volume account will be invaluable for all who study the Second World War."—Ben Wilson, Times (UK)

"An impeccable, myth-busting study."—Max Hastings, Sunday Times

"For WWII enthusiasts, academics, and students, this book will provide a solid grounding in how the sea was used for strategic purpose and how victory was ultimately achieved by the Allied powers."—Jennifer F. McKinnon, Canadian Journal of History

"Mastering an immense range of sources in diverse languages is only the start. Mawdsley's real achievement is to link so many ships and fleets and armies together and in such a way as to make sense of what was going on, showing why things happened when they did, how each part affected all the rest."—N. A. M. Rodger, London Review of Books

"Mawdsley's book is all-embracing in content, sharp in analysis and crisp in style."—Holger H. Herwig, Journal of Modern History

"A marvelous new single volume on the maritime conflict of World War II. . . . Carefully researched and incisive."—Jerry Lenaburg, New York Journal of Books

"Evan Mawdsley's magisterial work The War for the Seas brings clarity and a well-written sense of the full scale and ferocity that was the epic struggle of World War II at sea."—Andrew G. Wilson, Naval History

"A complete, compact and comprehensible history of World War II's naval phase. . . . The War for the Sea is recommended for everyone, those knowledgeable about World War II and those unfamiliar with it."—Mark Lardas, Galveston Daily News

"An essential contribution to understanding how command of the sea was won and with what consequences. Rich in detail on the tactics and technology that mattered, and on the roller-coaster campaigns in the Atlantic and Pacific theatres, Mawdsley provides the first full, integrated account of a truly global dimension to the war."—Richard Overy, author of The Bombing War: Europe, 1939–1945

"The beautifully crafted and deeply research maritime history of WWII that we have always needed. Few books deserve to be called 'definitive'—this is one of them."—Joseph Maiolo, author of Cry Havoc: How the Arms Race Drove the World to War 1931–1941

"Will be prized for its concision, clarity and sound judgement, all backed by impeccable scholarship."—Simon Ball, The Bitter Sea: The Struggle for Mastery in the Mediterranean, 1935–1949

"This powerfully argued re-appraisal establishes Command of the Sea as the critical issue that shaped and defined the Second World War. By securing control of the Atlantic, the Mediterranean and the Indian Ocean the Allies were able to operate together, including supplying the Soviet Union with essential aid. The same Command of the Sea kept the Axis powers apart, and they were defeated in detail by globally deployable air and land forces."—Andrew Lambert, author of The Challenge: Britain Against America in the Naval War of 1812

"Accentuated by his highly readable style, this is an excellent introductory work."—D. M. Hall, Lake Erie College