For the Freedom of Zion: The Great Revolt of Jews against Romans, 66–74 CE (Hardcover)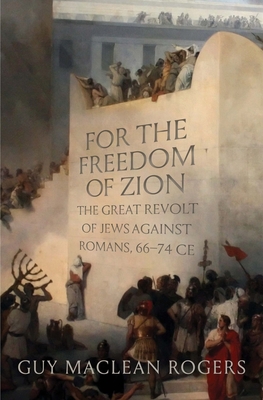 $37.50

Usually Ships in 1-5 Days
Description
---
A definitive account of the great revolt of Jews against Rome and the destruction of the Jerusalem Temple
 
"Deeply impressive. . . . Essential for all future discussions of the subject."—Barry Strauss, New Criterion
 
"A lucid yet terrifying account of the 'Jewish War'—the uprising of the Jews in 66 CE, and the Roman empire's savage response, in a story that stretches from Rome to Jerusalem."—John Ma, Columbia University
 
This deeply researched and insightful book examines the causes, course, and historical significance of the Jews' failed revolt against Rome from 66 to 74 CE, including the destruction of the Jerusalem Temple. Based on a comprehensive study of all the evidence and new statistical data, Guy Rogers argues that the Jewish rebels fought for their religious and political freedom and lost due to military mistakes.
 
Rogers contends that while the Romans won the war, they lost the peace. When the Romans destroyed the Jerusalem Temple, they thought that they had defeated the God of Israel and eliminated Jews as a strategic threat to their rule. Instead, they ensured the Jews' ultimate victory. After their defeat Jews turned to the written words of their God, and following those words led the Jews to recover their freedom in the promised land. The war's tragic outcome still shapes the worldview of billions of people today.
About the Author
---
Guy MacLean Rogers is the William R. Kenan Jr. Professor of Classics and History at Wellesley College. He lives in Litchfield County, CT.
Praise For…
---
"Through his close analysis of the war, making extensive critical use of Josephus's works, [Rogers] raises and resolves important questions about the nature of a revolt whose ripples can still be felt in our own time."—David Abulafia,
Catholic Herald
"In his excellent new book . . . Guy MacLean Rogers tries to figure out precisely what compelled the Jews of the first century to rebel against the Roman Empire."—Simeon Cohen, Times of Israel
"Excellent. . . . Deeply impressive. . . . A readable and authoritative account, essential for all future discussions of the subject. Rogers writes with passion and erudition."—Barry Strauss,
New Criterion
"Engaging. . . . A valuable study."—
Publishers Weekly
"[A] massive and compelling work. The author . . . has carefully mined and critically evaluated Josephus' text (and, apparently, almost every scholarly work about the war) to produce a perceptive and original account of the conflict that casts new light on its causes, course and consequences.—David Rodman,
Israel Affairs
CHOICE Outstanding Academic Title 2022
"A remarkable achievement. Guy Rogers provides a powerful, moving reconstruction of the scale, scope, and consequences of the great Jewish war against Rome. Thoughtful, careful, and thorough, this is a major contribution to scholarship. Rogers' lively and engaging style makes it eminently accessible to a broad audience."—Erich S. Gruen, University of California at Berkeley
"Guy Rogers brings a profound grasp of the Roman world, historical flair, and fine judgment to this new, in-depth political and military study of the Great Jewish Revolt against Rome. This is an important and exciting book about an event that changed the course of history and that has a perennial hold on our emotions and imagination."—Tessa Rajak, University of Oxford
"Written with passion and wit, this patient and remarkably detailed reconstruction offers fresh interpretations of matters large and small, leading persuasively to the view of the war as a profound crisis with far-reaching and lasting consequences, whose meaning has been urgently debated to this very day."—Jonathan Price, Tel Aviv University
"Rogers provides a sweeping and detailed overview. This important work, written by a leading authority, will immediately become the standard reference on the First Jewish Revolt against Rome."—Jodi Magness, University of North Carolina at Chapel Hill
"Guy Rogers provides a lucid yet terrifying account of the 'Jewish War'—the uprising of the Jews in 66 CE, and the Roman empire's savage response, in a story that stretches from Rome to Jerusalem. It is characterized by inter- and intra-communal violence, desperate acts of resistance and bravery, and imperial repression, culminating in the destruction of the Temple, the execution of the brilliant Jewish military commander Simon bar Giora, and the capture of Masada. But Rogers is also a great historian: his narrative is a clinical, forensic examination of context, background, political culture, causality, contingency, and sources—especially the extraordinarily intimate view of events provided by the figure of the Jewish aristocrat, leader and turncoat Josephus."—John Ma, Columbia University  
"Guy Rogers has retold the story of the Jewish revolt of AD 66–73/4, a turning point in Jewish history, taking full account of modern scholarship, in a style aimed at a wide audience, vividly painting the heroism and tragedy of the clash between civilizations, whose impact survived to this very day in the ethos of modern Israel."—Hannah Cotton, Hebrew University in Jerusalem