Born of Ice and Fire: How Glaciers and Volcanoes (with a Pinch of Salt) Drove Animal Evolution (Hardcover)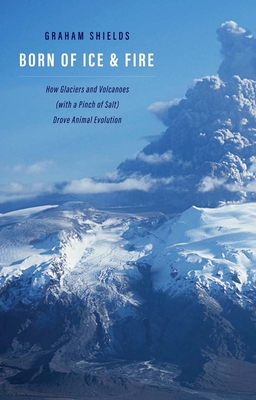 $28.00

Usually Ships in 1-5 Days
Description
---
An exploration of how the Cryogenian Period, when our planet was covered in ice for millions of years, created today's remarkable biodiversity
 
More than half a billion years ago, our world was completely covered by glaciers, a "Snowball Earth" that persisted for millions of years. Incredibly, this unimaginable cold led to the remarkable diversification of life on earth known as the Cambrian explosion. With a geologist's eye and a knack for storytelling, Graham Shields explores when and how such inhospitable conditions enabled animals to evolve, radiate, and diversify into our earliest ancestors.
 
This journey navigates the wild swings between hot and cold climates, oxygenation and asphyxiation, biological radiations and extinctions, asking how such instability relates to grander forces that brought our planet to its modern state. Shields guides readers through evidence found in the Australian outback, Mongolia, Scotland, and other locales, revealing how geologists can trace glaciation, the atmosphere, oceans, mountain building, and more through the earth's rocks, providing a comprehensive theory of how life evolved and diversified.
About the Author
---
Graham Shields is professor of geology at University College London. He lives in London, UK.
Praise For…
---
"A spellbinding read from one of the deepest thinkers about deep time. Part scientific autobiography, part paean to unsung heroes of the past, and part thrilling detective story, this book is the culmination of three decades of field research. Graham Shields pieces together an astonishing new answer to the oldest question: Where did we come from?"—Nick Lane, author of Vital Question: Energy, Evolution, and the Origins of Complex Life

"Born of Ice and Fire is a fresh take on the mystery that most vexed Darwin: the seemingly sudden appearance of animal life in Cambrian strata. Graham Shields explores Earth's evolving biogeochemical system and the extreme ice age that ushered in a brave new oxygen-rich world."—Marcia Bjornerud, author of Timefulness: How Thinking Like a Geologist Can Help Save the World

"Born of Ice and Fire is engagingly and fluently written and is an authoritative, detailed overview of a highly complex and interdisciplinary subject."—Rachel Wood, author of Reef Evolution

"Graham Shields takes us on a worldwide tour, presenting the latest geological evidence about the Precambrian period and investigating how stark physical conditions like a lack of oxygen and a world covered in ice established the first life on Earth."—Michael J. Benton, author of Dinosaurs Rediscovered and When Life Nearly Died: The Greatest Mass Extinction of All Time