The Befana Is Returning: The Story of a Tuscan Festival (Hardcover)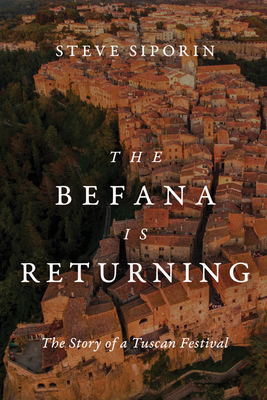 $79.95

Coming Soon - Available for Pre-Order Now
Description
---
On the night of January 5, in certain areas of southern Tuscany, a costumed, singing troupe of characters visits residents' homes, expecting to be fed and feted in a folk custom that has recurred in the region for centuries. This is the Befanata, a mumming tradition centered in Tuscany, whose main character—the Befana—is a kindly old woman or grandmotherly witch who delivers toys, candies, and gifts. Part of the Christmas season, the Befana is familiar in some form in much of Italy, but very little has been written about her, despite sustained interest in European mumming traditions in general.
 
The Pigitliano Befanata is distinct in its emphasis on song and strong in its richly symbolic use of food, which is not only consumed at each home but is also carried away as a gift. The characters who make up the squad are unique to the Italian practice. They always include the Befana and her husband, the Befano, but other members of the befanotti vary from place to place over time. Siporin combines fieldwork and archival evidence to introduce the Befanata and its historical and social contexts: what it is, what it means, and how it feels. The Befana Is Returning is a deeply researched, deftly insightful presentation of this living tradition that adds a large missing piece to the array of contemporary ethnographic scholarship on mumming.
About the Author
---
Steve Siporin is professor emeritus in English and history (folklore) at Utah State University, where he also served as the director of the folklore program and coordinator for public folklore studies. He is the author, coeditor, and translator of several books, most recently Stories of Jewish Life: Casale Monferato-Rome-Jerusalem, 1876–1985 by Augusto Sergre.
Praise For…
---
"Siporin's delightful, thoroughly researched book transports us to the Tuscan countryside to reveal the mysterious Befana's story. From her roots as a pre-Roman goddess, to her pop cultural presence today, the Befana is at heart about the light of community, connection, and conviviality in the darkness of a winter's night."—Sabina Magliocco, University of British Columbia
 

"Siporin's insightful analysis of this centuries-old mumming tradition helps us understand human connection to the yearly cycle, family and community structures, the ravages of Early Modern period hunger and poverty, and the fragility of folk tradition in the twenty-first century."—Jennifer Eastman Attebery, Idaho State University