Making Hollywood Happen: Seventy Years of Film Finances (Wisconsin Film Studies) (Hardcover)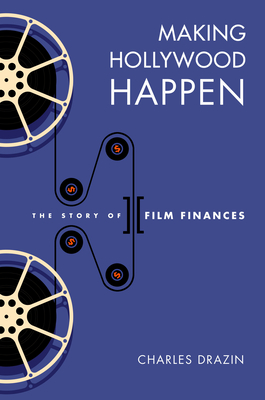 $34.95
Email or call for price
Description
---
Filmmaking is a business—someone has to pay the bills. For much of the industry's history, that role was shouldered by the studios. The rise of independent filmmakers then led to the rise of independent financiers. But what happens if bad weather closes down a production or a director's vision pays no heed to the limitations of time and money?
 
Enter Film Finances. The company was founded in London in 1950 to insure against the risk that a film would exceed its original budget or not be completed on time. Its pioneering development of the "completion guarantee"—the financial instrument that provides the essential security for investors to support independent filmmaking—ultimately led to the creation of many thousands of films, including some of the most celebrated ever made: Moulin Rouge (1953), Dr. No (1962), The Outsiders (1982), Pulp Fiction (1994), Slumdog Millionaire (2008), La La Land (2016), and more.
 
Film Finances's role in filmmaking was little known outside the industry until 2012, when it opened its historical archive to scholars. Drawing on these previously private documents as well as interviews with its executives, Making Hollywood Happen tells the company's story through seven decades of postwar cinema history and chronicles the growth of the international independent film industry. Focusing on a business that has operated at the meeting point between money and art for more than seventy years, this lavishly illustrated book goes to the heart of how the movie business works.
About the Author
---
Charles Drazin is an archival consultant for Film Finances Ltd. He previously taught at Queen Mary, University of London, and has published several books on film history, including In Search of The Third Man, Korda: Britain's Only Movie Mogul, and The Faber Book of French Cinema.
Praise For…
---
"Reveals a whole new facet of the history of independent film financing. Case studies of such iconic independent films as The African Queen (1951), Tom Jones (1963), Cabaret (1972), Terminator (1984), and The Crying Game (1992) are the book's greatest strength."—Tino Balio, author of The Foreign Film Renaissance on American Screens, 1946–1973

"Through a painstaking examination of the corporate records of Film Finances, a leading motion picture finance company, Making Hollywood Happen achieves something very few books do: retell in a highly engaging manner the well-known history of American and British film production of the past 70 years from a completely novel perspective."—Yannis Tzioumakis, author of Acting Indie: Industry, Aesthetics and Performance

"A fascinating look behind the scenes at a company that would eventually insure some 8,000 films, including Dr. No and Slumdog Millionaire. . . . An extraordinary account."—Shepherd Express

"A very special and very unique contribution to the growing library of Cinematic History. . . . A fascinating historical study that will have a very special appeal to readers with an interest in how films are financed, Making Hollywood Happen: The Story of Film Finances provides an extraordinary wealth of informed and informative insights."—Midwest Book Review

"An enlightening resource for anyone interested in the film industry."—CHOICE Reviews