Russell Lee Photographs: Images from the Russell Lee Photograph Collection at the Center for American History (Focus on American History Series) (Hardcover)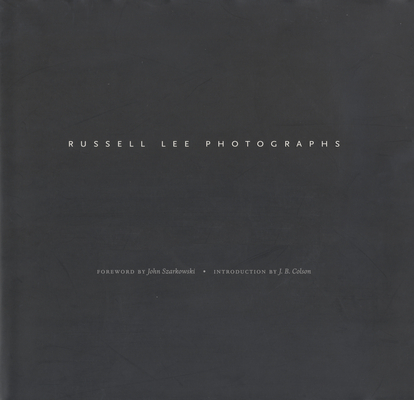 $50.00
Email or call for price
Description
---
Russell Lee is widely acclaimed as one of the most outstanding documentary photographers of the twentieth century. His images of American life during the Great Depression, created for the Farm Security Administration between 1936 and 1942, hold a preeminent place in one of history's best-known and most useful photographic collections. This famous body of work demonstrates Lee's extraordinary ability to reveal the humanity of his subjects and to become a part of the communities he photographed. It also displays Lee's superior technical ability—his legendary skill in using a flash enabled Lee to create some of the finest candids in the history of photography.
Russell Lee Photographs is the first book to show the full range and quality of Lee's entire oeuvre beyond the FSA work, as well as the first major publication of his photographs since F. Jack Hurley's 1978 book, Russell Lee: Photographer (long out of print). The book contains over 140 images, 101 of which have never appeared in book publication. The photographs are grouped into suites of images that represent all of Lee's important, non-FSA subjects: early work from New York City and Woodstock; the Spanish-speaking people of Texas; the mentally and physically disabled; political campaigns, including the Kennedy-Johnson campaign of 1960; commercial work for chemical and other companies; a portfolio of images of Italy; and quintessential scenes of small-town life.
Setting Lee's images in context are a foreword by John Szarkowski, one of America's leading photography curators and critics, and an introduction by Lee's friend and fellow photography educator J. B. Colson, who offers fascinating personal insights into Lee's life and career.
Considering Russell Lee's stature in American photography, it is surprising that much of his post-FSA work is unknown to the public and has been seldom seen even in the photography community. By making these images readily available for the first time, this book gives long-overdue recognition to the full range and excellence of Lee's work. Russell Lee Photographs is the essential book on this major American photographer.
About the Author
---
John Szarkowski is former director of photography at the Museum of Modern Art and author of the classic work Looking at Photographs: 100 Pictures from the Collection of the Museum of Modern Art.
J. B. Colson is Professor Emeritus of Journalism at the University of Texas at Austin.
The photographs were selected and arranged by Linda Peterson, Head of Photographic and Digital Archives at the Center for American History, University of Texas at Austin, which houses the Russell Lee Photograph Collection.
Praise For…
---
Lee's quietly passionate images are masterful works.  They set a high standard for a kind of reflective journalism that reminds us that a fine artist may tell you most about himself when he focuses on others.
— The Texas Observer