DK Eyewitness New England (Travel Guide) (Paperback)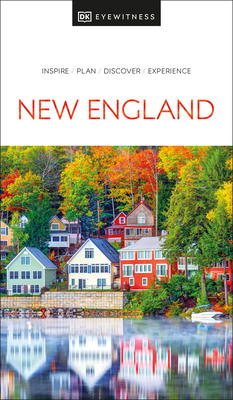 $24.99

Usually Ships in 1-5 Days
Description
---
Discover New England – a region synonymous with fall foliage, delicious seafood and historic sites.

Whether you want to explore the rugged natural beauty of the Appalachian Mountains, follow the fascinating Freedom Trail through Boston, or indulge in fresh lobster from the coast of Cape Cod, your DK Eyewitness travel guide makes sure you experience all New England has to offer.

This spectacular region beckons with every season. In spring and summer, hardcore hikers hit the trails, pausing at pretty postcard villages for cold drinks. In fall, blazing foliage unfolds from north to south. And with some of the best skiing and snowsports areas in the whole of the US, winter never disappoints.

Our updated 2023 guide brings New England to life, transporting you there like no other travel guide does with expert-led insights, trusted travel advice, detailed breakdowns of all the must-see sights, photographs on practically every page, and our hand-drawn illustrations which place you inside the region's iconic buildings and neighborhoods. DK Eyewitness New England is your ticket to the trip of a lifetime. 

Inside DK Eyewitness New England you will find: 

- A fully-illustrated top experiences guide: our expert pick of New England's must-sees and hidden gems.
- Accessible itineraries to make the most out of each and every day.
- Expert advice: honest recommendations for getting around safely, when to visit each sight, what to do before you visit, and how to save time and money.
- Color-coded chapters to every part of New England, from Massachusetts to Maine, Rhode Island to New Hampshire.
- Practical tips: the best places to eat, drink, shop and stay.
- Detailed maps and walks to help you navigate the region country easily and confidently.
- Covers: Beacon Hill and the Theater District, North End and Charlestown, Old Boston, Seaport, and the Waterfront, Back Bay and the Fenway, Cambridge, Massachusetts, Rhode Island, Connecticut, Vermont, New Hampshire, Maine.

Have less time or on a city break? Try our DK Eyewitness Travel Guide Boston or our pocket-friendly Top 10 New England.

About DK Eyewitness:

At DK Eyewitness, we believe in the power of discovery. We make it easy for you to explore your dream destinations. DK Eyewitness travel guides have been helping travelers to make the most of their breaks since 1993. Filled with expert advice, striking photography and detailed illustrations, our highly visual DK Eyewitness guides will get you closer to your next adventure. We publish guides to more than 200 destinations, from pocket-sized city guides to comprehensive country guides. Named Top Guidebook Series at the 2020 Wanderlust Reader Travel Awards, we know that wherever you go next, your DK Eyewitness travel guides are the perfect companion.