Your America: Democracy's Local Heroes (Paperback)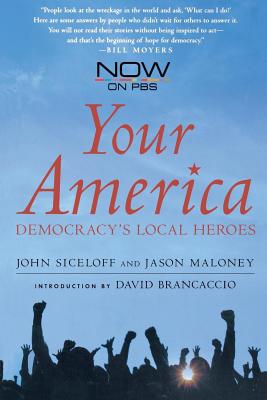 $20.99

Usually Ships in 1-5 Days
Description
---
In Your America, award-winning producers John Siceloff and Jason Maloney explore the paths to success of a remarkable group of people, each of whom has appeared on NOW, the popular PBS show, to tell their stories. For everyone interested in change at a local and national level, this book provides a blueprint for working together locally to create a better global community.

Your America introduces twelve ordinary citizens who are accomplishing extraordinary changes in their communities. Among them:

*Bill Graham, mayor of tiny Scottsburg, Indiana, who took on the telecommunications giants and wired his town to provide Wi-Fi for all.

*Katie Redford, a young law student who dusted off the Alien Tort Claims Act of 1789 and ended up changing the way American corporations behave overseas.

*Wynona Ward, who drove long-haul trucks as she studied to be a lawyer and founded an organization, Have Justice, Will Travel, that reaches out to abused women in isolated homes and communities.
About the Author
---
John Siceloff is the creator and executive producer of PBS's NOW. An award-winning producer for such shows as 20/20, Primetime Live, and Dateline, he is also the recipient of the DuPont Award, Peabody Award, and Emmy Award. His writing has appeared in the Washington Post. He lives in New York, NY.

Jason Maloney is a news and documentary producer who has worked for NOW. His work includes reports for PBS' NewsHour. He was recently the editorial producer on the documentary on the AQ Kahn network entitled "Nuclear Jihad," which won the DuPont Award.  He lives in New York, NY.
Praise For…
---
"NOW is a welcome and nutritious addition to the rich menu of choices available on PBS. And, equally important, it is fearless about challenging conventional wisdom, a too rare quality these days." —Tom Brokaw

"People look at the wreckage in the world and ask, "What can I do?" Here are some answers by people who didn't wait for others to answer it. You will not read their stories without being inspired to act -- and that's the beginning of hope for democracy." —Bill Moyers

"Your America is a wonderful tonic for cynicism and despair. It brims with real life heroes, from scholars to barbers to bureacrats to businesspeople, who remind us that one determined person can begin to turn the world." —Scott Simon, NPR

"In this uplifting collection of profiles, Siceloff and Maloney, producers of the PBS program Now, spotlight individuals who have sparked successful community action without resources or (in most cases) any political or organizing experience....will inspire and embolden all readers." —Publishers Weekly