The Anti-Education Era: Creating Smarter Students through Digital Learning (Paperback)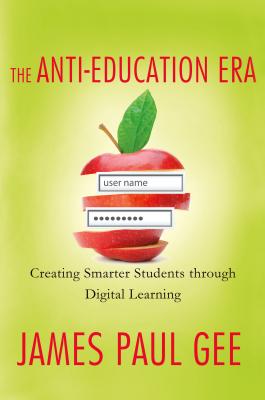 $19.99

Usually Ships in 1-5 Days
Description
---
One of the first champions of the positive effects of gaming reveals the dark side of today's digital and social media



Today's schools are eager to use the latest technology in the classroom, but rather than improving learning, the new e-media can just as easily narrow students' horizons. Education innovator James Paul Gee first documented the educational benefits of gaming a decade ago in his classic What Video Games Have to Teach Us About Learning and Literacy. Now, with digital and social media at the center of modern life, he issues an important warning that groundbreaking new technologies, far from revolutionizing schooling, can stymy the next generation's ability to resolve deep global challenges. The solution-and perhaps our children's future-lies in what Gee calls synchronized intelligence, a way of organizing people and their digital tools to solve problems, produce knowledge, and allow people to count and contribute. Gee explores important strategies and tools for today's parents, educators, and policy makers, including virtual worlds, artificial tutors, and ways to create collective intelligence where everyday people can solve hard problems. By harnessing the power of human creativity with interactional and technological sophistication we can finally overcome the limitations of today's failing educational system and solve problems in our high-risk global world. The Anti-Education Era is a powerful and important call to reshape digital learning, engage children in a meaningful educational experience, and bridge inequality.
About the Author
---
James Paul Gee has been featured in a variety of publications including Redbook, Child, Teacher, USA Today, Education Week, The Chicago Tribune, and more. He was formerly the Tashia Morgridge Professor of Reading at the University of Wisconsin-Madison and is now the Mary Lou Fulton Presidential Professor of Literacy Studies at Arizona State University.  He is a founder of the Center for Games and Impact at ASU which orchestrated a national conversation on games and learning for the White House Office of Science and Technology. Described by The Chronicle of Higher Education as "a serious scholar who is taking a lead in an emerging field," he is the author of What Video Games Have to Teach Us About Learning and Literacy.
Praise For…
---
"A compelling case for reframing methods of teaching and learning." —Kirkus Reviews

"Jim Gee is one of the great thinkers of our time. His book, The Anti-Education Era, explains how we can all become smarter. His description of synchronized intelligence and why affinity spaces make for powerful learning should radically change how we think about education." —Allan Collins, author of Rethinking Education in the Age of Technology

"Jim Gee is a great thinker. The book's concept of the future of education as collective, powerful, effective groups combining multiple brains enhanced by technology around the world-- what he calls affinity spaces, and capital M 'Minds'-- is both original and brilliant." —Marc Prensky, author of Brain Gain: Technology and the Quest for Digital Wisdom

"This book is a wonderful meditation on what it means to be an educated adult in a 21st-century, why this goal is critical to our future as a species, and what technologies can and cannot do to help us achieve the goal of an educated citizenry. It is a powerful antidote to the prevailing belief that more technology, and more STEM courses will save our economy and our planet." —Tony Wagner, author of Creating Innovators and The Global Achievement Gap