A Conspiratorial Life: Robert Welch, the John Birch Society, and the Revolution of American Conservatism (Paperback)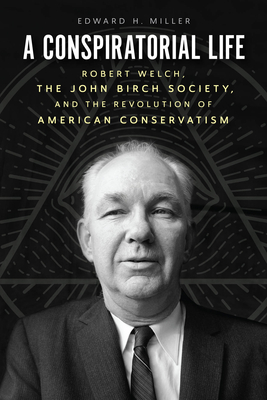 $20.00

Usually Ships in 1-5 Days
Description
---
The first full-scale biography of Robert Welch, who founded the John Birch Society and planted some of modern conservatism's most insidious seeds.
 
Though you may not know his name, Robert Welch (1899-1985)—founder of the John Birch Society—is easily one of the most significant architects of our current political moment. In A Conspiratorial Life, the first full-scale biography of Welch, Edward H. Miller delves deep into the life of an overlooked figure whose ideas nevertheless reshaped the American right.

A child prodigy who entered college at age 12, Welch became an unlikely candy magnate, founding the company that created Sugar Daddies, Junior Mints, and other famed confections. In 1958, he funneled his wealth into establishing the organization that would define his legacy and change the face of American politics: the John Birch Society. Though the group's paranoiac right-wing nativism was dismissed by conservative thinkers like William F. Buckley, its ideas gradually moved from the far-right fringe into the mainstream. By exploring the development of Welch's political worldview, A Conspiratorial Life shows how the John Birch Society's rabid libertarianism—and its highly effective grassroots networking—became a profound, yet often ignored or derided influence on the modern Republican Party. Miller convincingly connects the accusatory conservatism of the midcentury John Birch Society to the inflammatory rhetoric of the Tea Party, the Trump administration, Q, and more. As this book makes clear, whether or not you know his name or what he accomplished, it's hard to deny that we're living in Robert Welch's America.
 
About the Author
---
Edward H. Miller is a teaching professor at Northeastern University.
Praise For…
---
"In this highly readable, insightful biography of Robert Welch, Miller uses his unique access into Welch's papers to reveal a man much more important to modern American conservatism than we have previously understood. Miller shows how, far from being marginalized to the fringes of the movement, Welch was central to creating the destructive conspiratorial worldview that now dominates our politics."
— Heather Cox Richardson, author of "Letters from an American"

"[A] terrific biography. . . In Miller's hands, the story of Robert Welch shows that there was no real dividing line between the responsible and radical right."
— Times Literary Supplement

"The rise of Trump, Q-anon, and a Republican Party seemingly allergic to the ordinary canons of decency and expertise, has led historians to a reexamination of brands of American conservatism previously considered too extreme to be relevant to understanding the present. This work demands a rare combination of talents: an ability to empathize with ways of thinking from which reason recoils, and a moral sense that refuses to normalize it. Miller possesses both in abundance, which is what makes this groundbreaking biography of Robert Welch of the John Birch Society so very valuable."
— Rick Perlstein, author of Reaganland: America's Right Turn, 1976-1980

"In this immersive biography, Miller traces the roots of today's right-wing conspiracy theories to John Birch Society founder Robert Welch . . . Scrupulously researched and lucidly written, this is an enlightening study of an overlooked yet influential figure in American politics."
— Publishers Weekly

"Miller's study of Robert Welch, the founder of the John Birch Society, presents a plausible account of America's slow descent from the 1950s into the abyss of post-truth politics."
 
— London Review of Books

"Traces the origins and history of the John Birch Society and, in the process, provides historical perspective on the far-right populism of the Trump era. . . . On the whole, as Miller's book makes clear, Republican politicians of the early 1960s were more eager to court the John Birch Society than to distance themselves from it."
— New York Review of Books

"A Conspiratorial Life is the first comprehensive biography of Robert Welch. It is revelatory about his role in the development of modern American conservatism."
— Foreword Reviews

"Offers a good angle from which to appraise the fractured state of American conservatism."
— Financial Times

"[An] impressively researched and nuanced reconsideration of the modern American right. . . Miller makes a provocative and persuasive case that Welch was a vanguard figure rather than a retrograde one."
— The New Republic

"A reminder that outlandish conspiracism has a long history on the right."
— Los Angeles Review of Books

"Miller makes an important contribution to understanding how conspiracy theories have altered American politics in this biography of Robert Welch (1899–1985) . . .  Although Welch died in 1985, Miller argues that his use of the "Big Lie" still resonates today, manifesting in the Tea Party's xenophobic anger; Donald Trump's election as president in 2016; and the aftermath of the 2020 presidential election, which culminated in the January 6 insurrection. Recommended." 
— Choice

"Miller has undertaken the definitive biography of John Birch Society founder Robert Welch, and he has succeeded. A Conspiratorial Life is incredibly thorough, carefully researched and written, and enlivened by energetic prose."
— Heather Hendershot, author of Open to Debate: How William F. Buckley Put Liberal America on the Firing Line

"A welcome contribution to the history of modern right-wing politics at its extremes."
— Kirkus Reviews

"[An] eye-opener of a biography."
— Robert Siegel

"In the standard origin story of the modern US right, today's conservative movement was born with an excommunication: when William F. Buckley, the erudite, upper-crust founder of the National Review, turned on his onetime ally, Robert Welch of the John Birch Society, driving Welch and the rest of the conspiracy-hunting "Birchers" out of the respectable right. The truth, as always, is much messier, as Edward H. Miller demonstrates in his new book. . . The deeper imperative of the book, Miller writes, is to correct historians' long-standing misapprehensions about conservatism, and what the field has missed by dismissing the darker, stranger corners of the right, and how its apparent losers may have won the long game."
— Salon

"An eye-opening look at the deep roots of rightwing politics in the United States. Sweeping in scope, the book takes a deep dive into the fears at the heart of the John Birch Society . . . [Miller] provides a deep, thoughtful, and accessible account of Welch's lasting hold on U.S. politics."
— The Progressive

"An engaging and penetrating dive into the enduring influence of the John Birch Society and the group's founder Robert Welch."
— Political Research Associates

"Most accounts of the rise of conservatism in the twentieth century follow a familiar set of characters: William F. Buckley, Barry Goldwater, Ronald Reagan. Historian Edward Miller suggests an alternative leading man: Robert Welch. His new biography of the founder and leader of the John Birch Society, the anticommunist grass-roots organization founded in 1958, makes the case that the scholarly focus on the politically respectable right has led to a distorted understanding of the history of conservatism—one that is especially problematic given the prevalence of loony conspiracy theories on the right today."
— Kim Phillips-Fein

"A comprehensive account. . . Miller's central contention that Welch 'paved the way for the conservatism of the twentieth century, shaped events in the twentieth-first century, and will continue to do so far into the future' is as disturbing as it is compelling."
— The Review of Politics

"Miller's contribution to this revisionist historiography constitutes a cleverly written, finely textured, and badly needed study of a pivotal and too-often marginalized figure in the development of the modern American Right."
— Journal of Southern History